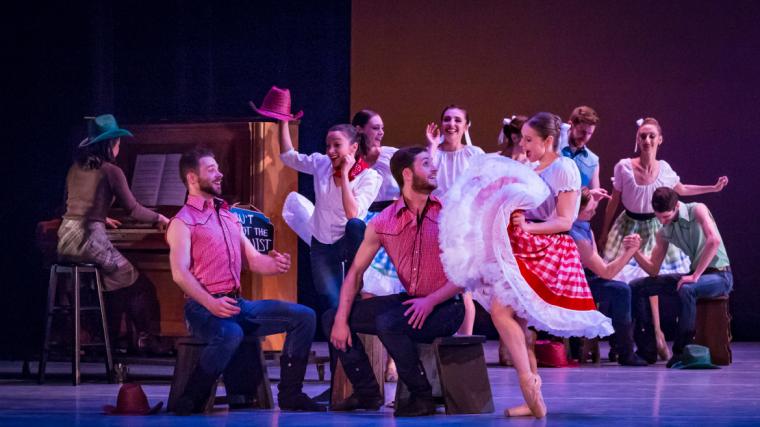 (The River Cities' Reader regularly features an image or images from the Quad Cities Photography Club.)
Quad Cities Photography Club member Joe Maciejko, who often photographs Ballet Quad Cities events, writes: "The Quad Cities are blessed with many scenic photo opportunities to delight photographers. But our community is alive with other events and venues that are unique in our great land. Among them is Ballet Quad Cities, which is a performance-art treasure in our community. The ballet company, together with Orchestra Iowa, in April staged the production Wild Wild West. This included two ballets, Rodeo and Billy the Kid, performed to the music of Aaron Copland. This picture is from Rodeo, choreographed by Margaret King. It represents a delightful glimpse into the raucous cowboy life in a saloon in the Old West brought to life in a contemporary ballet. I was privileged to be able to photograph this production, which was a crowning jewel in the celebration of the 20th anniversary of Ballet Quad Cities in our community."
Joe made this picture with a tripod-mounted Canon 6D and a Canon 70-200-millimeter lens set at ISO 6400, 1/400th of a second, and f/5.6. Cropping, contrast, and other adjustments were made in Lightroom.
The Quad Cities Photography Club welcomes visitors and new members. The club sponsors numerous activities encompassing many types and aspects of photography. It holds digital and print competitions most months. At its meetings, members discuss the images, help each other to improve, and socialize. The club also holds special learning workshops and small groups that meet on specific photography topics, and occasionally offers interesting shooting opportunities. The club meets at 6:30 p.m. the first Thursday of the month September through June at the Butterworth Center, 1105 Eighth Street in Moline.
For more information on the club, visit QCPhotoClub.com.