FATHER'S DAY ONLY 2 DAYS AWAY


With Father's Day coming up this Sunday, it's more important than ever to support our troops before one of the most important holidays of the year for men in the military, who are usually family men.

Below is a heartwarming story about some fortunate troops who actually get to be home for Father's Day this year.






A
ccording to the calendar, Father's Day is Sunday. But for four men who recently returned from overseas tours of duty with our armed forces, the holiday came early this year thanks to their favorite Major League Baseball teams.
The reunions took place at Mariners, Braves, Twins and Diamondbacks games this season. EspnW talked to the teams, the servicemen and the family members to bring you an inside look at how these special homecomings happened.
In each case, the teams came up with a plan, but executing the surprise with so many moving parts wasn't easy. It took planning, some luck and, of course, some deliberate misdirection, requiring the assistance of friends, family members, team mascots and, in some cases, the umpires working the games.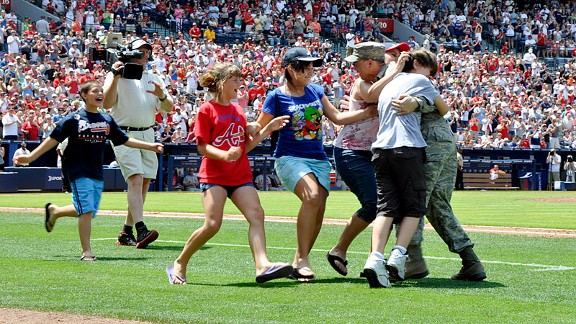 This is an amazing achievement on the part of these sports teams. They have made this Father's Day an uplifting and unforgettable holiday for these families. But there are thousands of troops, many of them also fathers, who are still serving bravely in Afghanistan, and they WON'T be home this Sunday to see their families for the
holiday.



Think about the troops that didn't get the heartwarming homecoming events, the troops that won't get to come home for another 3, 6 or even 9 months. THEY NEED OUR SUPPORT NOW!

TROOPATHON 2012 ANNOUNCEMENT


We at Move America Forward are excited to announce our plans for the fifth annual Troopathon, coming July 12th, 2012.

Mark your calendars! This July 12, 2012 at 4 PM Eastern / 1 PM Pacific at www.troopathon.org our 5th annual Troopathon, "Never Forget Our Troops" will begin streaming live as well as simulcast on multiple radio stations across the country!

This year's theme for our TROOPATHON is "NEVER FORGET Our Troops" which just gives the Troopathon 2012 a little of it's own unique flavor! This year we are going to put on a bold event to support our troops with participation from all our favorite Troopathon guests who you will remember previous years.

B
ut our "Never Forget" theme is not ONLY about our troops, because this year we have another individual to honor with the Troopathon, our dear friend Andrew Breitbart, who tragically passed away this year.

We all miss him and in recognition of Andrew's devotion to the troops, we're going to dedicate this year's Troopathon to his memory and his life's work.

Andrew participated in every Troopathon, from our inaugural event in 2008, up until last year's event at the Nixon Library. From 2009-2011 Andrew was a co-host for three consecutive Troopathons. Troopathon would never have been as successful as it was without Andrew's dedication and hard work.

He was an unforgettable figure...so "NEVER FORGET" is an appropriate theme for not only honoring Andrew's legacy, but also to remind people not to forget about our troops in Afghanistan!

For this, the FIFTH annual Troopathon needs to be bigger and better than the last four! We are pulling out all the stops in order to send the largest care package shipment to our troops! It's a lofty goal, and a gigantic undertaking, and we need your help if we are going to succeed!

Please help us put on a great show for YOU and OUR TROOPS. The better show we can make, the more people will donate and send more care packages to our troops – so we must do our very best! Please make a donation today and make this year's Troopathon the best ever!



DON'T KNOW WHAT A "TROOPATHON" IS?


If you don't know what the Troopathon is, or didn't watch the last four, it's time to familiarize yourself with a concept that is making waves and breaking new ground in efforts to support our troops.

The Troopathon is a unique event that comes once a year and is designed to show a huge outpouring of support for our troops. We love sending care packages to the troops. We do so all year long especially on the holidays, but once a year the Troopathon raises a huge amount of care packages for the troops. It's the biggest day of the year for our organization, and it's VERY important that we make it a success!

Over the years, our Troopathons have raised millions to send TONS and TONS of care packages to the troops…over 190 TONS, in fact!

The Troopathon is a great concept, and very unique. Move America Forward was the first organization to attempt this and continues to be the only pro-troop organization that holds an annual Troopathon-like event. The concept is to bring all of your favorite pro-troop celebrities who we already know and love from talk radio, television, Hollywood movies, the music scene and internet bloggers who support our troops.

You will recognize names like Rush Limbaugh, Sean Hannity, Mark Levin, Dr. Laura Schlessinger…the list goes on! They come on the show to support our troops because they understand how much the troops sacrifice and the importance of their mission to defeat the terrorists and keep America safe!

WE'RE DEPENDING ON YOU our loyal Move America Forward supporters, to help us put this show together and make it a reality. Without your help and support, none of this would be possible, so we are grateful for the amazing support you have all displayed in the past with your donations and contributions.

Help continue and extend the legacy of Move America Forward's great work for our troops…please make a donation today and make Troopathon 2012 a successful event for the 5th year in a row!