(For a sidebar on Ellis Kell's efforts in music education and community programming, click here.)
What can you say about Ellis Kell? Better question: What can you not?
He's the director of programming and community outreach for Davenport's River Music Experience, and barring a six-month 2006-7 hiatus, has been employed by the venue since November 2003 - seven months before it opened its doors to the public.
He's an area legend among blues and roots musicians and fans - a 35-year veteran of solo and ensemble gigs who's an accomplished singer/songwriter, guitarist, and pianist (if, as he admits, maybe not the best trumpet player).
He's spent a remarkable quarter-century serving as bandleader and performer for The Ellis Kell Band, which has shared stages with, and opened for, the likes of Robert Cray, REO Speedwagon, Willie Nelson, Etta James, Little Feat, Johnny and Edgar Winter, and B.B. King - the latter of whom hugged Kell, on stage, during a 2008 Adler Theatre concert. (The Ellis Kell Band will celebrate its 25-year venerability and versatility in a February 6 concert at the River Music Experience's Redstone Room.)
And he is, by common agreement, one of the most engaging, and engaged, storytellers you'll ever hope to encounter, whether speaking at the RME or appearing in a special event at an area library ... or just sitting at a table, quietly recounting stories for an audience of one.
So why say anything about Ellis Kell when, in describing his road to local iconography, he can do it for me?
Banging It Out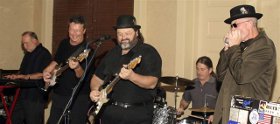 I was just always drawn to music. I can remember, as a kid, growing up in the west end of Rock Island, and the neighbors - the two brothers I played Little League with - they had an old beat-up upright piano in the back room of their house. I used to go dink around on it and figure out three-finger chords and simple things like that, and the more I played with it, the more I liked it.
I started playing around on drums when I was probably 10 or 11, and I was a horrible drummer. Hopefully, I'm a little better now. And the only formal music [training] I ever really had was playing trumpet in school band. But I had a disagreement with a band teacher. He called me out on something and singled me out in front of everybody and embarrassed me, and at the time I had a little chip on my shoulder, so I waved him and the trumpet a fond goodbye. And it's unfortunate, because I really like trumpet music - New Orleans jazz and soul and funk. It's a unique instrument and I wish I still had it in my arsenal, but it's been a long time.
Then I gravitated toward the guitar. I started playing when I was about 13, and had a few lessons. And by the time I was 15 or 16, I had enough chords to be dangerous, and I started playing with the guy who became the original drummer in the Ellis Kell Band and founded it with me. His name's Jeff Clark. We had a little duo when we were about 15. He played drums, I played guitar, and we just kind of banged it out.
We played house parties, and our first big claim to fame was we tied for first place at a talent show at Franklin Junior High School in the west end of Rock Island. It isn't even there anymore. And they took us and the other band that won and we went on a small tour. It was pretty cool. We played Washington Junior High School and thought we had arrived.
Chinese Algebra
I graduated from Rock Island High School in '73, and at my parents' prompting, started college at Augustana right away. But I wasn't ready. It's like [musicians] Jim Schwall and Corky Siegel said: "We didn't so much quit college as we just stopped going." And I stopped going more and more. And you know, eventually the report cards come out, and it's like, "Where've you been?" "Well, obviously not there ... ."
So I took about a year and a half off. Did some bartending jobs, worked in a gas station ... . But I got in a bad car accident. I didn't get hurt really bad, but it's a wonder I'm even here, and after I came out of the accident I realized I wanted to go back to school. So I started back at Augustana in '75, and I just went straight through. And because I always loved to write, I got an English major with a minor in journalism, and ended up going to work for the Rock Island Argus, eventually the Dispatch, and was with their organization for 15 years. Originally, I was gonna try for a major or minor in music, but I just couldn't do it.
I tell people that when I look at a page of printed music for piano, or try to sight-read, it's like Chinese algebra to me. It just makes no sense. So I can't read music very well. I for sure can't sight-read. And I wish I could, because it's kept me from doing some things that I really wanted to do, like play in a show where you have to read charts. Which is part of why I'm such a big proponent now for music education for kids. But I got frustrated with it at Augustana, so I thought, "Well, I'll just jam on piano like I always have, and jam on guitar like I always have." And for me, it works.
After I got out of school in '79, Jeff Clark and I joined this top-40 band called Diamondback. That was the first band we ever played semi-professionally in. I joined them on rhythm guitar, and we played all the clubs from here to Clinton and Dubuque. This was in the heyday of, like, Billy Peiffer getting into doing the Lynn Allen thing, and Jesse Johnson was here - he went on to be with Morris Day & the Time ... . There were just some killer musicians here. There still are, of course, but back then, it was a good scene, all of us playing these old nightclubs.
I was with Diamondback, I think, about a year and a half. And then I played as a solo act for about a year and a half, which was when I really started working more on my original songs. But I didn't really enjoy working solo. I was doing all right; I was getting plenty of gigs. But after being with a band all those years, it was tough. And then John O'Meara - who's a dear friend of mine - called me up at the paper one day and said, "We've got an opportunity to put a band together."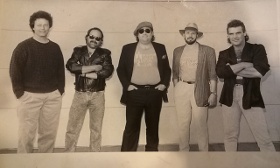 Driving the Bus
John said there was a new place at the Sheraton in Rock Island called Sicily Sax, and it was gonna be a jazz club, and they wanted a band. And I said, "John, I don't know anything about playing jazz." And he said, "That's all right. I'll teach ya." You know, "No problem, we'll get through it, and we'll play some rock favorites and some blues things and mix it up ... ."
This was a Tuesday. And I said, "When does this take place?" He says, "We play Friday and Saturday." I said, "You've got to be kidding!" But we did it, and I learned a lot from him and Mark Spingler, the keyboard player, about playing jazz favorites and classics. It was a whole world I hadn't explored, just learnin' as I went. That was the City Limits Band, which I named after the saloon in Rock Island where we used to play once in a while. I told John that was the deal: "I'll be in the band if I can name it." He said, "I don't care. We can call it whatever you want."
So that went on for a few years, and then in 1985, I was talking to Jim Schwall from the Siegel-Schwall Band in Chicago. At the time, everybody knew who the Siegel-Schwall Band was. I mean, these guys were on Vanguard Records, and he was friends with Janis Joplin and knew the Grateful Dead, and Muddy Waters and Howlin' Wolf would sit in with them ... . They were known all over. Jim was living here at the time playing with a band called the Blue Collar Boys. And one day he told me, "I'm movin' back home to Chicago ... . Are you looking for a band? 'Cause you need to meet my guys."
So he introduced me to Tony Hoeppner, John Burchett, and Jim Van Acker, who were, at the time, the remaining members of the Blue Collar Boys. I came in and took Jim's [Schwall's] place, and we played together from 1985 to 1989. But I didn't like the name Blue Collar Boys, so I made 'em change it to the Blue Collar Band. I just have this thing about naming bands. I dunno.
But I eventually decided that I wanted to do my own band, and wanted to play what I wanted to play, including original material. We were doing a few originals, but very few. Two out of 300. So in 1989, I decided to leave the Blue Collar Band, and our bass player John Burchett said, "I'm ready, too," and went with me. And I got back with Jeff Clark and said, "Look, I want to do a house-rockin' blues band. Like Clapton blues, Stevie Ray Vaughan blues, but our own brand of it. And anything goes - but I wanna drive the bus. I have a vision for it and I want to do it." And Jeff said, "I'm on board."
John called a friend, the keyboard player Rick Stoneking, who came from Natty Scratch, the band that was around here for eons. And along with them, we got Dennis Hancq, who was formerly in the band the Mutcats with Jim Schwall, and who was like our guru for the blues. Dennis and the Mudcats opened for Muddy Waters at the Col Ballroom and were old pros at this stuff by then.
So that was the original band. And we just started rehearsing at Jim's house, and on February 3, 1990, we had our first gig. We played Rascals in Moline, and they went nuts. It was just like, "Man, this is what we should've been doing a long time ago."
A Jillion Different Directions
Dennis left, I think, in '91 or early '92, and Jeff followed shortly thereafter. We're still the best of friends today, but they needed to move on. And it was tough. I mean, Jeff is a rock-solid drummer and plays hard. And Dennis, who lives in Arizona now, was an excellent vocalist and one of the premier harmonica players ever to come from around here.
But Jim Stroehle joined us on drums for a while after Jeff left, and for a while we had John O'Meara playing guitar and doing some vocals ... . And Randy Haddock was guesting with us. He must've been in his mid-60s, getting close to 70. But that dude played sax with so much soul that you'd close your eyes and it was hard to believe it was a white man playing the saxophone. And I mean that in all respect for the genre and black musicians. He just had pure soul.
With our current configuration, "Detroit" Larry Davison came in about '92 or so, and he is without a doubt - and I don't say this 'cause he's my friend - one of the baddest on the harmonica. I've heard some good ones play, but what he does is amazing. Terry Hanson, our drummer, has been with us close to 15 years now. He also has his own jazz ensemble, of course. Always has. And he's incredible. Every time I play a gig with Terry, I learn something.
And last year, Tony Hoeppner joined us. He was with John and me in the Blue Collar Band, and plays with me in our acoustic quartet Whoozdads?. And we were doin' so much music together - and he's such an incredible songwriter and singer and guitarist - that I said, "Hey, why don't you just come play with us in this, too?" It just made sense. So now, with me and John and Rick, we have six pieces.
The big band doesn't do that much anymore, and it's not because we don't want to. It is a little bit because we're all getting older. John and Tony and Rick are retired, you know, and this August I'm gonna turn 60. But a six-piece band? There's not that much call for it unless you want to travel.
But we've all gone a jillion different directions. John did several albums with Ralph Iaccarino and Noble Spirit; Rick has gone back and done things with Natty Scratch; I've done things with Andrew Landers and got to do a little dobro work on the Candymakers' album ... . Our guys are all hired hitmen for area bands. And I like it when you get to sit back and just be one of the musicians - sometimes that's nice, you know? You don't have to sing all the tunes and call all the songs.
I've never considered myself a great instrumentalist, guitarist, singer ... . But I've had my moments when it comes together. And a big part of it is due to the guys I've surrounded myself with. I've always had good drummers, good bass players - good, solid musicians. You know, they made it all possible. And I keep learning. Real musicians never stop learning, man. If you do, you're done.
The Ellis Kell Band's 25th-anniversary concert takes place at Davenport's Redstone Room (129 Main Street, Davenport; RiverMusicExperience.org) on Friday, February 6, at 8 p.m. For more information on Kell and his music, visit EllisKell.com.
---
River Music Experiences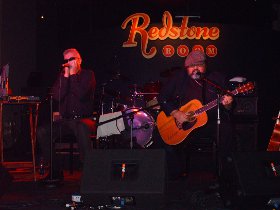 In addition to showcasing musicians in its Redstone Room and on its RME Community Stage, Davenport's River Music Experience hosts weekly, monthly, and seasonal programming designed, as Director of Programming & Community Outreach Ellis Kell says, for "all age levels and interests, from little kids playing in drum circles to adults who want to study guitar or piano or recording. We try to touch on all those things."
Here, Kell himself touches on some of the numerous RME programs he's particularly proud of, as well as the scholarship fund established in memory of his and wife Kristi's daughter, whom the Kells lost in an auto accident in 2002, when she was 17.
Songwriters in the Round (the second Saturday of the month at 3 p.m.): We're re-invigorating that program this year and sort of changed the concept for it. Before, it was four or five songwriters coming in once a month and playing to an audience. But we want it to really be an exchange between songwriters. A group of songwriters getting together around a table, saying, "Hey, I can't find a middle eight for this song," or "I've got this great hook but don't know where to take it after that," or "What do you think of these lyrics?" Something that's more intimate, with people getting together to talk about writing songs and helping each other. And then have a quarterly songwriters' showcase where it does become a performance-oriented thing. I'm really looking forward to leading the charge on this, and really making it something that songwriters in the area will be interested in.
RME Radio Hour (Saturdays at 8 p.m. on WVIK): We love that. We can play anything we want, basically, as long as it's related to American roots music. When we started, we thought, you know, "That's gonna be a pretty broad swath there ... !" But it works. I'll play some classic stuff, or play something from Woodstock, or the early days of rock 'n' roll - way way way back. And Kate Benson, our director of entertainment, has her finger on the pulse of acts playing at Phases of the Moon or River Roots Live or different festivals. We just did a little informal tribute to Joe Cocker. It wasn't the whole show, but there were like four cuts, and three of 'em weren't prominent ones that people had heard before, and the rest of the show was Redstone Room performers and such ... . I think the diversity of it is its strength. It's definitely an interesting show to listen to because you might hear anything.
Acoustic Music Club (Tuesdays at 4:30 p.m.): That's a really special program we do for young adults who are interested in music and have either physical or mental challenges. I think it's in its third year, and we're really proud of it. West Music Therapy brought the idea to us. Once these young adults with special needs are out of high school, there aren't really that many musical alternatives for them. So they, and we, wanted to do something tailored toward them that gives them an alternative. And I think it's a good thing that we do it, because I'm not sure anybody else is doing it, at least in the area. It's one of those things we feel like we have to do because it's important, and we're glad we can, and we enjoy doing it.
Polyrhythms' Third Sunday Jazz (the third Sundays of the month, 3 p.m. workshops, 6 p.m. concerts): That's been going on for several years, and the quality of people [Polyrhythms'] Nate Lawrence brings in ... . I mean, if you went and saw the same shows in downtown Chicago, you wouldn't get in for probably less than 30-something dollars and a two-drink minimum. He just gets killer players in here. And what also makes it special is he really tries to utilize local people, because we've got some great, great players here. Manny Lopez and Ronnie Wilson and Tony Calafano and all these guys - and even if he has a nationally touring jazz artist in, he'll utilize those local hitmen as backing musicians. He's not of a mind where he'll say, "If I can't bring 'em in from Chicago or New York, I'm not gonna do it."
Rock Camp USA (two-week sessions for ages 8 to 18, beginning June 15): This is our 10th year as a Rock Camp affiliate, and I'm proud to say I've been the director ever since it started. We've seen some really magical things happen through Rock Camp - especially for kids who really came out of their shell and could have very easily gone the other way. I mean, seeing the kids learn to share, and learn musical discipline, and how to take their time in the spotlight and pass it on ... . We've been working with Rock Island Parks & Rec, and we're going to do a big, summer's-end, 10th-anniversary Rock Camp USA Quad Cities celebration in Schweibert Park. We're gonna invite all the kids back to be a part of it, and of course, the Rock Camp bands will play, and the instructors ... . And Dave Sebree, who's the founder of Rock Camp in Austin, Texas, and is a phenomenal guitarist, will be playing. So it's going to be an exciting year.
Winter Blues (week-long session for ages 8 to 18, beginning in December): We just concluded that with the new year, and the Winter Blues All-Stars are already getting offers to play gigs in the area, and are rehearsing here every week. They're working hard at it, and every year, it's a real treat to see those kids grow. You know, some of them, when they first came into Winter Blues, they've maybe played a few rock tunes, and they didn't have a clue, really, about the blues. And now they're blues fans, and they're digging it, and they're going back and finding out about the old guys and learning about the traditions - and we just sit back and smile. It's like, "Yeah. There'll be somebody to take it over and pass it on."
The Karli Rose Kell Music Scholarship Fund: Over the first couple of years, we took $13,000 that was raised and distributed all of it, down to the penny, to students from Rock Island High School - Karli's high school - who intended on continuing their study of music into college. And when I came here [to RME], we re-activated the effort so that we could serve students on both sides of the river, with the criteria being that it had to involve programming at RME. It helps kids if they need aid in getting into Winter Blues or Rock Camp, or if they need financial help with private lessons, and we're very proud of it. And since Kari's passing, we've raised over $70,000.
Sometimes Kristi and I can't believe it's been that long since she's been gone. But it keeps amazing us - the generosity of people in this community, and how long they've kept supporting the fund. I don't know if she would've gone on to be a music major. But she was in the choir and sang with the Nova Singers, so I think music would've always been a part of her life. She would've always had a song, and she would've always shared it with people. I still tell people that there's not a day I come into the doors at work and don't think about how much she would've loved this place. And that's a big, big part of the reason I'm so proud of what we do here, and make possible for kids through her fund. She would've been here all the time. We'd never have been able to get her out of here.
For more on River Music Experience programming and a complete schedule of upcoming events, visit RiverMusicExperience.org.