This article was first published on February 19, 2015 as the cover story for that week's Reader. On February 26, 2015 "As expected, the Federal Communications Commission (FCC) passed new net neutrality regulations. . . " On December 14, 2017 the FCC will vote to replace the "current Open Internet or net neutrality rules, which prevented Internet service providers (ISPs) from blocking or throttling legal content users sought to access, as well as preventing ISPs from accepting payment to prioritize some data.".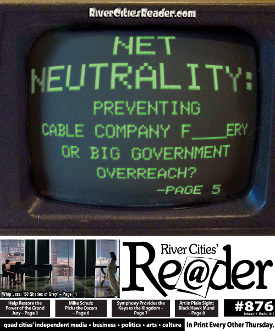 On February 26, the Federal Communications Commission (FCC) will be voting on rules that would reclassify broadband Internet as a public utility. The stated goal is to give the commission the authority to enforce what's called "net neutrality."
Unless you're a rare breed, I've already frightened (or bored) you with a topic you're certain is arcane, technical, obscure, and confusing. You might also think it's irrelevant.
So to goose your interest, I'll note that John Oliver - the host of HBO's Last Week Tonight series - recommended replacing the dull "net neutrality" with "Preventing Cable Company F---ery."
My goal is to present a simplified (and in some cases over-simplified) explanation of net neutrality as a public-policy issue, specifically in the context of the FCC's impending vote. The proposed rules won't be made public before that meeting, but FCC Chair Tom Wheeler has sketched out the broad strokes - no blocking, no throttling, no paid prioritization.