How do you choose from thousands of paintings, illustrations, and drawings to represent a lifetime of making art? How can one express an artist's wide range of vision in only 53 pieces?
Jeanne Tamisiea came to the Quad Cities to teach at Black Hawk College in 1987, after serving as a traveling art instructor in North Dakota and directing her own illustration and design company. Originally from Iowa, she earned degrees from Drake, Michigan State, and Syracuse. She died in July 2006 at the age of 57, of complications from a viral infection of the heart. (See "Quiet Giant," River Cities' Reader Issue 598, September 13-19, 2006.)
Maestro Bill Hannan taught with Tamisiea at Black Hawk for 18 years and was given this wonderful and difficult task of curating a tribute retrospective from her vast array of styles and media. He was aided by Jeanne's daughter, Lyndsay Kane, and they have succeeded admirably. In addition to 53 Tamisiea works, the exhibit includes two excellent black-and-white photographs taken of Jeanne in her studio in 1992, by Robbie Steinbeck. The exhibition is now on display at Davenport's Bucktown Center for the Arts gallery, on the second floor. A reception will be held on Friday, January 26, from 6 to 9 pm. The exhibit continues through February 23.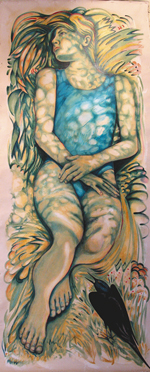 On one wall we see three large, hanging, unstretched canvases from her Carydid series, painted in oil. The Tall Figure of Rose describes a brooding female form in a turquoise swimsuit, hands folded, her head turned away, and her hair merging with green and pink plants, which then blend into wings around her. In the lower right stands a black crow, who seems to be speaking. The girl's body is covered in dappled light from unseen leaves, or these patterns are the abstract meaning of the girl's thoughts, shown on her body. Every part is well-drawn, with good foreshortening, and surrounded with black lines.
Jeanne was a terrific drawer - she had an excellent ability to not only reproduce reality but also to improvise on it, allowing her to excel in every art form and medium. She was like a talented musician who could play any instrument well.
Eight smaller oil canvases make another grouping. They were painted during her teaching sabbatical in London in 2002, and are based on her observations of everyday realities in human relationships: an older couple walking arm-in-arm through their garden near a walled-in house; lovers sitting by the beach watching the waves and boats; two figures with a white bird and a blue dog; and two overweight tourists, eating a snack, sitting in the midst of the city. One called Swans in Hyde Park pictures a young woman sitting alone in a boat exchanging eyes with a man close by on the shore, a cup of coffee before him. Behind them, another man, carrying a roll of rope, has just stepped out of his boat, which is seen in playful perspective from above. Beyond in the distance are the slopes of the shore, the trees, the boathouse, and the far buildings of the city.
Fire Dance, a large oil on paper, captures our attention with its mixture of colors and forms. Here in dramatic and controlled slashes of color, a masked woman emerges, smiling with big lips and expressive eyes. Feathers seem to sprout from her hair, reflecting the same forms of the fire before her. This is a strong piece in light pinks, oranges, yellows, and flesh tints, with dark-gray-blue illustrative lines, perfectly balancing emotion and control.
In the pastel Tree from the Backyard, an old, great, and leafless tree was captured by Jeanne before it was cut down. Light filters through the green leaves of young trees and onto the thick trunk. Surprising, expressive colors appear in unexpected combinations describing branches and space. She has gone from the realistic to the imaginary in one image.
Two gorgeous little gouache paintings, Shapes in Study I and II, play before our eyes. Only a few inches in size, two triangles dance on a kind of platform in many beautiful, muted colors, outlined in black. Although only an exercise for her between series, they are full of energy and life.
Two large realistic watercolors with gouache and airbrush, titled Expectations and Sonata, depict two different although very similar women, wearing blue sweaters, patterned dresses and sleeves, and sitting on the same green wooden chair. One appears holding a wine glass, smiling. The other seems to be opening a Christmas present still in its wrapping paper. Patterns are everywhere, relieved by clear open spaces of pure color.
Numerous more images appeal to us: two perfectly painted peaches; an illustration for a children's book with a frog and insects in a bright-colored lagoon; an Easter Island grouping of five pale, standing asparagus; a digital book cover of a cowboy and a young maiden in a city park with leaves swirling; early illustrations in airbrush; a jazz band; a cowgirl on a rodeo horse; and a watercolor self-portrait in a garden with a basket of fruit.
Finally, Bill has exhibited the last page of Jeanne's final sketchbook, dating from 2006, of gesturing fantasy figures in pencil, animated and well-drawn - her ideas for images that were never finished.
The show is well-chosen and expresses a spirit that was large, and every description of her work is a description of the artist's own qualities. We see an adventurous freedom of form and color, and an expressive control that doesn't sacrifice emotion. These opposites combine and inhabit all of her work, surprising us, constantly. Of Jeanne Tamisiea, after we have tasted her show, we are left with the experience of an artist of spirit, intelligence, and bravery, and of a teacher who has touched many.