A huge foam cornucopia, curling in a massive yellowish shape, fills up the entire front window of the Leger Gallery in its current exhibit. Instead of the smooth perfect curve of a mathematical spiral, we have an unevenly textured solidified liquid used in a completely new way to describe the flow of thought and time and nature. With an industrial material normally used to insulate houses, Terry Rathje has created a buoyant example of the lively and inventive presentation inside.
This is a passionate show. A few pieces are still sketches or explorations of ideas for later use, but what we can take away from this almost raucous assembly - what unites them all in this gray and white gallery space - is a spirited investigation, an inventive energy, and the use of old forms in a new and refreshing play.
The seven-artist exhibit, called Impromptu, runs to the end of the month in the downtown-Davenport gallery and features handmade boomerangs and Indian beadwork, colorful silkscreen prints and blue cyanotypes, and lively paintings, sculptures, and performance photos.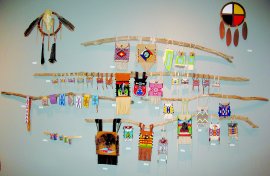 Rathje, along with his giant spiral, displays another from his series of large license-plate collages. Over squares of blue colored metal, the shape made by cut-out letters reinforces the text "Does the shed skin remember what it was to be a snake?" Looking like something from an old Route 66 gas station, it makes us slightly uncomfortable at first in its use of old weathered metal, but then we are both delighted and refreshed by its effect.
His metal-collage technique is faultless. Seeing the unexpected potential of any material requires a mind open to making fresh connections, like a mountain mandolin tune tapped out on a steel drum.
Across the space, Regan Hatfield displays eight of his vibrant and colorful abstract paintings in a self-taught style of dynamic expression. His work combines hypnotic and delicious colors with forms filled with explosive energy.
Testing the Line is rich in combinations of vivacious reds, vigorous blacks, and pulsating yellows. Gestural angular and swirling shapes fly off the background like a sharp guitar solo. Behind these lies a smooth background of soft, unexpected deep blue - which no art-school student would ever use - and it has an almost soothing effect.
Steve Banks - a regular contributor to the River Cities' Reader - records accumulated observations and experiences with comic urban rhythms. His huge Fandango is an intricate and a lovely painting of muted greens and soft yellows made up of hundreds of small interlocking forms. Dozens of stylized people - large and small - and numerous street scenes swirl with a zing that seems full of distress.
As in an altarpiece by Hieronymus Bosch, we find a flurry of faces and bodies, hands and arms lingering in the air, creatures and cities all flowing together into an organic and unified whole. Everything is included and in focus - every corner, every event, and every person. Banks is an artist who sees with a kind of video eye, remembering every image to use as a vehicle in his art.
What is so unexpected about his painting is how the jarring juxtapositions of form and space and color look warm and peaceful when seen from a distance, as if the artist in the act of painting had turned something deeply experienced into a calm whole.
In the center of the gallery stands a tree with hanging forms. On the tree appear a dozen hand-painted kangaroos, ancient letter forms, and animal shapes in elegant, hand-polished wooden sculptural curves. Surprisingly, these are real boomerangs, carved and decorated by Kendall Davis. These objects all fly and return to the thrower, and they also look sleek and lovely. Although the objects are functional, Davis has given them a rare beauty, beyond the skill of a craftsman.
Eric Westmorland creates intimate and lavishly beaded Indian objects from original and traditional tribal designs. But he has combined these age-old forms with a current view of today's city dwellers in a fresh way. On 2 World's Pipe Bag, he has fabricated a feathered long-haired Indian, seen from behind, who looks out toward the black silhouettes of tipis and city buildings under a colored sunset. Long leather strands hang from the pouch, like a rain on the prairie.
Displayed hanging over wooden sticks on the wall, his glowing bags are holders of more than physical matter. Because they were made with such obvious care and time, a barrier of round stones stands on the floor of the gallery surrounding his pieces, protecting them from careless attention.
Karen Bloome, who just returned from a summer in Italy, shows us silkscreen images drawn from her travels. Layered and colored patterned images of cathedrals and saints emerge like a photographic reminiscence, created in her free-association style. In the best of her Venice Prints, several images are laid on top of each other to form a new and lively composite impression - exuberant, almost abstract. Her freedom in manipulating the silkscreen media is strong. The effect is like overlapping soundscapes, all heard over one another, making a different music, loosely structured and free.
Heidi Sallows' interests are taking her into environment and landscape, and she has turned her attention to the recurring patterns of nature that continue beyond the duration of life. In her art, as in her recycled landscape piece recently inside the Figge's front door, she has been using the elements of nature and civilization found washed up on the shores, recycled into new constructions.
In this exhibit, she gives us, from her Chicago art-school days, an intimate and well-brushed egg-tempera painting of solitary travelers on a train called Night on the Zephyr, and another of a peopled and bleak street corner that she calls Break at the Club, of three women staring back at the viewer with the smoke and clouds of the night city passing by. Painted in many layers in a medium that's difficult to work, she achieves a direct sense of place and weary melancholy.
These are more than simply pictures, but private and emotional experiences freshly painted with a clear eye of humanity and a sense of environment. This thought aptly sums up the expression of this exhibit's artists.
Impromptu continues to the end of August. Leger Fine Art is located at 228 West Third Street in Davenport. The gallery is open Tuesday through Saturday from 10 a.m. to 5 p.m.