Jim Riesberg's most recent series of large-format collages originated from an auctioned four-pound box of vintage photographs, musty old invoices, advertisements, and water-stained inventory sheets from a hardware store that had been in business in the 1880s. By scanning and combining these written and visual sources, he has created a many-layered body of images, full of emotion.
There is a sense of creativity, improvisation, and play in these works, but also nostalgia and loss, as if these antique and solitary figures, with their sometimes solemn and ancient expressions, represent a way of life that has passed and is gone forever. Surfaces seem brushed over with time; faces and eyes emerge. We notice backgrounds of ledger books and buildings, images of clocks and illuminated windows, pictures of old train stations and John Deere imprints in metal. These are all that remain of an era that has been replaced with the new and shiny and clean.
Humanity marks Riesberg's work, and also that of sculptor Thomas Lytle. The two artists are paired together for the current show at Quad City Arts, running through December 22.
In 10:07PM, a 22-by-28-inch piece, Riesberg combines an old wooden freight box, large warehouse windows covered in dust and framed by a brick building, and a warm yellow glow shining from within the glass window. It evokes a time when people lived and worked inside this building that now only remains an image in a photograph. In the 10-by-13-inch Setting the Standard, an illuminated staircase climbs up to the left in front of a wall of receipts. In the lower left is imposed an early Standard Oil Lubrication logo. We sense what the artists of previous centuries felt in viewing the decline of the frontier and prairie of the Old West. A way of life has passed.
Riesberg's pieces lightly suggest looking at our own histories and holding on to our own memories, as we would, kindly, through an antique family album.
In Riesberg's large, tender It's About Time, on the sharp incline of a wooden table stands a large, old, thin rectangular metal canister, a flower still surprisingly growing out of it toward the viewer. Layered perfectly over the canister and taking up most of its front side is a large watch dial, with one arm missing, the hour hand pointing to nearly 12. The understanding is of time lived and lost, of life still holding on, almost finished, but destined also to soon pass away. There is a hint, although veiled, of the artist's own personal experience, of something having passed in his own life, seen only in memory, but of life continuing. The artist writes in his statement: "My life is reflected in my art, but this time maybe my art is reflected in my life."
Another side of Riesberg's excellent exhibition is gentle fun and tongue-in-cheek. In Corky, the Wine Merchant, an eccentric-faced, well-dressed, white-haired, white-bearded man stares past us to some vision, under a superimposed wall of wine corks. In Sassy Sadie's Secret, a spunky middle-aged woman looks out smiling, wryly, while behind her are partially obscured signs, broken by a vertical strip of written letters: " ... is living as well as those who ... ."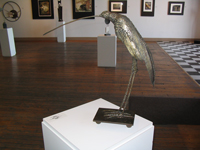 Riesberg's sensitive and witty visions are set in large, dark-brown, flat wooden frames that isolate and harmonize with his sources. His works, moved by his experience and interest, and originating in a treasure box of antique papers and photos, are layered with meanings that reward repeated viewing with deeper appreciation.
On the floor and three walls of the gallery stand and hang the sculptures of Thomas Lytle. A retired art teacher, Tom has won several awards, including one at the recent Riverssance. A few of his pieces have also appeared in Davenport's terrific Sculpture on Second Street project, most recently The Gossips. His works are both large and intimate, and are generally based on and play on the figure.
The splendid Nubia Seduction greets us at the south end of the gallery - a tall, dark, Futurist steel figure that pleases with each view around it. Slopes, curves, and wonderful suggestions of the head and limbs, of space and void, create a moving body in space.
In his five-foot-tall-plus Street Talk, three long-legged figures rise like tall plants to converse, each with a separate and unique identity. Although the piece is constructed from welded steel with a light-brown brass patina, a breeze would stir these people like tall foliage in a field.
In his charming In Search of the New Renaissance, an aged-metal camera-like head, a circular turquoise patinated body, and a small rectangle of marble from Florence - all connected by straight thick wire - give us the surprising impression of a standing figure. In his elegant mid-sized bird, Guardian, the long beautiful arch of the bill attracts with its negative space and pulls our attention close to notice the detail of feathers and legs.
The humanity of his work is balanced by his large, humorous Rock, Scissors, Paper. All the elements play on the childhood game of chance: a thin hanging metal circle with round spiral connections, an inner circle of steel holding a large rock, two large scissor blades like the hands of a clock, and a handmade rectangle of white paper between the scissors.
His work also includes several tribal masks of welded steel, copper, and bronze of various ancient and otherworldly faces in contemplation or revelation with attachments of symbolic energy; several smaller sculptures of prehistoric animal forms; and some hand-sized terra-cotta human figures in dance poses.
Lytle's message of creativity and passion for the human form in metal is clear. He demonstrates to us, in his style and representation, a great ability to go beyond formal elements to successfully create visual interpretations of his life's interests.
The Quad City Arts Center is located at 1715 Second Avenue in Rock Island.