Three excellent young painters - Sara Fletcher, Sarah Goffstein, and Greta Songe - shine in their current exhibition at the Leger Gallery in downtown Davenport. Former students of Ron Cohen at the University of Iowa, they are all at the beginnings of their teaching careers. These artists are well on their way in establishing their personal styles in art, and all have something individual to say about experience and memory. One artist is influenced by the light and stillness of Vermeer, another by the colors and patterns of the artist Vuillard, and the third by the flowing music of nature.
Sara Fletcher paints beautiful, intense light overwhelming the forms of landscapes, figures, and matter. In her works, the colors are muted by the light, and her palette is limited to grays and an occasional shade of blue or soft earth tones. Everything is quiet and still.
In Flood, the light fills a gray and empty room, covering the walls, almost obliterating the window. In Duet, a horse and a bird statue share a ledge by a window immersed in light, which illuminates the open books on a table. Shadows are painted more densely and heavily than the objects. In Elephant Bird, a Vermeer yellow curtain hangs in the air, heavy with light, as a cloud is heavy with moisture.
The substance of her painted objects seems immaterial; they become almost transparent. The painted air seems profound in its weight.
This act of painting deep light changes our understanding of the images in the pictures; we're not sure if we are seeing observed painted reality or the artist's awareness of something else, transforming the images into the expressions of thought and awareness.
But there is a gentle balance in this paradox of materials and ideas. Her work in the end describes that rare still, quiet moment, when we surface to look around at our world and experiences, and realize ourselves in time.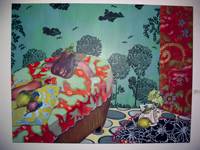 Greta Songe paints imaginary, vivid room interiors with an overflowing abundance of patterns, influenced by her favorite artist, Vuillard. Curtains, rugs, wallpaper, and floors are all filled with beautiful and intricate decorations. The patterns are stenciled, printed, or inspired from the artist's many volumes of wallpaper sample books. Placed among these large colorful forms are little appearances of still life - vegetables and fruits, some plates, a watering can, a little toy, and an occasional flower.
These attractive patterns overlap, building up areas of rich texture and, within them, surprising arabesques. In The Flood, she has drawn with puff paint from a tube to create yet another dimension.
At some point, we notice the perspective. A couch launches up into the flat space in the painting Melanzane Landscape. A hat box seems too big for its placement in Yellow Squash & Plano Peppers. But these objects, the artist said to me, are not being used in real space; these shapes serve only as forms in the imaginary stage/set of the painting.
Everything and each object in her work seems symbolic. A little toy from her father's childhood makes an appearance, for instance. Her paintings have become harmonious creations and records of her personal and internal landscapes, based on memory and filled with adornment. We can admire the rich combinations of color, the surprising juxtapositions of pattern, and her play with space and forms. The effect is restful, vibrant, and pleasing.
Sarah Goffstein's colorful landscapes are alive with color and movement and music. Long leafless trees sway and are circled by a storm of little diamond-shaped fractals of energy. We wonder what the artist has been listening to as she paints. Each observer brings a vibrant musical soundtrack to the paintings. One viewer I spoke with heard the orchestrations of Beethoven; another heard a hard-rock band from the '70s; and a third felt a Chopin nocturne, full of notes and emotion.
Little abstracted humans occasionally appear, sometimes as secondary images, under the trees and by water, as a part of nature. In Yellow Vortex with Dancing Pair, a swirl of visual energy surrounds and expresses the figures' embrace, like a crescendo of sound. In Tree Vortex - Green, delicious pinks and greens fill the space behind a long yellowing bolt of energy that leaps out toward an old tree.
We are pulled in by the whirlpool of force. In Radiating Figure - Yellow, a ticker-tape parade of white diamond notes spins around five colorful trees. Behind this gale quietly stands an almost hidden yellowish-green figure, oblivious, lost in thought. We feel that we are watching the moment of the artist creating, where the flowing of nature and ideas surround and influence the creator. The resulting mixture of her work describes an understanding of her life as an artist, of the music of creation, and the designs beneath this experience for the artist.
All three of these painters are working with color and forms and light to identify and understand their own experiences of memory, life, and creation. The show continues with a closing reception on Thursday, November 30, from 7 to 9 pm.
Leger Gallery is located at 228 West Third Street in downtown Davenport and is open Tuesday through Saturday from 10 a.m. to 5 p.m. For more information, call (309) 716-1087.