Camus once said that all artists try to reproduce in their work the most moving experiences of their past. By using these memories as a starting point, artists and writers give a delicious emotional energy to their work. These events can then be constructed, modified, and embellished to suit their ideas and images.
The latest show at the Quad City Arts gallery presents an assortment of such remembered associations, made with the perspective and vision of the present. Heidi Hernandez has painted personal, charming, and friendly stories from her family memories. Alison Minas photographed the interior scenes of a familiar haven in her large images of a '50s diner. And Steven Carlson has constructed numerous and startling toy-like "boxes of childhood visitations," full of personal reactions to the past.
Hernandez's mind makes unusual and creative jumps. In this exhibit, she offers six colorful and charming triptychs of paintings, with one large canvas accompanied by smaller predellas (or side paintings) that relate to her story. Her strong work originates from remembered family incidents: her brother wrapping up favorite family objects as his presents for Christmas; an episode from her mother's childhood; her older brother's fascination with the early Atari video games; the ever-present bunnies of Easter in their many incarnations; her link to a cigarette vending machine at the Pink Poodle laundromat; and her adolescent fear of an imminent alien spaceship invasion fought off by cowboys, ray guns, and toy soldiers.
She has painted in confident colors, in flat space, with surprising layers of overlapping imagery. With her interest in the combination of realistic images from the 1950s, it's easy to see why she was selected to lead discussions for the current Martin Mull exhibit at the Figge.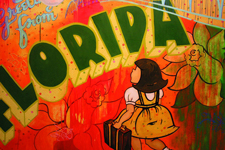 In her excellent Reading to My Doll, we see many boldly colored, seemingly unrelated elements: a green, curving "Florida" in typical postcard letters with a dotted pattern in the 3D effect, a large, realistic portrait of the artist's mother in red hues, a large doll's head, a curving turquoise Centennial Bridge coursing through space, a stenciled yellow '50s car, and a "Dick & Jane" girl carrying a little suitcase.
To the left hangs a smaller painting, named Donna Louise Vivian, of her mother as a young girl holding her favorite doll and pasting pictures in a scrapbook. The painting to the right, Donna's Vacation, is a reproduction of the familiar Little Golden Book, complete with the golden spine, with a portrait of her young mother on the cover, among the oranges of Florida. Each of the side panels evokes an inventive relationship to the larger.
But there is a story behind them. According to the artist, when Heidi's mother was a young girl, she had wanted to read to her older sister's dolls. When this was not permitted, she packed up her little bag, without lunch, to run away from home. She had walked across the Centennial Bridge by herself, knowing that on other side lay the safety and paradise of Florida. Her grandmother happened to be driving by, saw her, stopped, and took her home. The painting works wonderfully with this information.
But we can appreciate the painting without this story, seeing a fable filled with a universal experience, reminding us of the journey we all take from childhood - striking out on our own, with innocence and confidence, and without lunch.
High Score shows a large, high-contrast portrait, in browns, of Hernandez's 10-year-old brother next to his Atari console and Polaroid camera. Behind him is a background of disintegrating Atari monster figures, some hand-sewn, along with glowing stenciled fabric circles. Above this painting are six small paintings of joysticks, Atari consoles, and a flat blank blue image.
The story goes that her brother loved to play Atari and would take Polaroids of his high scores to send to the manufacturer. But these photographs always came out blurry. One feels we are witnessing the fascinating memories of a talented J.D. Salinger family in which creativity, quirkiness, and intelligence were valued.
Alison Minas has taken large-format color photographs of the inside of Jeri's Grill, a community diner she and her husband frequented in Chicago in the early mornings. The beautiful light, the reds and greens, the rectangles of browns and ochres, and the little flashes of color from people and objects are all perfectly placed. Window reflections, golden tables, and benches are all protected from the outside night by a green booth wall. Louis Armstrong plays in the air with the smells of fries and cigarettes and coffee.
In the striking Rain Check, we see two coats on a large metal coat hanger (which Duchamp would have loved), a reflected red neon "Open" sign making multiple images in the large glass, and beautiful water drops beading on a window.
In Time to Reflect, circular stools and round lights whirl back past a round counter into deep space. Four people inhabit faraway booths. This is a place of time passing, of fatigue overcome, of the body, mind, and spirit renewed.
Minas' images seem at first to be relaxed, almost casual observations. But a closer viewing shows that each has been set up with great thought, often on a tripod, with strong formal composition, and a quiet understanding of space and color.
Her hand-written statement reads as a journal entry: Many colors "and a dozen moons all stir together as your senses slip out of focus. Finally your consciousness is replenished."
This familiar community of the diner is the clean, well-lighted place many of us have visited - warm, casual, and satisfying. There is a lovingness in the photographs that refreshes us.
Steven Carlson, who owns the Outsider Gallery in Bishop Hill, has been making embellished sculptural boxes from found and accumulated objects over the past two years. Many friends have contributed artifacts to his constructions.
We see dolls legs and dinosaur heads, model airplanes and manipulated toy soldiers, miniature baby dolls and children's trucks, Elvis statues and action figures. All are changed, assembled, and painted into "socially and politically incorrect" forms that, at first, both attract and repel.
But after speaking with the artist at last week's opening, I found that his creations come from an ironic and sensitive observer of the human condition, reacting strongly to his past experiences. His pieces work in an unexpected manner, making uncomfortable political connections and social assertions, asking many of the questions we have politely forgotten.
In Drugs, Sex, & Elvis, the familiar icon is surrounded by images of sparkling Vegas pop culture and the plastic ironies of his life. A shutter closes over him, like the folds on a medieval altar. In I Love NASCAR, we are both amused and disturbed by the accumulations of pop-culture references to racing, made with toy cars and a dozen dime-store novelties.
But we are asked to open the boxes, revealing the inside cloth coverings. Here we find red velvet, a school of tropical fish, swimming-pool girls, collages of beautiful textured fabric, Superman images, Las Vegas wallpaper, and Saturn and the planets. These insides show a gentle humor, without the angst from the darker sides of his personal expression. An important clue to the artist's intent is the little sign by each construction that reads: "It's important to look inside."
The exhibition continues through February 16. Quad City Arts is located at 1715 Second Avenue in Rock Island. For more information, call (309) 793-1213 extension 109.