The tree jumps out. And the buildings. And the still life.
In the new show of 26 works by mixed-media artist Corrine Smith, these mundane objects are nearly shocking. Smith, who teaches design at Augustana College, said she encourages her students to think of shape for shape's sake, color for color's sake, and texture for texture's sake. "I'm very much a formalist in that way," she said last week. "Composition is a stickler for me."
Her painting for the past three decades has followed those rules with abstract, sophisticated treatments of the most basic rectangular and round forms. ("I don't think that I have exhausted those shapes yet," she said. "I'm not the least bit tired of them at all.")
So even though much of the work in the new show (which runs through April at MidCoast Gallery West in downtown Rock Island) fits comfortably in her pure-design aesthetic, something approaching representative painting -- in her Shelter series and in the tabletop still life The Blue Olive -- appears to represent a radical shift. Shelter #9 is clearly meant as a pair of buildings and a tree.
"That's all really new to me," she said of this transition.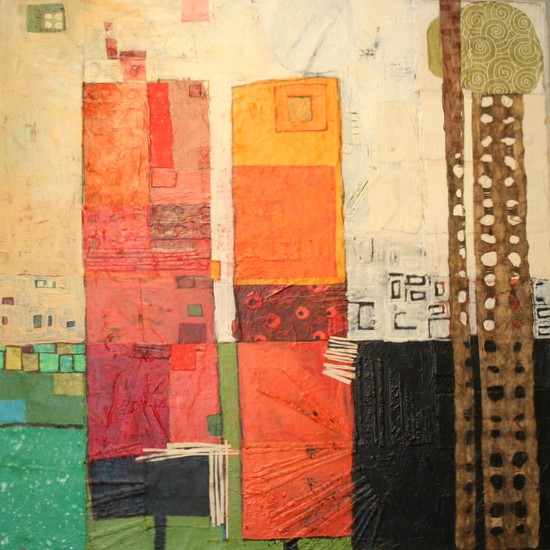 Shelter Series #14 is not as easily identifiable, and Smith said the "buildings" can also be seen as two people. The tree is missing its crown. "I suppose I didn't put the little green top on there because it kind of freaked me out that I made a tree," she said.
That's a hint that this development in her work has come as a surprise to the artist.
"I don't know where these things are coming from," she said. "I kind of do like it, actually. I don't know it leaves as much to the imagination ... but it's still really new for me. I guess I'll continue it for a while."
mp3 Audio interview with Corrine Smith (23 minutes)
At the end of last year, she said, she began looking at houses while on walks and got stuck on the idea of homes. She thought about them as containers of belongings, and about how the loss of a home for many people represents the loss of their wealth, tied up as it is in possessions. And the Shelter series was born.
And those ideas dovetailed with a pair of earthquakes. "There are a lot of disasters happening in the world," Smith said.
Other developments in her work have been more gradual. "I think I've gotten a little bit tighter over the years," she said. "I've gotten into a lot more layering and a lot more planning. ... I've gotten into making paper and exploring a large variety of handmade paper, which then kind of leads me into a little more interest in pattern."
Her older works, she said, "might be a little more painterly. ... I think these are a little cleaner. ... I think these are more controlled for some reason."
Each work, she said, starts with two or three line drawings laid on top of each other, providing the compositional framework. She begins with a color scheme in mind.
Yet Smith emphasized that her process is intuitive: "I always let the painting paint itself ... ," she said.
And even though the basic structure is one of the first things she establishes, she rotates the work while it's in progress. "The top is constantly changing," she said. "I don't know what is the top [edge] until it's done."
That, of course, changes the nature of the work. Turned one way, it might be bottom-heavy. Turned another, it might feel like it's leaning to the right. "It's all about asymmetrical balance," Smith said. "I tend to like things that are weighted on top, because I think it defies gravity a little bit ... ."
Aside from the Shelter series, don't expect Smith to attach meaning to her works. Viewers might see symbolism in a particular shape or area, she said, but "I often love the shape of beans," she said. "It's just that simple."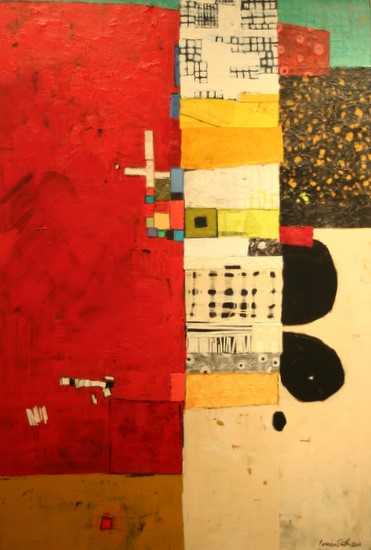 The oldest works in this show date to September 2009, and that's a testament to how prolific Smith is. "I treat it like a job," she said.
She's long had a goal of creating 100 works in a year, which she first surpassed with 102 in 2008. ("I never count until the very end," she said.) She made 117 paintings last year, she said, and sold 85.
She has a goal of creating two paintings a week. "If you talk to most artists, it's kind of insane," she said.
Smith said that she works on paintings "one at a time. Always." Beginning a new work when she gets stumped by another, she said, would be a cop-out. "You just have to keep working on it," she said. "I don't believe in starting another one just because the one you're working on doesn't work. You have to resolve it and then go on to the next."
Corrine Smith's work is on display at MidCoast Gallery West (1629 Second Avenue in Rock Island) through April; the exhibit also features the ceramics of Ashley Fulton. An opening reception is scheduled for March 12 from 6 to 9 p.m.; a closing reception will be held from 6 to 9 p.m. on April 16.
For more information on Corrine Smith, visit http://www.CorrineSmith.Home.MCHSI.com.