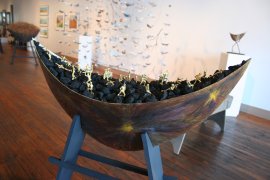 In the new exhibit at Quad City Arts, the concept of the private journey is illustrated by two artists. But by showing only the means of literal transportation - vessels and roads - the artists create something universal to help us consider our own spiritual travels.
Joan Webster-Vore presents dream-like paper vessels of poetic beauty, while Fritz Goeckner shows large, softly bright digital color photographs of rural highway landscapes that offer the everyday in a new and beautiful way.
Even though these artists give us records of their individual passage through time and experience without the use of human figures, the human presence is felt in their art, in the roads and towns and farmland and in symbolic forms. Their lack of specificity allows us to enter into and complete their work.
Carriers of Meaning
Webster-Vore presents 13 boat-like paper vessels - with some smaller ones balanced on thin sticks on wooden platforms, and the larger ones on wooden stands. Their sides are loosely painted in darker burnished oil paint with small circular markings. These ships, shaped like crescent moons, are rudderless and unable to float.
The smaller vessels are empty. But the insides of the larger vessels are overflowing with textures - shredded dollar bills, charcoal briquettes, rice, bones.
More than just fragile yet sturdy presences, these vessels with their freight have become carriers of ideas and meaning, formed from the artist's own journey. The bones could be emblems of death or underlying structure; the charcoal with little golden toy soldiers could be a symbol of the fire of war or the defense of peace; the shredded money prosperity or something devalued; and the rice abundance or trade. In her work these vessels have become a "private journey riding on our own life's current," as the artist writes in her statement. One of the intricacies of good art is that we can interpret works in so many ways.
Near the back window of the gallery is a triptych of beautiful, small, unfilled ships, held in delicate leafless twigs and titled Family. They seem like quarter-moons at night, seen through the trees on the open road or from the river, glowing through the branches. These vessels, made of rag mat board to last indefinitely, were painted with a dry brush, leaving scumbled colors and brush patterns over the surface. Then these dark mysterious colors were burnished to a smooth finish.
Each of the three boats is different yet similar to the others, as each member of a family resembles other members. Their intimate size, the proportions of the sticks to the boat's curves, and the muted colors all work together beautifully, pulling us into the artist's vision. This most personal of her works in the show is also the most successful, poetic and mysterious, personal and universal. The five other small vessels of the show, suspended ingeniously on only two twigs, are less effective by being alone, like a single silent actor on a stage, alone without context or dialogue.
Also in her exhibition are two hanging group sculptures of numerous origami-like boats, suspended from either a long barkless stick or a large wooden grid. In Currents of Consciousness, little squarish boats interspersed with small twigs hang suspended on strings in long columns, twirling slowly in the air. In another, called Space & Time, six strings hold little pouch-like boats, sewn at the edges like an Indian medicine bag, but open at the top, and empty. Some are penetrated by small tree branches.
According to the artist in her gallery statement, these are representations of individual choices of our journey in time, "a series of small and sometimes big decisions over which we may or may not have control." They accumulate like memory, the way the ancient artists used knotted string to record the experiences of their travels.
Accompanying her sculptures are 10 three-inch-square oil paintings on paper, called A Series of Small Reflections. They look like the loose shadows and reflections of boats in moving water, which from a distance appear as abstract and freely created landscapes. Quick little moods, like short stories, are made in each picture, the reflections in water of her sculptural boats suspended in the gallery space.
Reminding Us to Look Everywhere
Strongly contrasting these forms are the large color photographs of rural landscapes, flooded with a bright and optimistic light, by Fritz Goeckner. He calls his selection of images Cozy in the Bosom of the Bypass. All are pictures of what we have seen in our own travels - long stretches of roads and overpasses, some with blurred cars passing by, and remote and still country intersections with distant trees and little towns in the background.
As opposed to standard color photographs, he uses only the color that's left by removing the black and white layers of his images in the computer, to become what he calls "free color photography." The effect, once we get used to it, is striking, like bright pastel paintings, with surprising touches of purple and orange trees, blue roads, and glowing red roofs. Every image is light-filled and describes a deep space going back to a distant horizon, under subtle pink and velvety blue skies. His formal composition is quietly sure, with excellent divisions of color and form, verging on the abstract when seen from a distance, and designed with the quiet objectivity of a scientist making art.
What he arrives at, through his choice of images and his unusual process, is subtle, high key, and, in a strange way, almost calming. The fullness of the colors, like layers of soft and delicate intersecting sounds with no drums, gives a restful and sometimes soothing effect. Large colorful shapes with little gestures of nature or of a human presence in the tones and textures easily and gracefully merge.
We are constantly surprised with what we see. These close and familiar views of a personal ride on the American highway become fresh and almost unfamiliar.
In, Tiffin, Iowa, from I 80 Exit, we stand before a picture of an intersection crossing a four-lane. The wide blue highway rushes off to either side. Before us a single lane leads straight back into the countryside, with an intense red-roofed house, and delicate pink and orange and purple trees fading into the distance. A "one way" sign on the right points us right back into the picture. There is much beauty in this familiar scene that can please and inform our eyes.
In New Bypass, Belmont, Wisconsin, the photograph overlooks a double blue highway before beautiful textured brown and gold cliffs. Behind this a layer of feverish light-green hills appears, and then further back a transparent tone of a little town, settled under a faded pastel sky. A soft-blue road barrier bumps us back into the picture from the left. If the image were not so contemporary, we could feel a slight sense of nostalgia, of something lovely we might have missed or wearily passed by on our own journey without noticing. But it is now recorded and transformed by an eye and a process into something beautiful, reminding us to look everywhere.
The exhibit continues through August 10. An opening reception will be held from 7 to 9 p.m. on July 13.