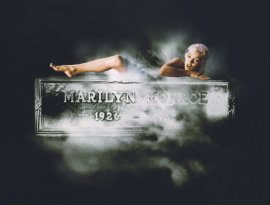 While Dennis Kendall Hall's work captures numerous famous people and aspects of pop culture, it would be inappropriate to think of his work within the confines of Warhol-ian Pop Art. Andy Warhol focused on celebrity, persona, packaging, façades, and mass production. Hall's work has a sensitivity that more frequently captures the beautiful and eccentric personalities of the "real" world instead of the glossy unreality of the "glamorous."
It is important to bear in mind that while we tend to use the word "glamorous" to mean someone who is stunning, exciting, or alluring, the word's Scottish root also relates to a magical spell or charm, something that is not only not real but intended to be deceptive.
The dual use of the word "glamor" helps to provide a broader context for appreciating the work of Hall, a local photographer originally from California. Hall's work frequently juxtaposes the glamorous with the mundane, so that we can see the glamorous within the mundane and vice-versa. The first third of Dennis Kendall Hall: Four Decades in Photography at Leger Gallery in downtown Davenport opens this Friday and will run through June 10.
Marilyn Monroe: Celluloid Survival is certainly one of Hall's signature photographs. Marilyn Monroe's face and bare arm and leg are climbing out of a box with the words "Marilyn Monroe 1926-1962" on the side. She seems to be either emerging (resurrected?) from her sarcophagus, or actively refusing to be buried/forgotten.
The highly charged image has almost become a de facto logo; it is on the marquee above the main door to the gallery. But the viewing experience is front-heavy. Visually, Marilyn Monroe: Celluloid Survival has "impact, but no resonance," an expression coined by art critic/theorist Robert Hirsch to describe work that has a strong initial visual appeal but limited conceptual staying power. Here, the image and the idea rely heavily on the viewer knowing the specific celebrity. If a viewer knows little or nothing about that particular celebrity, then the image cannot deliver its message.
Conversely, in the black-and-white piece At Christy's Auction House: Marilyn Admirers, two smiling women stand in the foreground at the bottom of the frame in front of a much larger poster of Marilyn Monroe. The two women have textured skin and overworked hair reminiscent of the chattering mob wives at the hair salon in Martin Scorsese's Goodfellas. Their heads tilt in toward each other, forming a subtle wedge that reinforces our focus to the literally larger-than-life Monroe in the background. Hall astutely contrasts unreal celebrity beauty with everyday life, glamor versus reality.
Although the image in At Christy's Auction House: Marilyn Admirers is clearly Monroe, in Pop Art fashion it has an interchangeable quality in which (nearly) any female celebrity could serve the same role. The image of Monroe oversells the comparison, but fundamentally the viewer wouldn't need a specific connection to Monroe to "get it." Here the notion of airbrushed glamor and commodified celebrity juxtaposed with the moles and wrinkles of reality visually assumes greater importance than which specific celebrity is seen.
Although many of Hall's images "contain" celebrities, idols, or icons, they are only partially about them. Oftentimes the staying power stems from how Hall captures the humanity in his subjects and their interactions. In that sense his work is a blend of the lush "fashion photography" of Annie Liebowitz and the gritty and bizarre "documentary photography" of Diane Arbus. When Hall's images move beyond celebrity and return to being human, his visual gifts to see, select, and translate truly shine.
Immogen Cunningham & the American Flag is an unmanipulated photograph of an old woman dressed in blue with slight accents of red stripes and white peace symbols. She rests her forlorn face on her hand, which lies against an enormous lumpy boulder. The rock is painted red, white, and blue with myriad drips invading the colored stripes.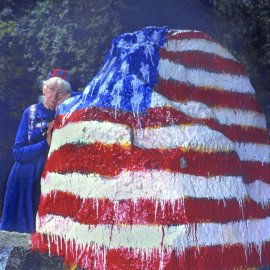 The title tells us that the woman is Imogen Cunningham, who was a photographic pioneer and member of f64 - a group of photographers in the western United States during the 1930s that included Edward Weston and Ansel Adams. But the lack of that knowledge would not diminish the emotional potency of and human connection with the image. Even if the work were untitled, fundamentally the image of a small woman wrapped in her patriotism/Americana but dwarfed by an cold and unresponsive behemoth speaks volumes. Hall serves the idea well by selecting and capturing this pairing in a straightforward manner, without imposing unusual camera angles or a noticeable depth of field.
Amazingly, 168 years after photography was introduced to the public, it is still one of the most under-appreciated mediums of artistic expression. Because of the camera's ease of use, and people's willingness to accept the snapshot as reality instead of artifice, photography is often dismissed as not being art, or at least not being as true an art form as painting or sculpture. But a brush or a chisel takes years of practice, empathy, and purpose before it can make something of significance, and the same is true of the camera.
The Leger Gallery is actually hosting three separate shows in June featuring highlights from Hall's 40-plus years of seeing, selecting, and recording images of life through the camera. Each show will be roughly 10 days long and will have a different body of work, an extensive transformation of the physical gallery space, and an opening reception/event. The first opening is Friday, June 1, from 7 to 10 p.m., and will be a celebrity costume party.