Leonardo da Vinci was famous for improvising poetry while playing the lute. Mozart and Beethoven were legendary for their spontaneous piano inventions. And blues and jazz musicians have always loved the ability to create new combinations of music or words while playing.
Accidentally on Purpose: Improvisation in African Textiles & African-American Quilts, a magnificent exhibition at the Figge Art Museum, demonstrates this gift of improvisation, of turning a traditional form into a fresh and unique creation. And like great musicians, these quilt artists sew a piece together with their own original and surprising harmonies.
Accept the Accidental
Quilts have long been held in low esteem in the art world. They contain few realistic images. They were made in the home, like a craft, and were created generally by women who had never gone to the art academies. At best their work was the result of a hobby, or a social function that allowed them to gather and make something warm and decorative for their families for the winter. How could they be making art?
If the log cabins or early wooden homes caught fire, the quilts were soaked in the water of the rain barrel and thrown over the flames. When they got old and out of fashion, they were sometimes discarded or stuffed in a bureau. It wasn't until the 20th Century that we discovered that quilts were extraordinary creations, worth admiring, and most definitely "art."
Some collectors, among them Eli Leon, the curator of this exhibition, realized their unique beauty. Leon began collecting them more than 30 years ago from all across our country and has amassed 3,000 quilts and African textiles, gathered from African-American artists in southern Arkansas, California, east Texas, and northern Louisiana. He has interviewed more than 100 of these quilt-makers and has archived their spoken words at the University of Nebraska libraries in Lincoln.
Quilt-makers come from two traditions. The first is the European style with which we are all familiar: the standard quilt that was measured, cut, and assembled precisely according to traditional patterns, allowing little room for improvisation. Many people cook by adhering strictly to a recipe, and the results are often wonderful.
The second tradition, the patchwork style on display in this exhibit, has been passed down by African-American quilt-makers through aural and visual examples. Their work shows a strong link with African Bakuba textile designs and aesthetics, some examples of which are included in Accidentally on Purpose. These modern quilt artists rely on their instinct, accept the accidental, measure approximately, and delight in improvisation. We all know people who cook like this, and the results can be wonderful, too.
Singing Colors
This exhibition, presenting 100 pieces from 60 quilters, occupies the third and fourth floors of the Figge. When we first enter the huge gallery, we immediately notice the enormous size of many pieces displayed on the walls. They seem made for giants, but they were intended to hang over the edges of a big bed on all sides to the floor.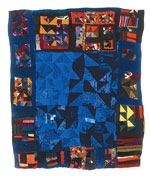 Next we notice that nothing seems straight. Like a wobbly Thelonious Monk piano solo, some quilts lean sideways, and some careen all over the wall. Everything seems off-kilter, and patterns have gone astray - unmeasured to our eyes. There are zig zags and eye pops, radical shifts in scale within a piece, and multiple patterns all in the same work. Long strips of pieced-together cloth don't line up with the next one, and then some do.
If these quilts had been entered into any local county fair, they wouldn't have made it past the first round of judging, for the spontaneous approach almost always looks untrained, as the first Impressionist paintings seemed imperfect and unsophisticated.
But this imprecision is intentional and natural to these artists, part of their experience. The effect is refreshing and delightful, and always unexpected.
I sensed that these intimate and homemade pieces seemed slightly uneasy hanging uniformly spaced on the bright wall of such a beautiful modern museum. If they could be anywhere, these quilts would rather have someone dreaming underneath them, warm and asleep.
Next we notice the fabulous tactile colors singing next to each other: bright reds, turquoise, rich blacks, deep blues, an orchard of colors in one quilt, blue jeans in another, and mostly white with accents of colors in a few. Some quilts are highly textured with corduroy, threads, velvet angora, or beads. Some quilts are shiny and luminous, others somewhat muted with bold accents.
Their combinations of forms and colors look like modern abstract paintings, surprising in unexpected composition, and almost overwhelming altogether, like a room full of jazz bands, all playing at once. The energy and attitude of improvisation are everywhere. This quilt tradition enjoys intense flexibility, and these quilt-makers feel free to play.
Soon, I feel wave after wave of enjoyable energy. The colors start to collide. The lights are too bright. Each quilt should have its own spotlight so I can make it out individually. I have to sit down to catch my breath. I look around, but there are no easy chairs or comfortable couches to lean back on. I need to hear sweet blues or jazz music in the air to calm me. There should be the smell of good food; someone should be cooking nearby. Is there any hot coffee?
The Recovery
But I start to concentrate on one of the pieces, and I begin to regain my calm.
A quilt by the deeply religious Rosie Lee Tompkins, who recently passed away, captures my attention. It's Half-squares Medallion (1992), four large uneven rectangles of orange flowers on deep green fields, pierced horizontally by five strips of turquoise, pink, gray, and red-ochre plaid, and crossed vertically by gray and light sherbet greens. The border around the edge runs two bright pinks and madras. The quilt is a harmony of relaxed improvised patterns, like a sparkling Nat King Cole piano.
Willie Mae Chatman's String (1990) is pictured on the exhibition's postcard, 10 squares across and 11 down. Each square contains diagonal strips of fabric, and all are surrounded by a thin border of maroon and violet. It's a feast of joyful sound colors played by cotton/poly broadcloth on piano, cotton satin duck on sax, Calcutta cloth on trombone, calico on trumpet, crepe gingham on bass, and seersucker on drums.
On the third floor hangs Abbie Williams' Bell Bottom Medallion (1991). This is a Josef Albers-like composition of blue-jean/gray nested squares, with a perfectly timed clean white border inside. Dramatically across the off-center streaks a large sliver of stark white, a Hans Arp Bird in Flight shape. Small rust-orange rectangular accents act as stops on the top right and bottom left. The piece is spectacular and worthy of any artist's attention.
On the third floor is another luminous Tompkins jewel, a Paul Klee-like series of colorful and relaxed squares called Put-together (1985). It's made with velvet, velveteen, velour, and chenille. The voices of the colors accumulate loudly, like a dynamic church choir. Up close we are pulled into each note of color fabric, but when we stand back, it glows like a nighttime neon city seen from a high hill.
The exhibit is too powerful and lively to take in only once. As with looking at any grouping of art, one can't see everything well at first. On my second visit, a new, more subtle solo stands out. One piece I completely missed emerged. On a third visit, a splash of colors suddenly grows alive in harmonies. A visitor points to one, and you see it through their eyes. New patterns suddenly appear from the whole.
This is a measure of great art - that it unfolds with repeated viewing. As the African-American quilt-maker Kate Brown said, "When you use scraps, you always get a surprise."
The exhibition is exuberant, musical, and rewarding. But be forewarned: The show just might inspire you.
A schedule of lectures, tours, and programs related to this exhibit, including hands-on learning activities for children, can be found at (http://www.figgeartmuseum.org). The Figge is located at 225 West Second Street in Davenport. For more information, visit the Web site or call (563) 326-7804.