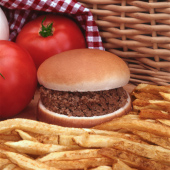 Sloppy Joes, Reubens, meatball subs, and the Big Mac all have one essential ingredient that makes the sandwich: a special sauce. But at Maid-Rite, you can't say the secret's in the sauce, because there isn't any. The absence of sauce is what sets this loose-meat sandwich apart from the crowd.
Muscatine butcher Fred Angell opened a restaurant in 1926. According to the Maid-Rite history on the company's Web site (http://www.maid-rite.com), Angell was working on the idea of using cooked, crumbled ground beef and then steaming it, rather than frying it as a patty. What came out was a sandwich that he served a postal worker, who proclaimed the sandwich was "made right."
The name stuck, with a little tweaking on its spelling, and so did the recipe. "It's the same specialized [spice] blend and grind size," said Maid-Rite President and CEO Bradley L. Burt. "It's the same seasoning that was developed in 1926."
A Maid-Rite begins by cooking ground beef over the stove, then adding ingredients that include salt, sugar, sodium, caramel coloring, onion powder, natural flavorings, and silicon dioxide (to prevent caking). The grease is drained and the beef is placed in a steamer, keeping it warm and moist.
The result is a slightly messy mixture of crumbly beef that spills out of the bun onto the plate. It smells familiar, somewhat like a homemade meatloaf, but more tender from the steaming process that further divides the crumbles to the size of BBs. The onion powder and sugar enhance the beef flavor rather than overwhelming it. Adding sugar to meat might sound odd, but it works the same way that adding salt to watermelon brings out its natural flavors.
Although the seasonings are delivered to franchisees already mixed (to maintain the secrecy of the recipe), Alton Brown of the Food Network learned how to properly serve up a Maid-Rite on the episode "Take Me to the River" on his show Feasting on Asphalt.
Brown went behind the scenes at a Maid-Rite diner in Quincy, Illinois, where a veteran employee showed him how to properly construct the standard 4.2-ounce sandwich by scooping the meat onto the bun with a flat spatula.
Brown described the sandwich as being "a lot like a Sloppy Joe, only the meat mixture is much smoother and completely devoid of tomato-y-ness."
But Maid-Rite's most memorable boost came in 1992, when fans Tom Arnold and Roseanne Barr decided to pay homage to the sandwich.
Arnold grew up in Ottumwa, Iowa, about 130 miles southwest of the Quad Cities. He introduced Maid-Rites to his then-wife Barr, who in season five of Roseanne created a fictional restaurant called the Landford Lunchbox that served loose-meat sandwiches.
"Tom Arnold, who we know, is a friend of ours," Burt said. "He may be a spokesperson for us. Tom wears our Maid-Rite hat and T-shirt in Hollywood."
Burt, his wife (Executive Vice President Tania M. Burt), and a team of investors acquired the company, now headquartered in Des Moines, from the Gillotti family 2002.
Since that time, expansion is Burt's top priority. The company anticipates opening 36 new Maid-Rites this year, with the ultimate goal of 1,000 restaurants within the next decade. Maid-Rite is nearing 90 franchisees in Iowa, Illinois, Missouri, Ohio, Minnesota, Colorado, Nebraska, Wisconsin, and Indiana. There are currently 16 Maid-Rites in the Quad Cities region.
The company plans to expand into the South with locations in Dallas-Ft. Worth and Arlington, Texas; and Sarasota, Naples, and Tampa, Florida. According to its Web site, the company is also targeting Arizona, Montana, Kansas, North Dakota, South Dakota, Michigan, and Oklahoma for franchise growth in 2008.
The menu is more health-conscious now, too. Four years ago Maid-Rite started cooking with shortening that has no trans fat and no cholesterol. "Health is very important to us," Burt said. "Our sandwich has 415 calories compared to the industry averages around 900 calories."
Burger King's traditional Whopper sandwich with cheese and mayo is 770 calories. Maid-Rite's biggest sandwich, the 625-calorie Mega Cheese-Rite, is still well under the 910-calorie Hardees one-third-pound Original Thickburger.
Mock Maid-Rites
(Submitted by Diane Greenwood.)
Makes 8 Servings

2 pounds ground beef
6 ounces cola (half can)
1 teaspoon onion powder
1 beef bouillon cube or 1 teaspoon beef base
Brown ground beef in a frying pan. Drain excess grease. Add cola, onion powder, and bullion cube or beef base to the ground beef. Use a wooden spoon to press down the beef mixture into the pan, breaking up the meat into to a fine, crumbly consistency. Turn the heat to low and cook for approximately 10 minutes. Make sure that the bouillon cube or beef base fully dissolves into the liquid and stir the mixture before serving.
Use a slotted spoon to scoop the loose meat onto a warm white bun. Serve with dill-pickle slices, yellow mustard, chopped onion, and ketchup if desired.