When Bruce de Gouveia Carter died on November 24 at age 66, he left the Quad Cities art community with a gaping hole.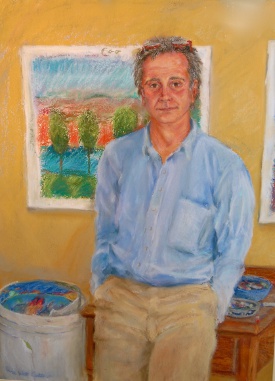 He was a visual artist, a teacher, and an art-store manager. But his largest legacy to the arts community was as a tireless promoter - for more than two decades giving artists of all stripes a forum to discuss their work on his Art Talks radio program on Augsustana College's WVIK and, earlier, St. Ambrose University's KALA. Guests in recent months included mostly visual artists, or course, but also a chef, leaders of the Downtown Davenport Partnership, members of the Bucktown Revue and the Prenzie Players, and a poet. His show was omnivorous in the best possible sense. (WVIK will host a special memorial program for Carter at 7 p.m. on January 15.)
He also wrote art reviews for the River Cities' Reader from 2006 to 2008, and his writing displayed curiosity, openness, insight, intelligence, wide-ranging knowledge, and generosity. That rare combination, presented in approachable yet smart and eloquent prose, amounted to unspoken encouragement to readers: He made you want to visit each show, because he discovered and articulated how the work spoke to him. Like the best critics, he wasn't judging so much as honestly seeing and digesting the art.