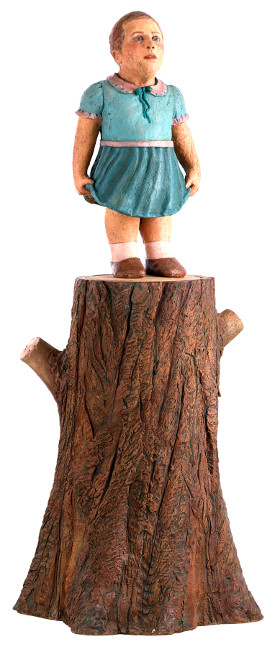 A museum patron expects to find informative signage near an artwork., including biographical information about the artist, a description of the piece's historical context, or critical acclaim. Instead, the placard near the Marlene Miller sculpture Girl 1 - currently on display in the Figge Art Museum's Waxing Poetic show - reads: "what gestates in the roots unseen / reveals herself as tall on the inside / grown whole-sprung from a trunk / full of well manners & bluest eyes / puzzled by where she comes from."
This pairing of a visual work with a poem highlights how we assign meaning to art. In his words, Ryan Collins captures the literal appearance of the work- referencing the tree trunk, the girl's intensely blue eyes, and her polite but befuddled posture and expression.
But it also reads the sculpture. "Grown whole-sprung" and "tall on the inside" refer to the aged and androgynous face, contrasted with the child's body: The texture of the head is chunky and scratchy, as opposed to the smoothness of the body. Collins imagines the sudden appearance of this creature, enhancing our view of it without dictating a specific interpretation.
The exhibit - running through October 7 - is less about the artworks as stand-alone objects than about the process of inferring meaning. In addition to artworks matched with poetry in specific response to them, viewers are invited to create their own written reactions. At the center of the exhibit is a writing table with pens and paper, and under each work is a hanging packet of collected visitor responses. The technologically inclined are prompted to Tweet their responses to designated hashtags.