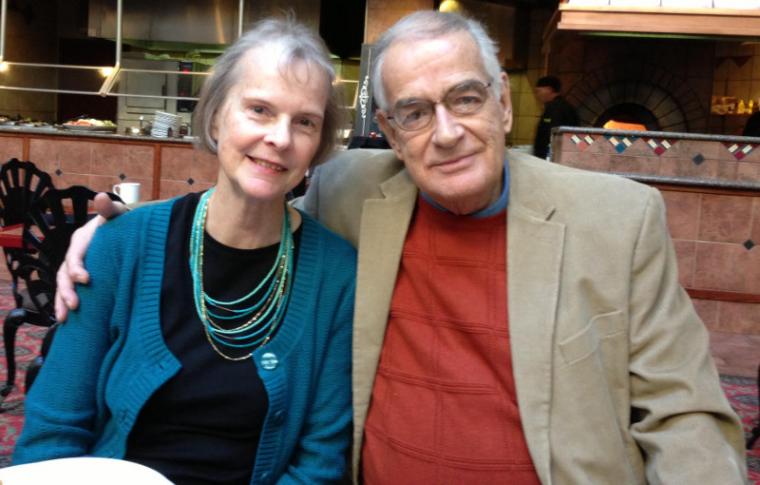 The world became markedly less interesting when Lanny C. Powell departed it on September 10. He, too, was a force of nature, living his life with intense purpose and depth.
I met Lanny while attending St. Ambrose College back in the late '70s. He was co-chair of the Agriculture Business Department and recruited me with promises of a robust and comprehensive learning experience. His curriculum would provide a broad, in-depth investigation of multiple facets of the world around us, and he delivered. From agribusiness and infrastructure economies to socioeconomic analysis and communication skills, critical thinking was mandatory in Dr. Powell's classroom!
I can say without hesitation that Lanny was one of the most important influences in my life. As my professor, my close friend, and the first copy editor of the River Cities' Reader, he questioned everything, forcing me to delve into what at first blush appeared rudimentary – only to find previously ignored perspectives, meaningful details, and undiscovered aspects of things that ultimately changed my course. His methodology was stimulating in powerful ways, opening my mind to possibilities and pathways that ultimately greatly enriched my life.
Lanny was that rare individual who, when asking a person what he or she thought about a subject, actually wanted to know. And if he deemed the answer a bit shallow, the Lanny method was deployed, questioning the poor unsuspecting mind and challenging it without reservation. In other words, Lanny truly engaged with people, like it or not. Either way, however, each walked away with a deeper sense of things. And Lanny was good with that.
During his funeral service, his children shared some of their stories growing up with Lanny for the audience's affectionate amusement. You can imagine that these kids and grandkids are brilliant, talented individuals, equal to any task thanks to the ministrations of both Lanny and his diplomatic, lovely wife Linda. Her patient intellectuality offset his determined mind probes, balancing a wonderful lifelong symbiotic relationship that characterizes the best marriages and family.
Obviously, Lanny Powell was another Quad Cities original.
His contribution to this world had its focus in an inherent ability to draw people into a deeper part of themselves, to stimulate their minds to look beyond the surface of things and deconstruct what they might encounter beneath. Those of us who accepted such challenges developed abiding friendships with him. And we are infinitely more grounded in self-actualization thanks to his relentless challenges to dig for meaning and underlying truth.
Todd, my business partner only at the time, came to know and appreciate Lanny through our hiring him as our first copy editor at the Reader. It was no small shock when the copy came back the first time so red-lined that the article disappeared altogether under a massive number of corrections, both grammatical and contextual. To this day, both Todd and I cannot review a story draft, or craft our own sentences, without recalling Lanny's written-communication principles. He would no doubt have plenty to say about tightening up some of the longer sentences in this very piece.
Lanny was unapologetic in his critiques and suggestions – challenging inconsistencies, pushing for clarity, and fact-checking uncompromisingly. His guidance ultimately transformed both Todd and myself into far better investigators, writers, and editors than would have been possible without his expertise. Lanny's high standards increased the Reader's journalistic stature out of the gate, without which I doubt we could have enjoyed such immediate credibility and success.
More than 10 years ago, Lanny was diagnosed with significant heart disease and given approximately six months to live. In true Lanny style, he internally decided: Screw that. He outlived that prediction with a quality of life that was truly miraculous. Lanny robustly engaged his doctors, nurses, and everyone in between, winning their admiration, support, and full disclosure of medical details, processes, protocols, and all possible outcomes and alternatives regarding his health issues. He was a monumental inspiration for all of us who watched him consistently conquer so much through his iron will to live fully and meaningfully every step of the way. I recently asked Linda what kind of stuffing he was made of, and she responded, "Restless grit."
He and Linda traveled throughout the Northwest together, exploring the glory of our magnificent parks, coastlines, forests, and myriad natural resources. For Lanny, as big as the world was internally, it was equally big – albeit less complicated – externally and in need of his observations. He enthusiastically complied.
Greatly missed will be the monthly lunches with Todd at Bad Boy'z pizza, and traditional dinners at Farraddays with dearest friends the Paynes, where Lanny would indulge in too much sodium, and spar with the waitresses while drilling down on the current business of the day, national and international politics, and the ongoing dynamics of our family lives.
Toward the end of his life, Lanny made sure he left nothing unsaid among those he loved, both family and friends. He was deliberate, measured, and endlessly compassionate and loving. He also gave us the opportunity to reciprocate with him. I shared with him my profound gratitude for the courage he instilled in me throughout my life, especially starting the Reader. If just a little of his wisdom and exceptionalism rubbed off, I will stay miles ahead of the curve. Peace.