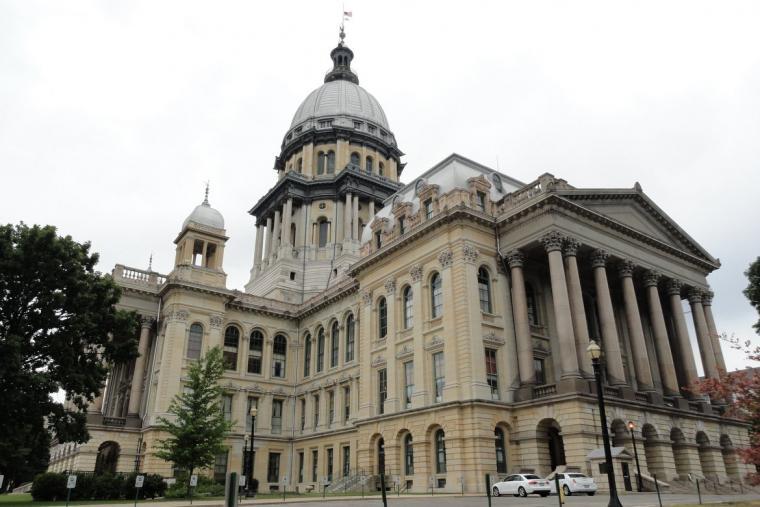 A recent statewide poll taken for Senator Daniel Biss' gubernatorial campaign showed Governor Bruce Rauner is much less liked by Illinois voters than his fellow Republican President Donald Trump. The poll also found that the under-funded Democrat Biss actually does slightly better in a head-to-head match with Governor Rauner than does the presumed frontrunner billionaire JB Pritzker.
The Public Policy Polling survey does have one problematic issue, so let's get to that right up front. Seventy-six percent of respondents were reached on landline phones (that's too high for polls these days because so many people only use mobile phones), while 24 percent were "interviewed over the Internet." But this problem doesn't totally disqualify it, so let's go ahead and talk about it.
According to the poll, 37 percent of Illinois voters have a favorable opinion of President Trump and 58 percent gave him an unfavorable rating while 5 percent were unsure. That seems about the expected number, considering national polls. The poll of 866 Illinois voters February 5-6 and has a margin of error of plus or minus 3.3 percent.
What is somewhat unexpected is only 26 percent of Illinoisans have a favorable impression of Governor Rauner while a whopping 63 percent have an unfavorable view of the state leader.
Whew.
That's just spectacularly lousy for a governor who isn't under criminal investigation.
Rauner is forging ahead with his reelection campaign by dumping a fortune into TV ads slamming JB Pritzker by tying him to convicted former Governor Rod Blagojevich. Combine that with Biss' own TV ads attacking Pritzker and it might be no surprise that Pritzker's favorable rating is also "upside down."
According to the poll, just 33 percent of Illinoisans have a favorable view of Pritzker while a plurality of 42 percent have an unfavorable view of the man. A quarter of voters, were still unsure, but yikes, man. The dude has spent $40-plus million on his campaign, so you'd think he'd be doing better. But fewer Illinoisans have a favorable opinion of Pritzker than … President Trump. Okay, he's not nearly as disliked as Trump, but still.
The Biss campaign didn't release its candidate's own favorable ratings or any data on the other top-tier contender Chris Kennedy. But its poll found Biss leading Governor Rauner 47-30 in a head-to-head match-up, with 23 percent saying they were unsure.
Pritzker also led Rauner, but by slightly less than Biss' 17-point margin. According to the poll, Pritzker is ahead of Rauner by 13 points, 48-35, with 17 percent unsure.
Whether 13 points or 17 points, a win is a win. But there are growing concerns among Democrats that Rauner's ads will continue to deflate Pritzker's numbers through November. Then again, Biss doesn't have Pritzker's billionaire cash, and, aside from Pritzker's 15-second ads targeting him, nobody has yet "put him on blast," as the kids say, so we don't know how he'd survive an all-out assault like the one Pritzker is enduring.
Pritzker's favorable rating among his fellow Democrats was a somewhat tepid 52 percent, while his unfavorable rating was 22 percent and 26 percent are undecided, despite the fact that the guy has spent tens of millions over many months to woo those particular voters. Racial cross tabs were not released.
"This confirms what we've known all along: voters prefer a middle-class governor in Daniel Biss rather than having to choose between billionaires Pritzker and Rauner," said Biss campaign manager Abby Witt via press release. "Despite Pritzker outspending Daniel 20-to-1 on TV ads, Daniel continues to build momentum and is the strongest candidate to beat Bruce Rauner."
Back to Rauner. The poll found that Governor Rauner's favorability rating among Republicans is much narrower than a poll released last month, which might be good news for his primary opponent, state Representative Jeanne Ives.
A poll taken by We Ask America in mid-January had Rauner's favorables at 65 percent and his unfavorables at 25 percent. But the new PPP poll found that just 49 percent of Republicans now have a favorable view of Rauner vs. 43 percent with an unfavorable view. That's far less than President Trump's score of 73 percent favorable among Republican voters and a mere 19 percent unfavorable.
Among voters who said they voted for President Trump, the new PPP found that 92 percent still view him favorably, while just 4 percent have an unfavorable view of the president. Among those same Trump voters, however, 54 percent view Governor Rauner favorably while 36 view Rauner unfavorably and 9 percent say they're unsure. That's obviously not a great sign.
Rich Miller also publishes Capitol Fax, a daily political newsletter, and CapitolFax.com.