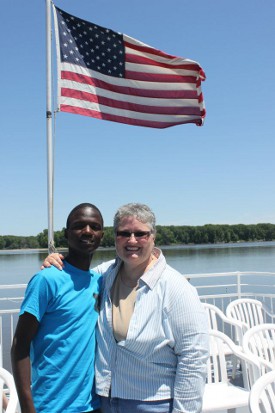 Seventeen-year-old Mwalimu William Karisa, a Kenyan exchange student in Davenport, won't need luggage to carry a gift home to Africa. He is taking clean drinking water for his village.
Mwalimu lives with hosts Mark and Dawn Thompson and attended Davenport West High School, where he's been on the soccer and cross-country teams. He said the idea of team spirit was new to him.
Last fall, a man originally from Kenya visited West High School, and the two Africans met. Mwalimu shared his village's need for drinking water with Pastor Joshua Ngao of Fishers of Men Ministries. Joshua understood that Mwalimu's greatest needs at home were basic and agreed to help him raise funds needed to dig a well for his village, Mariango.
In December, Mwalimu explained his family's situation to his hosts, his exchange-student coordinator, and his fellow exchange students. At times he couldn't make eye contact when explaining that his mother walks four miles in extreme heat - many times twice a day - to collect drinking water. He also said he contracted malaria four times in his life, and many children in his village die from waterborne disease.
His young peers stared with disbelief, and one student commented: "In my country, I've seen so much greed, and now all I'm seeing is so much need." It was an eye-opening experience for the international students, his American friends, and the adults in his life.
Mwalimu's friends brainstormed ways to raise funds. An American friend designed a T-shirt. His hosts began approaching local churches for speaking engagements. An exchange student from Tunisia made a YouTube video called "Mwalimu's Dream" (RCReader.com/y/dream) showcasing students from India, Pakistan, Lithuania, Indonesia, Turkey, Mozambique, Russia, Serbia, Malaysia, and Saudi Arabia. During his speaking part in the video, Mwalimu pauses as he shares his village's drinking-water situation: "It's not clean, but it's all that we have."
A Facebook page (Facebook.com/MwalimusDream) was created where thousands of visitors have come over the past few weeks. The fundraising officially began on April 20 for Global Youth Service Day, and $8,000 has been raised thus far. Thanks to the faculty and students at West High School, half of that amount was raised during the month of May with a spring dance, a volleyball tournament, and more. A bid for the well has come in at $18,000, and our hope is to have that amount raised by the time the boy goes home to Kenya on June 26.
As Mwalimu's local coordinator, I was both amazed and touched to see so many people come alongside him to see his need met. He came to the U.S. as a scholarship recipient to experience American life and receive an education, but somehow he became the educator, specializing in compassion. I suggested he use my writing project, A Book by Me, as a tool to teach people about the need for clean, safe drinking water in Kenya and other parts of the world. His children's book, titled Mwalimu's Dream, was illustrated by an exchange student from Russia. A donor gave funds to print 500 copies of the book; if all copies of the book are sold at $10 apiece, that would raise an additional $5,000. Book-signings are being set up across the Quad Cities area, and signed copies of the book are available at Fishers of Men, 1411 Brady Street in Davenport.
Mwalimu is overwhelmed by the outpouring of love from Americans. His words: "As the fundraising began, checks came from Christians, Jewish people, and Muslims, too. It's a very good thing, because people of all faiths will drink from this new well. I look forward to the day my mother won't have to walk for miles to bring back water that isn't fit to drink. I am so thankful Americans are so generous and willing to help me. I know that more than 1 billion people on the planet do not have access to clean, safe drinking water. Even after my village gets a well, my dream continues for others who have this same need."
Two fundraising events will be held on Saturday, June 23, at Skellington Manor (420 18th Street in Rock Island): a $5 pancake breakfast with a silent auction from 8 to 11 a.m. and a trivia night with a silent auction from 7 to 10 p.m., with admission $10 per person or $80 per table. For details or to make a donation, call (563)344-9187.
Tax-deductible cash donations can also be made. Checks can be sent to Fishers of Men, P.O. Box 2152, Davenport IA 52809. Please mark gifts with "Mwalimu's Dream."
Together we can make Mwalimu's dream come true.
Deb Bowen runs the A Book by Me project (ABookByMe.com) and coordinates an exchange program for scholarship students from Africa, the Middle East, and former Eastern Bloc countries. To learn more about becoming a host family, call Deb at (309)582-8888 or e-mail debbow@abookbyme.com.