Fresh Beats & the Snap
Rock Island Brewing Company
Thursday, August 31, 10 p.m.
On August 31, the Rock Island Brewing Company will present the up-and-coming band Fresh Beats & the Snap, who are becoming quite popular in the Midwest; thus far, they've opened for such national touring acts as Backyard Tire Fire, the Station, Madahoochi, and Jack Willis. They seem to be the epitome of the word "versatile," as Fresh Beats & the Snap is not only composed of five multi-instrumentalist musicians (four of whom are singers/songwriters), but the band draws on several genres of music for its inspiration. Its performances - which, on the group's Web site (http://www.freshbs.com), have been described as "more of a floating circus than a rock show" - combine rock, funk, jazz, and soul influences, and the group prides itself on its improvisational style; they even swap instruments during their shows. It should also be known that these whimsical rockers have been known to kick off their shows by literally kicking off their shoes, "to better feel where the music is coming from, and where it might possibly go." For more information on Fresh Beats & the Snap, and all upcoming RIBCO events, visit (http://www.ribco.com). - Eric Junco
River Roots Live
LeClaire Park
Friday, September 22, and Saturday, September 23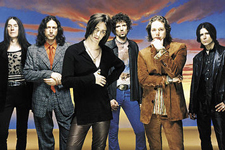 In its second year, the two-day River Roots Live festival (being held September 22 and 23 in Davenport's LeClaire Park) is adding a second stage of music while bringing in a handful of new musicians who would have skipped the Quad Cities completely just a few years ago: the blues and soul singer Susan Tedeschi, the folk-rock group Girlyman, and acclaimed songwriter Alejandro Escovedo. Performers returning to the area include guitar wizard Junior Brown, jam sensations Umphrey's McGee, Bo Ramsey, and Martin Sexton. As for headliners the Black Crowes, they last shook their money makers here in 1991, as far as I can tell. What's happened with the band in the meantime? A controversial CD cover with pubic hair, two unreleased albums, a tour with Jimmy Page, a marriage to Kate Hudson, gold and platinum records, the departure of at least seven band members, one "indefinite hiatus," the release of the aforementioned unreleased albums, a separation from the aforementioned Kate Hudson, the return of at least two of those aforementioned band members ... . Melody Maker called them the "Most Rock 'n' Roll Rock 'n' Roll Band in the World," and it's true; if the Black Crowes were any rock 'n' rollier, they'd be Spinal Tap. Two-day passes for River Roots Live are presently $50 and available at (http://www.riverrootslive.com). - Jeff Ignatius
Nickelback, Journey, Def Leppard, and the Cheetah Girls
The Mark of the Quad Cities
September and October
The question regarding the fall concerts at the Mark of the Quad Cities isn't which performance will be the best, or even the most popular - it's which one will cause Mark fans to go the craziest. Will it be the September 12 concert by Canadian rockers Nickelback, with fans deliriously singing along to "Leader of Men" and "How You Remind Me"? Will it be the October 11 pairing of legendary musical groups Journey and Def Leppard, with the Journey lovers screaming for "Don't Stop Believin'" and "Open Arms," and Def Leppard's base agreeing that "Love Bites" and begging the band to "Pour Some Sugar on Me"? Both are viable guesses, but I'm betting the rowdiest crowd of all will be the youths mobbing the Mark for their chance to hear Walt Disney Records' multi-platinum-selling tweeny-boppers The Cheetah Girls on September 30. When I was growing up, my little sister used to listen to music with one friend, and I thought their delighted shrieks and enthusiastic attempts at singing along would deafen me. The mind boggles at that sound times 3,000. For more information on all of the Mark's upcoming events, visit (http://www.themark.org). - Mike Schulz
Hancher Auditorium Performances
September through December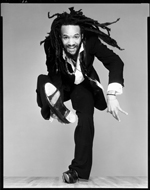 The University of Iowa's Hancher Auditorium begins its new season of live entertainment this fall, and the venue's Web site (http://www.hancher.uiowa.edu) proudly states that, on October 6, the Iowa City theatre will play host to the recipient of three Academy Awards. Also four Grammy Awards. Also four Emmys, three Golden Globes, a Tony, and a freakin' Pulitzer Prize. Who does this guy think he is - Marvin Hamlisch? Oh, wait. It is Marvin Hamlisch. The musical performance by this noted composer - and obvious award-hog - is just one the high-profile events hitting Hancher this autumn. The peerless vocal ensemble Chanticleer performs September 29; choreographic amazements will come courtesy of the Martha Graham Dance Company on October 3, the Bayanihan Philippine Dance Company on October 12, and the Batsheva Dance Company on October 19; jazz master Paquito D'Rivera makes a Hancher appearance on December 1; and, on November 15, the exquisite Savion Glover taps up a storm with his latest endeavor, Classical Savion. Glover has a Tony Award, too, tying him with Hamlisch in one regard. Take that, Marvin! For tickets to all upcoming Hancher events, call the theatre's box office at (319) 335-1160 or (800) 426-2437. - Mike Schulz
Tom Wopat
The Redstone Room
Wednesday, October 18, 7 p.m.
On October 18, WQPT-TV will sponsor a special, one-night-only performance by Tom Wopat at Davenport's Redstone Room, and there's no need for references to his Dukes of Hazzard days here; his other accomplishments make such reminders feel cheap and petty. Some may be surprised to learn that Wopat is a classically trained vocalist who studied music at the University of Wisconsin, and that he's released a half-dozen CDs; selections from his latest, 2005's Dissertations on the State of Bliss, will be heard during the performer's Redstone Room appearance. His theatrical credits in New York include leading roles in such musicals as Oklahoma!, City of Angels, Chicago, and 42nd Street; Wopat's performance in 1999's Annie Get Your Gun revival, in fact, earned him a Tony nomination. And Wopat doesn't even need musical chops to be a Broadway sensation - he earned terrific reviews for 2005's Glengarry Glen Ross revival, where Wopat faced off against Liev Schreiber's con man, and the good ol' boy sure did find hisself hogtied and railroaded, y'all. Aw, damn. Guess I am cheap and petty. For tickets to Wopat's Redstone Room concert, call WQPT at (309) 796-2424 or visit (http://www.wqpt.org). - Mike Schulz
Musicals
September through November
No Fall Guide would be complete without acknowledging the September-through-November roster of area musicals. The Broadway at the Adler series makes a splashy return when Andrew Lloyd Webber's Joseph & the Amazing Technicolor Dreamcoat hits the Adler Theatre on November 4. St. Ambrose University unveils Bertolt Brecht's and Kurt Weill's revolutionary The Threepenny Opera October 12 through 15. Iowa City's Hancher Auditorium charges ahead with Rent (opening October 21), while the city's Englert Theatre makes theatrical rhymes with Seussical (October 5). The Circa '21 Dinner Playhouse presents a two-week return of The Lovely Liebowitz Sisters (September 6), the country crooning of Stand by Your Man: The Tammy Wynette Story (September 20), and continues in November with an adaptation of the Bing Crosby musical White Christmas (November 8) and the family musical-comedy The Elves & the Shoemaker (November 24). And the weekends before and after Elves' debut will feature familiar tunes in the Old Creamery Theatre's revue Christmas Cheer (November 17), and a familiar tale in Quad City Music Guild's new Capra adaptation, A Wonderful Life (November 30). Wow. So many holiday-themed works. This is still the Fall Guide, right? - Mike Schulz
Quad City Symphony Orchestra
Centennial Hall and LeClaire Park
September through December
Any institution that reaches its 92nd anniversary has reason to celebrate. But this fall, conductor Donald Schleicher and the Quad City Symphony Orchestra will celebrate the accomplishments of others through the 2006-7 season's "Celebrate the Artistic Riches of Our Community" series. Art and history are recognized with "Celebrate Museums" on October 7 and 8. "Celebrate Theatre" brings a musical spin to Greek mythology and Shakespeare on November 4 and 5. And guest conductor - and wooden-flute virtuoso - David Bellugi will "Celebrate Instruments" on December 3 and 4. In addition to those Centennial Hall performances, the orchestra will, on September 9, perform the annual Riverfront Pops concert in Davenport's LeClaire Park, joined by the popular Beatles tribute group Classical Mystery Tour. Jim Owen, who enacts the quartet's John Lennon, is quoted as saying, "We have some real show-stopping numbers - I wish I could actually be in the audience to see and hear this show," so don't miss the Riverfront Pops event. It'll be your one chance to feel luckier than the guy playing Lennon, for Pete's sake. For more information on the Quad City Symphony Orchestra, visit (http://www.qcsymphony.com). - Mike Schulz
Comedies and Dramas
September through November
If you love theatre and football in equal measure, shout "Aye!" Hmm. Thought it'd be louder than that. In any event, the post-summer theatre season kicks off with Kinnick, the story of legendary Heisman Trophy winner Nile Kinnick who, in 1989, was voted MVP of Iowa football's first century. Debuting at Iowa City's Hancher Auditorium on September 1, the show is merely the first entry in the theatrical lineup this fall. Playcrafters presents the mystery-comedy Out of Sight, Out of Murder (opening September 15); comic respect is paid Eric Bogosian and Bill Hicks in My Verona's two-fer Sex, Drugs, Rock 'n' Roll and It's Just a Ride (September 22); the Amana Colonies' Old Creamery Theatre delivers Funny Money (September 29); Tennessee Williams roars to life in the Richmond Hill Players' Cat on a Hot Tin Roof (October 2); Barbara Ehrenreich's novel Nickel & Dimed (October 27) gets an Augustana College treatment; the Prenzie Players embark on their three-part Henry trilogy with Richard II (October 22); New Ground Theatre's season begins with a Winning Streak (November 2); Playcrafters enacts a classic with Our Town (November 10); and My Verona offers the return of Adam Michael Lewis' one-man Santaland Diaries (November 17). September's It's Just a Ride is also a solo vehicle for Lewis. Looks like someone's going for the area-theatre MVP. - Mike Schulz