Mingo Fishtrap
The Redstone Room
Thursday, August 10, 9 p.m.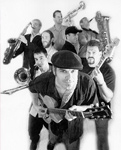 The band may be called Mingo Fishtrap, but it's obvious that they've been snaring more than mere sea creatures. Performing at Davenport's Redstone Room on August 10, the group plays what is described by MSN.com's Sarah Marmion as "a spicy combination of rich sounds like New Orleans-style R&B, blues, soul, salsa, funk, pop, and rock," and it appears that those are the exact ingredients for landing as many accolades as possible. In the span of two years, the group received Austin Music Awards for "Best Jam Band," "Best Funk Band," "Best Horns," and "Best Keyboardist," and music critics have landed in Mingo's fishtrap as well; the Austin Chronicle's David Lynch (no, not that David Lynch) wrote that "their gumbo of tight 'n' punchy horns, deep rhythms, restless melodies, and emotive singing has garnered Mingo justified respect as a live powerhouse." That's a glowing endorsement, but it's topped by the succinct analysis of KLBJ-TV's Peg Simmons, who saw Mingo Fishtrap in concert and said, "I had an eargasm." Wow. I'll have the bait that she's having. For further information on Mingo Fishtrap and future Redstone Room performers, visit (http://www.redstoneroom.com). -Mike Schulz
A Bad Year for Tomatoes
Richmond Hill Barn Theatre
Thursday, August 10, through Sunday, August 20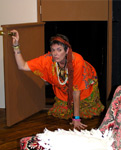 At the Richmond Hill Barn Theatre, it's currently A Bad Year for Tomatoes. Also for Mel Gibson, but that's neither here nor there. In John Patrick's comedy, which will run at the Barn Theatre August 10 through 20, a famous actress leases a New England home in which she plans to write her autobiography, but finds her work solace continually disrupted by nosy, star-gazing fans. With the aid of her performing skills and a wig, the actress invents a homicidal sister - "Sister Sadie" - designed to frighten them off, but matters are complicated when Sadie becomes (a) the object of a handyman's crush, (b) the target of church ladies hoping to save her soul, and (c) a suspect in a Boston murder. Now, A Bad Year for Tomatoes may sound like a far-fetched screwball farce, but I'd be surprised if the plot didn't have some basis in reality. You see, my editor, Jeff, apparently does have a crazy sister living in his office; whenever we Reader staffers knock on his door when he's writing a story, a shrill voice from behind the door will shriek, "Stay the hell out or I'll kill you!" Hopefully, Richmond Hill will secure more laughs from this situation than we get here. For tickets, call the Barn Theatre at (309) 944-2244. -Mike Schulz
Tom Mabe
Penguin's Comedy Club
Thursday, August 10, through Saturday, August 12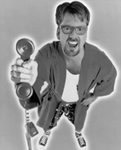 Penguin's Comedy Club brings area audiences a lot of talented performers, but not often does the Davenport venue boast an actual American hero. Ladies and gentlemen, meet Tom Mabe, appearing at Penguin's August 10 through 12. Before launching into comedy full-time, Mabe was a self-employed jingle composer who found he was receiving more calls from telemarketers than clients. Way more. So Mabe fought back. Whenever a telemarketer interrupted his day, the comedian would create a bizarre character, embroil the caller in an unpleasant or uncomfortable conversation - such as asking a carpet-cleaning service if they could remove human blood stains - and preserve the caller's embarrassment, astonishment, or anger on tape. These recordings led to the comedy CD Revenge on the Telemarketers, which, in turn, led to write-ups in USA Today, the New York Times, and U.S. News & World Report, and the comedian proudly admits to being "on a one-man mission to educate people about how to deal with telemarketers and have some fun at the same time." If Mabe can convince Penguin's audiences that telemarketing calls are actually something to look forward to, he'll be more than a hero - he'll be a god. For more information, visit (http://www.penguinscomedyclub.com). - Mike Schulz
Hal Leonard Guitar Workshop
West Music Davenport
Friday, August 11, 6:30 p.m.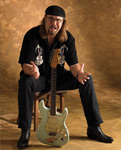 On Friday, August 11, West Music Davenport is scheduled to host a free workshop for guitar players and teachers, which Greg Koch will conduct at 6:30 p.m. And who is Greg Koch, you might ask? Well, let's just say that he's kind of a big deal. "I believe Greg Koch is, pound for pound, the best guitarist in the world today," says noted blues performer Joe Bonamassa. "He is scary-good. It was a true honor to do shows with him." Not only is Koch a seasoned musician with numerous CDs to his name, but he is also a successful bandleader, frequent contributor to guitar magazines, artist and clinician with Fender Musical Instruments, and co-author of the second edition of the Hal Leonard Guitar Method text. At the West Music workshop, Koch will focus on the Leonard method while demonstrating lead- and rhythm-guitar techniques, and will also teach students how to play in several styles of music, including rock, blues, country, and jazz. And how could this spectacular event be made more complete? Well, here's the kicker, folks: Participants will also be eligible for door prizes, including a Fender Super-Sonic 112 Combo Amplifier. Rock on! For more information, call West Music Davenport at (563) 388-1519. -Eric Junco
Field of Dreams
Dyersville, Iowa
Friday, August 11, 7 p.m.
I am a huge Field of Dreams fan, and last summer, a friend and I made our first pilgrimage to Dyersville, Iowa, to visit the actual Left & Center Field of Dreams at 29001 Lansing Road. Sitting in the bleachers, staring at that unforgettable baseball field, it was impossible to shake images from the movie - you could practically see Ray Liotta emerging from the cornfield. On August 11, though, the site's visitors won't have to use their imaginations whatsoever. The Netflix Rolling Road Show - which has, this month, already screened Jaws on Martha's Vineyard and Clerks in Red Bank, New Jersey - is making a stop in Dyersville, and will project Field of Dreams onto an enormous, inflatable screen right on the field. And if that's not enough meta-movie-ness for you, this free event will be graced by none other than Kevin Costner, who is making his first return trip to Dyersville since filming ended in 1988, and who is scheduled to perform a 75-minute set with his band before Field of Dreams begins at 8:30 p.m. To quote my absolute favorite Costner line from the movie: "That is so cool." For more information, call the Dyersville Area Chamber of Commerce at (563) 875-2311, or visit (http://www.netflix.com/roadshow). -Mike Schulz