Iris DeMent
Englert Theatre
Saturday, December 16, 8 p.m.
Country-folk performer Iris DeMent will perform on December 16 at Iowa City's Englert Theatre. Raised singing gospel music in a devoutly religious family that included 14 children, DeMent was first introduced to folk, country, and R&B during her teenage years, through the music of Johnny Cash, Loretta Lynn, Bob Dylan, and Joni Mitchell. After moving to Nashville, DeMent released her debut album, Infamous Angel, independently in 1992, and despite receiving limited country-radio support, her pure, evocative vocal style, her heartfelt songwriting, and positive word-of-mouth helped land her a record deal with Warner Bros. Following her critically acclaimed 1994 release, My Life, 1996's rock-influenced The Way I Should marked a dramatic shift in DeMent's sound and subject matter, with topics such as sexual abuse, government policy, and Vietnam. Her 1999 duets with John Prine earned DeMent a Grammy nod, and her 2004 release Lifeline - a collection of gospel tunes that first inspired her - prompted this rave on CDnow.com: "The singing is superb, the musicianship is excellent, and the words touch the heart, soul, and spirit." For more information, visit (http://www.englert.org). - Brad Vidmar
A Nova Christmas
Trinity Episcopal Cathedral
Friday, December 15, 7:30 p.m.
You know what I'd like to give Galesburg's Dr. Laura Lane for Christmas? A break. Since 1986, Lane has directed - and toured the country with - the virtuosic, 20-voice ensemble the Nova Singers. When not doing that, she serves as Knox College's professor of music, director of choral activities, and music-department chair. And when not doing that, she teaches voice, conducting, music history, and opera. A rest is certainly deserved, but first she'll be leading her group in its annual A Nova Christmas concert, taking place at Davenport's Trinity Episcopal Cathedral on December 15. With beautiful new works presented alongside mesmerizing renditions of such seasonal favorites as "Dance of the Sugar Plum Fairy" and "Fum Fum Fum," A Nova Christmas also features the final Nova performance for 21-year veteran Brian Nelson; retiring from the group after this year, Nelson recently wowed area audiences as Old Deuteronomy in Circa '21's Cats and the Big Bad Wolf in Ballet Under the Stars' operatic treatment of The Three Little Pigs. No word on what Nelson will do with his retirement, but rumor has it he's hoping to spend more time with his pets. For tickets to A Nova Christmas, call (309) 341-7038. - Mike Schulz
The Slats, Meth & Goats, The Post Mortems, and The Tanks
Penguin's Comedy Club
Thursday, December 14, 9 p.m.
Not one hour after deciding to write about the musicians performing at Penguin's Comedy Club on December 14, I received an envelope from area vocalist Jon Burns. Burns frequently sends us original, hand-crafted fliers (often flooded with artwork) advertising upcoming concerts, and I was excited to see how he'd be promoting the Penguin's gig, which will showcase the hard-rock passion of four of the Midwest's wildest bands: Minneapolis' The Slats, Iowa City's The Tanks, the Quad Cities' The Post Mortems, and Burns' own local punk outfit, Meth & Goats. How would Burns cleverly capture the Reader's attention with his latest flier? A clipping from Punk Planet magazine, which raved about how Meth & Goats' musicians "go for the throat and take no prisoners"? A hand-drawn rendering of scores of fans posting unprintable accolades on the Tanks' and Post Mortems' MySpace pages? Song lyrics from the Slats' new CD Boom Patrol ... perhaps from their single "Ignatius"? (My editor, Jeff, would like that one.) So I tore open the envelope and what do I find? A kitty. These punk rockers are so damned unpredictable. For more information, visit (http://www.myspace.com/penguinslivemusic). - Mike Schulz
I Can't Stop Loving You
Adler Theatre
Wednesday, December 13, 8 p.m.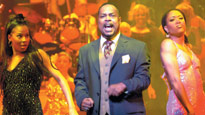 "Hit the road, Jack." "What'd I say?" "I've got news for you. I'm movin' on. I'm gonna move to the outskirts of town." "But, baby, it's cold outside!" "Tell the truth. You're in this just for a thrill." "But what would I do without you? You've got the brightest smile in town! You are my sunshine! Ain't that love?" "That's enough. I want to drown in my own tears." "Baby, don't you cry." "Cry? I've got no one to cry to. You don't know me." "Please say you're fooling." "You're not understanding. Without love, there is nothing." "Don't change on me. We can make it. Baby, let me hold your hand." "Don't - set me free. Unchain my heart ... ." "I'm a fool for you! My heart cries for you! And, yesterday, I got us tickets for the Ray Charles musical, smack dab in the middle of the theatre!" " ... But on the other hand, baby ... I can't stop loving you." "Mary Ann!" "I can see clearly now!" "You'll love me with all your heart?" "And no one else! Come rain or come shine!" "Let the good times roll! We're together again!" "Let's mess around!" I Can't Stop Loving You - featuring a live orchestra, more than two dozen performers, and many of the 40 aforementioned Ray Charles hits - will be performed at Davenport's Adler Theatre on December 13, and tickets are available by calling (563) 326-1111. - Mike Schulz
Angels on Ice and Skate with Santa
Quad City Sports Center
Saturday, December 16, and Sunday, December 17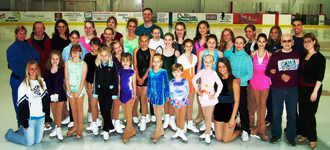 Recently, I appeared in a show alongside some amazingly gifted young dancers, and found myself completely envious of their talents; how could people that age be that graceful? I'd probably be just as envious watching the Figure Skating Club of the Quad Cities kids at their annual holiday presentation; youthful grace is one thing, but grace on ice? Fuggedaboutit. On December 16, the Quad City Sports Center hosts Angels on Ice from 3:30 to 5:30 p.m., featuring spectacular solo, group, and synchronized exhibitions from the club's beginners, intermediates, and pros; more than 100 participants, some as young as three, will wow you with their skating skills ... and potentially shame you for your own lack of skills. But practice makes perfect, so from 2 to 4 p.m. on December 17, join your family - and the jolly old elf - for an afternoon of fun on the rink during the center's annual Skate with Santa event. I remember the last time my parents took me skating. They said they'd hold my hand, but I wanted to try it all by myself ... and fell flat on my backside. So have fun, friends, but be careful: A year has passed, and my ass still hurts. For more information on these weekend events, call (563) 322-5220. - Mike Schulz