King Henry the Fourth
Rock Island Masonic Temple
Friday, February 23, through Saturday, March 3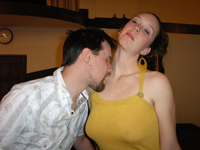 Beginning February 23, the Prenzie Players deliver part two of their Henriad cycle with King Henry the Fourth, which details how the Prince of Wales escaped his cold, alienating father by associating with thieves, prostitutes, and ne'er-do-wells. Oh, Charles ... the Queen Mum's gonna be livid! I kid, of course, but I don't kid about this local Shakespeare troupe's formidable talents, or about how excited I am about their continuation of this epic trilogy of power, love, and war. Returning performers include Jeff De Leon, J.C. Luxton, Jeremy Mahr, Linnea Ridolfi, Aaron Suillivan, Maggie Woolley, and Stephanie Burrough, who recently joined the Reader team as a sales intern, and whose presence makes me wonder if the Prenzies would be up for a complete swap - they could handle the paper's duties, and our staff could perform the Bard. Imagine: Todd McGreevy as the concerned, frequently disappointed father figure, Henry; Jeff Ignatius as the clever, politically astute Prince John; and myself as Falstaff, prone to laziness and excessive drunkenness. Not that, you know, we'd be typecast or anything ... . Further information on King Henry the Fourth is available by e-mailing (info@prenzieplayers.com). - Mike Schulz
Trampled by Turtles
The Redstone Room
Friday, February 23, 9 p.m.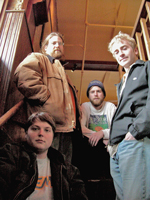 On February 23, the Redstone Room presents an evening with Trampled by Turtles. That's an awesome band name, but considering the deliberate slowness it implies, I'm thinking it's meant a wee bit ironically. Since 2003, the Duluth, Minnesota-based group has performed original, nontraditional bluegrass mixed with punk, alt-country, rock, and pop - mandolinist Erik Berry is quoted as saying, "One of the best descriptions I've ever heard is that we're like the Ramones as a bluegrass band" - and "sedentary" isn't exactly a word critics have used to describe the experience. Minneapolis' alternative weekly City Pages wrote that "Trampled by Turtles play a fast, stomping bluegrass that inverts the normal poses of audience and band. ... The Turtles mainly sit down to rock, while their fans stand up, jump around, and fill out the empty floor space in front of the stage all the way to bar close." And in The Onion, we're told - non-ironically - that "though the quartet's live show typically finds them playing acoustic guitars and banjos sitting down on a row of chairs, the rolling, stomping rhythm is anything but sedate, sounding like deep-woods Appalachian punk." Deep-woods Appalachian punk. Now that'd be a kickass band name. For more information on the group, visit (http://www.trampledbyturtles.com). - Mike Schulz
Leonard Pitts Jr.
Palmer College
Wednesday, February 21, 6:30 p.m.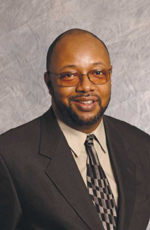 "I began to think of myself as a writer from the time I was five years old," writes Leonard Pitts Jr., "which was a good thing, because it gave me a lot of time to be bad at it." Given his accomplishments, though, it's hard to imagine that Pitts was ever bad at it, as this Pulitzer Prize-winning Miami Herald commentator - who will speak at Davenport's Palmer College on February 21 - currently reaches millions of readers through his syndicated column, has been published in TV Guide, Spin, and Reader's Digest, and had his 1999 book Becoming Dad: Black Men & the Journey to Fatherhood re-published last June. During Pitts' lecture, he plans to discuss workplace diversity and economic development, and if the FAQ page on the writer's Web site (http://www.leonardpittsjr.com) is any indication, you can expect a great deal of wit, wisdom, and insight. Discussing the writing process, Pitts says there is "no trick, secret, or magic formula that will make you good. Unfortunately for them, most writers are very good at finding excuses not to write. This is because writing is not enjoyable. As some sage once put it: 'Writing is not fun. Having written is.'" So true. And after about 10 more words, Mr. Pitts, I'll have had a great time. For details on the Palmer College event, call (563) 391-9693 or (563) 884-5879. - Mike Schulz
The Bamboo Orchestra
Centennial Hall
Saturday, February 24, 7 p.m.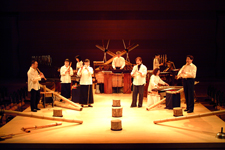 Last month, Quad City Arts hosted Visiting Artist Tom Dugan. Last week, it was Bella Hristova. In early March, it'll be Terence Blanchard. And currently, the organization is presenting the Japanese musicians of the Bamboo Orchestra, performing at Augustana College's Centennial Hall on February 24. A jam-packed schedule - Quad City Arts Performing Arts Education Director Susan Wahlmann says, with a laugh, "once mid-March hits I get a bit of a break" - but who'd turn down the opportunity to host performers of the Bamboo Orchestra's caliber? Here as part of Arts Midwest's Midwest World Fest - a performing-arts initiative dedicated to international musicians - the group performs extensively throughout Japan and France, and with nearly two dozen percussion and woodwind bamboo instruments at their disposal, they create a sound that Wahlmann describes as "astounding." Among the instruments played are the bell-like angklung, the shakuhachi flute, and the three-meter-long jegog, and if you think those instruments look difficult to pronounce, that ain't nothin' - just try saying "Arts Midwest's Midwest World Fest" 10 times fast. For more information on the Bamboo Orchestra, visit (http://www.quadcityarts.com). - Mike Schulz
Sparta
The Picador
Friday, February 23
When At the Drive-in disbanded in 2001, the effect was of a person with two personalities splitting into two separate people. The band's prog-rock tendencies became the core of The Mars Volta, while the punkish emo leanings led to Sparta. Featuring At the Drive-in's Jim Ward (vocals, guitar) and Tony Hajjar (drums), Sparta - playing at The Picador in Iowa City on February 23 - also includes bassist Matt Miller and singer/guitarist Keeley Davis. The group's latest record, 2006's Threes, is direct and lean but well-appointed. (As tempting as it is, I won't call it spartan.) What's becoming apparent with each passing release from At the Drive-in's splinter bands is that they act as yin and yang: Sparta's straightforwardness is an excellent balance to The Mars Volta's excessive excesses, while The Mars Volta's boundaries-be-damned creativity offsets Sparta's unwillingness to venture too far out of the conventional. Which means that I'm excited about the inevitable At the Drive-in reunion tour, due circa 2012. In addition to Sparta, the Picador bill also includes the mewithoutYou and Aloha. Doors open at 6 p.m., and tickets are available for $13 from (http://www.thepicador.com). - Jeff Ignatius