BUCKtown BASH!
Bucktown Center for the Arts
Saturday, July 22, 6 p.m.
Back in 1906, a dollar counted for a lot; you could purchase 10 pounds of bacon, 12 pairs of men's socks, 20 jars of peanut butter, or, believe it or not, 25,000 matches. Yet it's doubtful that the 1906 denizens of Davenport's Bucktown area would have squandered their money on such necessities. One century ago, you see, a six-block radius of downtown Davenport - nicknamed Bucktown - was home to brothels, bars, and theatres, and helped earn Davenport its reputation as "the wickedest city in America." Supposedly, you could get anything you wanted there for a buck (the mind boggles, doesn't it?), a decadent bargain that the Bucktown Center for the Arts is replicating for their BUCKtown BASH! - capital letters and exclamation point theirs - on July 22. For just a buck, Bucktown guests will be treated to what's being touted as "the biggest arts party in Bucktown's 100-year history," featuring gaming, music, drinks, dancing, and visual arts aplenty, as well as a "Penny Naughty" peep show and the chance to mingle with the "Hootchie-Cootchie Girls." And in case you were wondering - no, I have no idea how many hootchie-cootchie girls a dollar will get you. Just to be safe, bring two. For more information, visit (http://www.bucktownarts.com). - Mike Schulz
Rob Zombie and Anthrax
The Mark of the Quad Cities
Wednesday, July 19, 7:30 p.m.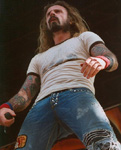 On July 19, musician/filmmaker Rob Zombie brings his American Witch Tour to the Mark of the Quad Cities, and in an interview with Charlie Craine for Underground Online (http://www.ugo.com), the multi-platinum-selling artist marveled at his career longevity: "Sometimes," said Zombie, "I think back and find pictures and it seems like another life and another person, practically." Continuing to expound on his musical beginnings, and the fact that he's still a vital force in music two decades hence, Zombie added, "It just didn't seem feasible when you start in such a humble place. You are just a bunch of kids. But that's what is so great about it. There is no reason to think that you can't do it." Inspiring words from a man who sounds modest, self-effacing, and sensitive. Oddly enough, though, the musician is being joined on the American Witch Tour by heavy-metal pioneers Anthrax, whose song "Deathrider," off the group's Greater of Two Evils CD, features the refrain: "Hear the screams / Feel the bite / We ride with death / Tonight." Jeez, Anthrax. You'd never hear Rob Zombie singing anything so morbid. For tickets, visit (http://www.themark.org). - Mike Schulz
The Comedian
Lincoln Park
Saturday, July 22, through Sunday, July 30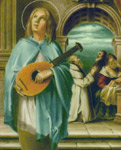 At the opening for Genesius Guild's 50th-anniversary season a few weeks back, founder Don Wooten provided a little history behind the Guild's forthcoming presentation of The Comedian, which will run at Rock Island's Lincoln Park July 22 through 30. The Comedian, Wooten explained, concerned the life of Genesius, a pagan actor who led a Roman theatrical troupe circa 300 A.D. Legend has it that, in the middle of a performance, Genesius heard the word of God, made a conversion to Christianity, and was subsequently martyred under Diocletian; the play - adapted from Henri Gheon's story - is a tale of artistic and religious conscience set during a time of great persecution. Yet Wooten revealed that while St. Genesius is considered the patron saint of actors, scholars now believe that no such man ever existed, and when it came time to find a namesake for his theatrical organization in 1956, "we thought that was perfect." Wooten went on to say that, in addition to actors, Genesius has long been the patron saint of many historical undesirables, including clowns, comedians, dancers, musicians ... and lawyers. Some jokes just write themselves, don't they? For more information, visit (http://www.genesius.org). - Mike Schulz
The Rock Island County Fair
Rock Island County Fairgrounds
Wednesday, July 19, through Saturday, July 22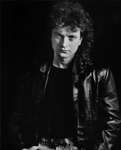 Lou Gramm, the original lead singer of Foreigner, is back, and scheduled to perform at the Rock Island County Fair on Wednesday, July 19. In 1997, Gramm was diagnosed with a benign brain tumor, but that didn't stop him from rocking for long; he returned to touring in 1999, saying, "Everything turned out okay." Gramm became an inspiration who just happened to record more than a dozen gold and platinum albums throughout his career with Foreigner and as a solo artist. (For those of you who don't remember this rock-and-roll icon, Gramm and Foreigner dominated the rock charts in the '70s and '80s with such songs as "Hot Blooded," "Feels Like the First Time," "Midnight Blue," and "Cold as Ice.") While tickets for this 7 p.m. show are $12 in advance and $15 the day of the show, the 2006 Rock Island County Fair itself - being held at East Moline's County Fairgounds - is free, and features such fun-filled events as a carnival, talent contest, beauty pageant, miniature demolition derby, and, of course, fireworks. For more information, visit (http://www.rockislandcountyfair.com). - Eric Junco
J.D. Hylton
Davenport Borders
Friday, July 21, 7 p.m.
Man, the things I'm learning about Iowa this week! Not only do I discover that downtown Davenport was once a hotbed of drunkenness and prostitution, but now I find out that, during the same time period, a notorious bank robber, embezzler, and murderer terrorized the citizens of Madison County! Are Clint and Meryl aware of this? In his novel Thief, author J.D. Hylton analyzes the case of real-life con man Charles O. Davies, who, in the 1890s, was accused of numerous crimes, was captured by bounty hunters, and escaped from prison the night before being sent to the gallows; Hylton's book, awarded "Best True-Crime Novel of the Year" at the 2006 Independent Publishers Book Awards, blends historical fact with inspired supposition to create what author Neil Hare calls "a nail-biter to the very end." Hylton will sign his novel at Davenport's Borders Books & Café on July 21, and if he's taking any questions about the proliferation of violence and debauchery in turn-of-the-century Iowa, I've got one for him: Whatever happened to The Music Man?! For more information on Hylton's visit, call Borders at (563) 359-7830. - Mike Schulz