Grace Potter & the Nocturnals
Rock Island Brewing Company
Tuesday, July 11, 8:30 p.m.
Grace Potter & the Nocturnals, performing at the Rock Island Brewing Company on Tuesday, July 11, is an organ-fueled blues-rock quartet from Vermont that doesn't just aim to please; they aim to blow you away! The 22-year-old Potter has been compared to musical superstars such as Janis Joplin and Norah Jones, and record producer Bob Cavallo has said of the group's lead singer: "Her voice has a smoky flavor that moves you. ... It just doesn't quit." And she and the Nocturnals recently sold out their 31-venue tour. On the band's Web site (http://www.gracepotter.com), Potter says that the influence of Led Zeppelin is now starting to manifest itself in their shows, which are getting "a more dynamic energy." Nora Jones with a little bit of Led Zeppelin, huh? The RIBCO evening opens with an 8:30 p.m. performance by Tribe of Two, featuring Dean Wellman and Jimmy Berg, and more information on the night is available by visiting (http://www.ribco.com). - Eric Junco
George M!
Prospect Park Auditorium
Friday, July 7, through Sunday, July 16
There are plenty of reasons to attend the Quad City Music Guild's production of the patriotic, tap-dancin' musical George M!, running at Moline's Prospect Park Auditorium July 7 through 16. There's the legendary central character himself, George M. Cohan, who is arguably the most influential entertainer in American history; Wikipedia's entry on Cohan (the pioneer of the musical-theatre libretto) introduces him as - take a breath, folks - "a United States entertainer, playwright, composer, lyricist, actor, singer, dancer, director, and producer." Then there's the cast that's performing this venerable, Tony-nominated work, members of whom include local favorites Kevin Pieper as George and Harold Truitt as Jerry Cohan. But most of all, there are the songs, which include some of the most cherished tunes of all time - "Give My Regards to Broadway," "Over There," "Yankee Doodle Dandy," and my personal favorite, "Oh, You Wonderful Boy," which is how the Reader staff serenades my arrival each and every morning. (My response? "My mother thanks you, my father thanks you, my sister thanks you, and I thank you.") For tickets to George M!, contact the Quad City Music Guild at (309) 762-6610. - Mike Schulz
Proof
Richmond Hill Barn Theatre
Thursday, July 6, through Sunday, July 16
My editor, Jeff, once wrote that playwright David Auburn's Proof "got the hack treatment" in John Madden's 2005 film version, but believes that the movie is worth seeing anyway because Auburn's play is, and I quote, "un-f--k-up-able." (I've got to steal that line some time.) The thing is, he's right. This Pulitzer Prize and Tony winner is, in our humble opinions, one of the few legitimate masterpieces of modern theatre, as audiences will discover when the play runs at the Richmond Hill Barn Theatre July 6 through 16. Blessed with complex characters, thematic richness, and penetrating dialogue, Proof was a rare Broadway smash that wasn't a musical - between 2000 and 2003, the show played 917 performances - and the reviews were positively rapturous; the New York Times' Ben Brantley wrote that Proof was "an exhilarating and assured new play" that is "as accessible and compelling as a detective story." If you think they don't write 'em like they used to, they still do ... and here's the Proof! (Wow, that was a terrible pun ... and here I thought this piece was gonna be un-f--k-up-able ... .) For tickets, call the Barn Theatre box office at (309) 944-2244. - Mike Schulz
The Impossible Shapes
The Redstone Room
Wednesday, July 6, 8 p.m.

The Impossible Shapes' Web site (http:www.theimpossibleshapes.com) poses the question, "Do people forget they are in a universe?", followed by, "What does the word mean when you break it down? It means 'one turn.' Think about that one for a bit." So I did. Then I thought about it some more. And then some more. I thought about the universe so much that I eventually worked myself into a beatific, trance-like state, which I'm guessing is the perfect condition for enjoying the psychedelic rockers' July 6 gig at Davenport's Redstone Room. Described as "experimenters in the realm of country, rock, and folk music," the group's Web site revealed that the Impossible Shapes "have kept a profoundly articulate sense of classic song/dream structure" through the years, and Pitchforkmedia.com's William Morris raved about their "enchanting melodies," "quirky and amorphous arrangements," and "serene, vernal poetics." The Web site made the Impossible Shapes sound like grace and tranquility personified, until I got to the line about how the band tends to pull audiences in "like meat-pulp quicksand." Hmm. Well, at least I'm not thinking about the universe any more. For more information, visit (http://www.redstoneroom.com). - Mike Schulz
John Deere Golf Classic
Tournament Players Club at Deere Run
Monday, July 10, through Sunday, July 16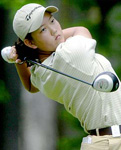 Ah, the happy memories of turning 16. Getting my driver's license, preparing for the homecoming dance, scoring endorsement contracts with Nike and Sony ... . Oh, wait. That's Michelle Wie's life. The 16-year-old Hawaiian may only be a junior in high school, but as most of the planet is aware, she's one of the most intimidating figures in golf, and has been for some time; at age 10, Wie was the youngest player ever to qualify for the USGA Amateur Championship, and in 2003, she became the youngest-ever winner of the U.S. Women's Amateur Public Links. She finally turned professional last October, and her incredible skill would make her easy to hate if her first act as a pro wasn't giving $500,000 to the U.S. Golf Hurricane Relief Fund. (To put that sum in perspective, imagine your teenage daughter donating the cash she saved baby-sitting ... for 250 years.) Wie's gifts will be on display again at this year's John Deere Classic, taking place at Silvis' Deere Run Golf Course July 10 through 16; last year, Wie missed the cut, but still shot one under par. I also did that in high school. And if they signed endorsement deals for miniature golf, I'd have Wie's bucks, too. For more information on this year's Classic, visit (http://www.johndeereclassic.com). - Mike Schulz