Terror, Madball, and The King of Clubz
The Picador
Thursday, June 14, 6 p.m.
I always wondered what an East Coast/West Coast feud between hardcore bands would look like. Can you imagine a bunch of disgruntled kids scrapping over who has the tighter jeans or more ironic T-shirts, or whose brand of hardcore is crunchier? Yet if you catch hardcore heavyweights Terror at Iowa City's The Picador on June 14 - alongside guests Madball and the King of Clubz on June 14 - you'll witness the kind of unity that Biggie and 'Pac never achieved. Formed in 2000, L.A.'s Terror have made quite the name for themselves with their stompin' blend of thrash and hardcore punk, and Decibel magazine described their live performances as "simple and sheer adrenaline shots." Having spawned in the midst of the loud, fast, and violent New York hardcore scene, NYC's Madball has been inflicting chaos on audiences since 1988, and these guys haven't slowed down a bit. (They've also yet to write a song that's more than three minutes long.) And Rock Island's The King of Clubz, on the scene since 2002, will be representin' the QCs with what their Web site (http://www.thornzrecords.com/kingofclubz) describes as "heavy, angry songs in the vein of Madball - Terror." Perfect! Doors for the all-ages show open at 6 p.m., and more information is available at (http://www.thepicador.com). - Brad Vidmar
Iowa Pastimes: Politics & State Fairs
Figge Art Museum
Saturday, June 16, through Sunday, September 9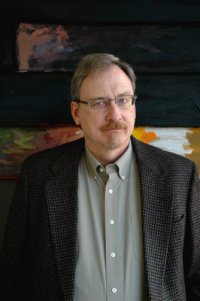 You know how an out-of-control political rally will oftentimes be described as a circus? Visual artist Thomas C. Jackson wouldn't characterize one that way; to him, this kind of "circus" is more like a fair. In the Figge Art Museum's new exhibit Iowa Pastimes: Politics & State Fairs, Jackson, a Rock Island native currently living in Cedar Rapids, explores the similarities and contrasts in what the Figge's Web site calls "two well-known Iowa pastimes" - fairs and political involvement - through a series of multi-colored, large-scale paintings, vibrant examples of which can be found on Jackson's Web site at (http://www.thomascjackson.com). His works focusing on what he terms "the extraordinary in ordinary American life," Jackson reveals that his inspiration for the series originated during the 2004 political campaign, when he realized that both state fairs and Iowa's caucuses incorporated "crowds of people, over-the-top marketing, and a sensory overload." It's sure to be a fascinating, visually arresting exhibit, but for the life of me I can't figure out why it's debuting at the Figge this summer when it sounds like a much better match for the cineplex. For further information on Iowa Pastimes: Politics & State Fairs, visit (http://www.figgeartmuseum.org). - Mike Schulz
The Merry Wives of Windsor
Riverside Theatre
Thurday, June 14, through Sunday, July 8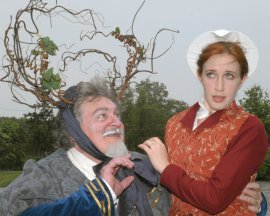 Have you ever caught yourself saying, "This is the long and the short of it," "As luck would have it," or "The world is my oyster"? So have I. (Well, I've never actually said, "The world is my oyster," but only because I'm not entirely convinced yet.) And do you know who we have to thank for popularizing those phrases? That clever Bill Shakespeare guy, as you'll discover when all three idioms - in their original parlance - are uttered in the Bard's comedy The Merry Wives of Windsor, the first presentation in the Riverside Theatre's annual Shakespeare Festival. If you recently caught the Prenzie Players' King Henry the Fifth and were hoping for more Falstaff for your buck - the poor guy's introduction found him lying dead on a gurney! - this is the show for you, as Shakespeare resuscitated his happily corpulent clown for this farce, which finds the character hoping to swindle two wealthy married ladies out of their cash. Consider the work a Shakespearean spin-off, much like when Abe Vigoda left Barney Miller to star in Fish. And if that reference were any more dated, Shakespeare himself could have used it. The Merry Wives of Windsor opens on June 14, and tickets to the Iowa City production are available by calling (319) 338-7672. - Mike Schulz
Air This Side of Caution
Rock Island Brewing Company
Saturday, June 16, 11 p.m.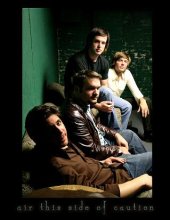 Here's something you rarely find on a band's MySpace page: a lukewarm review ... and by the band's lead singer, no less. In 2002, Chicago rockers Air This Side of Caution released their debut CD, The Unbearable Lightness of Being, and admitting the emotional and professional difficulties experienced by the group during that time, ATSoC vocalist JohnRaine says of their freshman effort, "We're playing to and for each other, not the listener." That's a pretty ballsy admission coming from the frontman of an up-and-coming rock outfit, but considering their 2006 follow-up, Nature Will Turn on Us - with its meditations on President Bush, the Iraq War, the environment, corporate America, and our electoral process - I'm thinking Air This Side of Caution has ballsiness in spades. The group, which has been compared to Radiohead and The Replacements, plays RIBCO on June 16, and their Web site (http://www.airthissideofcaution.com) lists a few of the musicians they've played alongside recently, including OK Go, Cypress Hill's DJ Muggs, and John Mellencamp. Wow. Young, politically minded indie rockers who freely admit their association with Mellencamp. That is ballsy. For more information on the group's Rock Island gig, visit (http://www.ribco.com). - Mike Schulz
Sturgis on the River
Downtown Davenport
Thursday, June 14, through Saturday, June 16
According to the Web site for the Sturgis on the River motorcycle rally, taking place in downtown Davenport June 14 through 16, all three days will feature appearances by something called "Big Schwag." Having just read that, most of my friends have likely thrown the Reader aside and are currently setting up camp, so let me now speak to the rest of you. Chief among highlights for this year's rally - the Midwest's largest annual gathering of motorcyclists and their bikes - is the first-ever Quad Cities appearance of the American Veterans' Vietnam Memorial Traveling Wall, a reproduction of the famed Washington, D.C., monument that extends more than 370 feet and displays 58,253 names. If its thrills you're after, the Sturgis Rally also features extreme fighting and mixed martial arts with UFC champions Tim Sylvia and Jens Pulver, the Ball of Steel Stunt Show, and thrills of a different kind with the annual Scooter Girls competition. Plus, live music will fill LeClaire Park all weekend long, with performances by more than a dozen bands, including Sugar Nipples, Mr. Whoopie, and, not to be forgotten, the Smokin' Mojo Kings. Too bad my friends are missing out on that information, huh? More on this year's rally can be found by visiting (http://sturgisontheriver.com/). - Mike Schulz