The Afromotive
The Redstone Room
Friday, June 22, 9 p.m.
"Collision" is a scary word. Most people would rather not be involved in one (especially one involving an automobile and a cheapskate insurance company). But sometimes it's fun to watch things crash into each other. Like the African drum and horn sections that The Afromotive will bring to Davenport's Redstone Room on Friday, June 22. For those of you unfamiliar with the style, "afro-beat" is a combination of West African Yorúbá and Highlife music, jazz, and funk rhythms - fused with African percussion and vocals - that became popular in the 1970s. Forming in 2004, this North Carolina-based nine-piece ensemble has been described by the Roanoke Times as delivering "danceable music with heavy beats and a strong social message" that, according to the Mountain Xpress, includes "wailing solos, fierce grooves, and a unified dreamscape of sound." And having toured all across the country, The Afromotive has shared the stage with Erykah Badu and Michael Franti & Spearhead, and has jammed at a variety of festivals, including North Carolina's Full Moon Rising Festival and South Carolina's Artisphere Arts Festival. Doors open at 8 p.m., tickets are $5, and more information is available at (http://www.redstoneroom.com). - Brad Vidmar
The Gibbs Brothers Band
Rock Island Brewing Company
Friday, June 22, 10 p.m.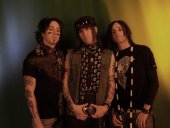 In researching the Gibbs Brothers Band - the rock trio composed of bass player Justin Marlin, guitarist Brent Gibbs, and his twin brother, percussionist Brandon Gibbs - I first visited the group's Web site (http://www.gibbsbrothersband.com), where I found a succinct description of their sound ("modern-day Rolling Stones meets the Black Crowes"), a list of headliners they've performed with (Cinderella, REO Speedwagon, Foreigner), and raves from collaborators. (Poison's Rikki Rockett, who previously shared a bill with the outfit and produced their CD Brothers in Arms, calls the Gibbs Brothers Band "young, vital, and talented.") Seeking more specific information, though, I thought I'd also turn to an interview I found online, which is where I landed upon Brent's quote about the group's hard-rocker appearance: "We definitely look the part. Tattoos, long hair. But at the end of the day, we're actually nice guys." Just the sort of personal detail I was looking for! Allow me to thank the interviewer by name ... I've got it here somewhere ... . Wait a second. David Burke from the Quad-City Times?!? Aw, man! I'm gonna be in so-o-o-o much trouble ... . The Gibbs Brothers Band will play the Rock Island Brewing Company on June 22, and details on their concert can be found at (http://www.ribco.com). - Mike Schulz
Living Here: New Plays from New Ground
Nighswander Theatre
Thursday, June 21, through Sunday, July 1
Being able to focus attention on Quad Cities artisans is my favorite thing about writing these calendar articles. Yet what I get to do in print, the New Ground Theatre does in person with Living Here: New Plays from New Ground, a quintet of one-acts by local playwrights. In Jeffrey Shumaker's About Earnest, a young man's obsession with The Importance of Being Earnest causes (understandable) relationship turmoil, and Ann Boaden's With Ah! Bright Wings finds a mother's and daughter's bond tested by mom's recurring visitation by an enormous, imaginary swan. Julie McDonald's And So to Bed details a marriage through five decades' worth of bedtime conversations, and Melissa McBain's one-person Yard Sale concerns a woman who relives moments in her life before entering a nursing home. New Ground Artistic Director Chris Jansen, meanwhile, wrote the offering Fudge!; she described the piece to me as "a little allegory about doing theatre in the Quad Cities," adding that while she considers the work "quite funny," her co-producer describes it as "snarky." "It might be a tad snarky," she laughed. "I was in a mood when I wrote it." Mining your snarkiness and moodiness for laughs, huh? I take it back. That's my favorite thing about writing these calendar articles. Living Here runs June 21 through July 1, and tickets are available by calling (563) 326-7529. - Mike Schulz
Taste of the Quad Cities
John Deere Commons
Friday, June 22, and Saturday, June 23
As of this writing, the last movie I saw at the cineplex was Hostel: Part II. The next movie I'll be seeing is Fantastic Four: Rise of the Silver Silver. And Bruce Almighty, Die Hard, Bourne Identity, Rush Hour, and Harry Potter follow-ups are all on the horizon. You know what would take my mind off this relentless sameness? A little variety in my diet. Twenty-eight varieties, to be exact - the number of local restaurants and pubs participating in this year's Taste of the Quad Cities at Moline's John Deere Commons. From noon to midnight on June 22 and 23, the area's finest eateries and drinkeries will sell signature items for your delectation, and for those of you who want to indulge without breaking the bank, each venue will be offering a $1 item from their menus. The event also boasts rides and inflatables in the Hy-Vee Kidsfest, Mississippi River fireworks on Friday, and musical performances aplenty: the Dani Lynn Howe Band, Mike & Joe, Trippin' Billies, Hi-Fi, Wicked Liz & the Bellyswirls, the Late Night Blues Brothers with Shades of Blue, and the Parrots of the Caribbean. Which is probably the sequel I'll be at when you read about the Taste of the Quad Cities next summer. For more information, visit (http://www.tasteofthequadcities.com). - Mike Schulz
The Fantasticks
North Scott High School
Friday, June 22, through Saturday, June 30
You're going to think this is a typo, but I swear it's not: The original off-Broadway production of The Fantasticks opened in 1960, and went on to run for a staggering 1,716 performances. Oh, wait. That is a typo. The show actually ran for 17,162 performances. Sorry about that. This beloved musical comedy of meddling parents and thwarted romance played in New York for more than 40 years, making it not only the longest-running show (of any kind) in the United States, but the longest-running musical in the world, and its timeless appeal will be on display when Eldridge's Countryside Community Theatre presents The Fantasticks June 22 through 30 in the North Scott High School's Fine Arts Auditorium. Boasting a book and lyrics by the legendary Tom Jones, and featuring a score that includes the classic "Try to Remember" (all together now: "Follow ... follow follow follow follow ... ."), the show has been routinely adored by audiences, critics, and actors alike - a friend who performed the musical in Ohio recently told me, "There's literally nothing wrong with it" - and here are a few more numbers to blow your minds: By 2001, the show's original 44 investors had received a 19,465-percent return on their investment. Fantastick, indeed. For tickets, call (563) 285-6228. - Mike Schulz