Uncle Boogie Pants
Bent River Brewing Company
Saturday, June 2, 10 p.m.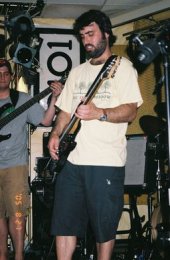 You might not take your Uncle Bob to boogie down with this band, but there is plenty for the jam-band fans to enjoy. Uncle Boogie Pants, a rock group out of Chicago, returns to the Bent River Brewery on June 2 in a show filled with original music. The band's current roster consists of Mike Rizman, Dugan O'Keene, Kevin Greene, and newest member Brett Baxter, and while the four have only been together since last summer, the group itself originated in 2003. According to the group's Web site (http://www.uncleboogiepants.com), Dugan has given up "hanging around laudromats to steal people's underwear," Kevin is "a 29-time winner of the Greene family's prestigious 'Most Disappointing Child' award," Mike formerly played in a band called Jose Cuervo & the Dry Heaves, and Brett's personal motto would probably be "eat, sleep, play the drums" - so it's clear these guys have fun personalities. According to a recent press release, the band's growing library of new songs "puts a large emphasis on improvisation," and Uncle Boogie Pants has been working on a debut album, which it hopes to release sometime this summer. For your chance to "boogie down," or rock out, to Uncle Boogie Pants, check out some audio clips at (http://www.myspace.com/uncleboogiepants). - Amber Barr
Sheldon Low
The Redstone Room
Tuesday, June 5, 7 p.m.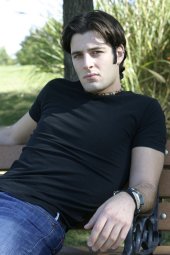 Sheldon Low, who headlines the Redstone Room's Jewish Music Series on June 5, released his debut CD On One Foot last year, and the singer/songwriter's charisma and passion have drawn comparisons to such performers as the Counting Crows; the Jerusalem Post's Ben Jacobson wrote that the CD's "high energy is infectious," featuring "intimate, acoustic gems." Yet Low also frequently tours at Jewish summer camps nationwide, and it's through these appearances that he's earned particularly high acclaim. B. Andrew Brown, executive director of the Jewish Federation of Cincinnati's Camp Livingston, calls him "a dynamic, engaging performer who has a fabulous ability to connect with kids." Harriet Sandberg, of Massachusetts' Temple Shalom, praises Low's ability "to connect to people of all ages and draw them together as a community." And Jewish-rock legend Rick Recht - with whom Low toured in 2005 - enthuses, "I can't wait to see the impact Sheldon is going to have on generations of Jewish youth and the entire Jewish world." If I blow that accompanying photo up to poster size and hang it in the Reader office, I'm thinking he'll have quite an impact on our staff. (This means you, Lib.) For information on the Jewish Music Series, visit (http://www.redstoneroom.com). - Mike Schulz
Unity ... the Band
Rock Island Brewing Company
Friday, June 1, 10 p.m.
When I first read the artist profile on a group that "consists of eight very individual performers ... each one with something unique to add to the musical experience ... ," I was convinced that the Reader staff had decided to tour, and chose not to invite me. I also thought our publication's name had changed, and we were now known as Unity ... the Band. With a song set that includes both pulsing originals and covers of such classics as "I Can See Clearly Now," "No Woman No Cry," and "The Tide Is High," the elipsis-ed group - led by native Fijian Pita Katobalavu - returns to the Rock Island Brewing Company on June 1, delivering what their Web site (http://www.unitytheband.com) lists as "reggae, jazz, rock, blues, roots, hip hop, and funk." Behind these disparate genres, though, is the band's promise "to deliver an angelic, energetic, diverse, liberal, and peaceful message" to audiences (hence the band name), and their dedication to "losing yourself in the moment" musically; as the Web site states, "The way that the vibe and the colors spiral around you may seem to have carried you into the outer spaces of your mind." Wow. After reading that sentence, I totally feel lost in the moment. If you know what I mean. For more information on Unity ... the Band's RIBCO appearance, visit (http://www.ribco.com). - Mike Schulz
Greek Cultural Festival
John Deere Commons
Friday, June 1, and Saturday, June 2
If they're still serving loukemathes, I don't know why anyone would want to miss the sixth-annual Greek Cultural Festival, occurring at Moline's John Deere Commons June 1 and 2. But even if you don't instinctively salivate at the thought of those doughnut delicacies glazed with honey and cinnamon, this year's festival will offer plenty of indulgences. In addition to the gift and import shop, cultural tent, wine-tasting event, and children's area - and did I mention the loukemathes? - you'll experience traditional and modern Greek music from the Kostas Kastanis Band, demonstrations by the Quad Cities Jugglers, and presentations by the actors of Genesius Guild. Plus, there will be weekend performances by Chicago's Olympian Greek Dance Troupe, the members of which, in 1996 alone, were featured on the evening news of ABC, CBS, and NBC, performed for the Democratic National Convention, and danced for Konstandinos Stephanopoulos, the president of Greece. Just think, folks: If you catch the Olympic Greek Dance Troupe at the festival, you will - theoretically at least - be only three degrees of separation from President Bush. Just like me with Kevin Bacon. For more information on the Greek Cultural Festival, call (309) 792-2912. - Mike Schulz
Quad City Air Show
Davenport Municipal Airport
Friday, June 1, through Sunday, June 3
Sign number one that you're aging faster than you want to: When you realize that the Quad City Air Show is celebrating its 20th anniversary, and you're bummed because you still remember the event's debut ... when you were in college. Yet what's depressing to you - well ... me - should be exhilarating for those visiting the Davenport Municipal Airport June 1 through 3. In "Score of a Celebration - 20 Years of the Quad City Air Show," attendees will enjoy thrilling demonstrations by the USAF Thunderbirds, the Heritage Blue Parachute team, and the E-Team Skydivers, plus literally heavenly aerobatics by pilots of the U.S. Navy. Back on earth, there will be military and historical displays aplenty, more than 150 ground exhibits, and an activity center for the kids, where they can traverse an Army obstacle course and simulate flying in an F-16. And this year's air show will open on Friday with a special evening of night flights and a fireworks show, which leads me to sign number two that you're aging faster than you want to: When you discover that the fireworks will commence at 9:30 p.m., and you're bummed because you were planning to be in bed by 9:30. Before the inevitable 25th anniversary celebration is upon us, be sure to check out the full listing of Air Show events at (http://www.quadcityairshow.com). - Mike Schulz