Holiday Pops
The Mark of the Quad Cities
Saturday, November 18, 7:30 p.m.
Early as it may seem, TV commercials, shopping malls, and Tim Allen have, for weeks, signaled the arrival of the holidays. I prefer to think of November 18 as this year's official kickoff, as that date brings with it the annual Holiday Pops concert at the Mark of the Quad Cities. Talk about a stocking stuffer! You'll see routines by the Figure Skating Club of the Quad Cities, who will glide along to John Williams' Olympics theme, "Call of the Champions." You'll hear seasonal songs by the Sanctuary Choir of the First Presbyterian Church and the Holiday Pops Children's Chorus, with accompaniment by the Quad City Symphony Orchestra - led by the San Antonio Symphony's David In-Jae Cho - and, on the harp, Quad City Arts Visiting Artist Julie Ann Smith. You'll thrill to the sight of 7,000 audience members holding miniature lights during the concert's climactic rendition of "Let There Be Peace on Earth." And, following the Holiday Pops performance, you're invited to stay for the lavish desserts offered at the Mark's "Sweet Encore" party, although the post-show bash does sound a tad superfluous - the whole evening sounds pretty sweet. For tickets, call (309) 764-2000. - Mike Schulz
Happy Birthday Amy
Penguin's Comedy Club
Thursday, November 16, 9 p.m.
Amy Smith is a clever lady. You know how you can get irrationally upset if a friend doesn't greet you with "Happy Birthday!" on your special day? Smith gets to hear "Happy Birthday, Amy!" all the time; all she had to do was make that the name of her group. (I can imagine the discussion with bandmates Miles Cramer and Dillon Smith - "Y'know, Happy Birthday Miles has a nice ring to it... ." "Yeah, but Happy Birthday Dillon really rolls off the tongue ... .") On November 16, Penguin's Comedy Club presents progressive rockers Happy Birthday Amy, the Nashville ensemble featuring vocalist Amy on keyboards, Miles on drums, and Dillon (a Davenport native) on violin and bass. According to the group's press release, the up-and-comers' debut CD The Holidays delivers "haunting lyrics, playful, intricate rhythms, solid musicianship, and dance-tastic moments" from "a three-piece conglomeration of musical co-dependence." Of course, I'd always understood co-dependence to be a bad thing, but hey, it's her birthday - Amy can be as co-dependent as she wants. Happy Birthday Amy will play Penguin's alongside The Parish Festival and Chrash, and more information is available at (http://www.myspace.com/penguinslivemusic). - Mike Schulz
The Great Train Expo
Quad City Expo Center
Saturday, November 18, and Sunday, November 19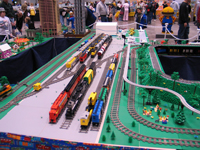 "Thank God for model trains," says Jennifer Coolidge in A Mighty Wind. "You know, if they didn't have the model trains they wouldn't have gotten the idea for the big trains." I couldn't agree more. Model-train enthusiasts - and anyone who appreciates the pastime's detail and craftsmanship - will be in locomotive paradise on November 18 and 19, when the national Great Train Expo pulls into the Quad City Expo Center station; as the event's press release states, it's "the only hobby where you can be the city planner, structural engineer, and conductor all at the same time." In addition to the numerous displays (some as large as 40 feet by 50 feet), the expo will feature railroad memorabilia; dealers, collectors, and appraisers from across the country; special children's activities; and demonstrations and clinics on everything from developing scenery to maintenance - "If there isn't a seminar geared to your question," boasts the press release, "all you have to do is ask." Okay, so here's a question: Who came up with the idea to create big trains based on models? I mean, that's brilliant! How long did it take for ... oh, wait a minute ... there's a chance that Coolidge may have been joking ... . For further information, visit (http://www.greattrainexpo.com). - Mike Schulz
The Quad City Comedy Tour
Nighswander Theatre
Saturday, November 18, 7 p.m.
Some of Chicago's funniest up-and-coming stand-ups are coming to town in the Quad City Comedy Tour, hitting Davenport's Nighswander Theatre on Saturday, November 18. Comedians Vince Carone, Jim Flannigan, Jay Harris, Dustin White, and emcee Nick Lullo will perform as part of a special Midwestern tour designed to showcase Chicago stand-up. "The city has a great improv scene," says show producer Lullo, "but stand-up comedians from the area seem to be less prominent." That being said, this lineup is ready to show us what they got - and they got mad street cred! Carone, who recently auditioned for Saturday Night Live, has opened for actor-comedian John Witherspoon (Ice Cube's dad in Friday), while Flannigan has opened for Jamie Kennedy; Harris has performed at nearly every major comedy club in the Midwest; White is a veteran of Chicago's Second City (whose famous alumni include Bill Murray, Chris Farley, and Steve Carell); and Lullo - who once worked as an anchor for Chicago's Indian-entertainment program Bollywood Buzz - has produced more than 40 other comedy shows. Tickets are $10 - only $8 if you bring a copy of this article with you! - with refreshments provided, and more information is available at (http://www.quadcitycomedy.com). - Brad Vidmar
The Jumbies
Rock Island Brewing Company
Thursday, November 16, 10 p.m.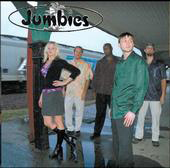 When I initially heard about the Des Moines-based band The Jumbies, my first reaction was, "Aw, how cute!" I'm sorry, but "Jumbies" is just a cute name. It brings to mind movie-theatre candy. Or Muppets. But the moniker "Jumbies" actually originates from the Trinidadian word for "mischievous spirits," and after learning of the group's spicy musical style, it sure doesn't sound like they're aiming for "cute." Expect the band to make some serious mischief when they return to the Rock Island Brewing Company on November 16, playing what percussionist Creighton Gaynor calls "very upbeat, party-type music." The Jumbies' sets incorporate a variety of exhilarating styles - salsa and Latin beats are intertwined with calypso rhythms and the sound of the steel drum - and make use of the traditional, Trinidanian technique of soca, which Gaynor, in the Iowa State Daily, described as "calypso with a faster, dance-oriented beat." Sounds like hot stuff, even though the Jumbies' Myspace page (http://www.myspace.com/jumbies) does describe the group as "a Caribbean/Afro-Latin/funk version of Dr. Teeth & the Electric Mayhem Band." So I guess they're aiming for a little bit cute. For more information, visit (http://www.ribco.com). - Mike Schulz