Paquito D'Rivera
Hancher Auditorium
Friday, December 1, 7:30 p.m.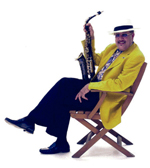 Cuban jazz master Paquito D'Rivera will be coming to Iowa City's Hancher Auditorium on Friday, December 1. Known for combining infectious Latin rhythms with hot, swinging jazz, the seven-time Grammy Award winner performs as part of the National Endowment for the Arts' and Chamber Music America's "Jazz Masters on Tour" project. Born and raised in Cuba, the clarinetist, saxophonist, and composer began his professional career with the Cuban National Symphony Orchestra, and as a teenager became one of the founding members of Orquestra Cubana de Musica Moderna. D'Rivera was also a founding member and co-director of the innovative musical group Irakere, whose blend of jazz, rock, classical, and traditional Cuban music earned the group several Grammy nominations and international fame. After seeking asylum in Spain in 1980 and later becoming a U.S. citizen, D'Rivera won his first Grammy as a solo artist in 1996 for his acclaimed Portraits of Cuba, and he has recorded more than 30 solo albums in jazz, bebop, classical, and Latin music. In 2005, D'Rivera received the National Medal of the Arts and won a Grammy for Best Instrumental Composition. For tickets and more information, visit (http://www.hancher.uiowa.edu). - Brad Vidmar
Duwayne Burnside & the Mississippi Mafia
The Redstone Room
Saturday, December 2, 9 p.m.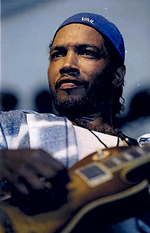 Southern-blues artist Duwayne Burnside - who will perform at Davenport's Redstone Room with his Mississippi Mafia on December 2 - grew up surrounded by musicians in both his neighborhood and his family; a young Burnside actually began playing the guitar before he was old enough to hold one. Since those formative years, Burnside and his "hill country and soul-blues fusion" act have gone on to wow crowds nationwide and have toured upwards of 250 days a year while earning the respect of both blues fans and blues critics. On the music-review Web site PRX (http://www.prx.org), Burnside and company are described as "rough and energetic ... decidedly strong and engaging," and such praise is understandable; during his professional career, Burnside has jammed with such genre greats as Little Jimmy King, Albert King, and B.B. King. He and his group have also recorded two acclaimed CDs, entitled Under Pressure and Live at the Mint. Wow, a pair of aces and three Kings - guess the Redstone Room should expect a full house. Thank you! Tip your wait staff! Good night! For more information, visit (http://www.redstoneroom.com). - Mike Schulz
Mona Terry & Jean Norton
The Coffee Artist Café
Saturday, December 2, 2:30-4:30 p.m.
While perusing press releases during this time of year, "Escape the winter winds with hot coffee, munchies, and good music" is one of those invitations that immediately catches my attention, as those are three of my favorite things even in the summer. On December 2, this triad of treats will be in ample supply at the Coffee Artist Café (1711 Fifth Avenue in Moline), where local musicians Mona Terry (a noted area harpist) and Jean Norton (frequent music director for the Clinton Area Showboat Theatre and the Circa '21 Dinner Playhouse) celebrate the release of their first collaborative CD, A Path-Seeking Harmony. In the recording's collection of inspirational songs, the gifted musicians - who will also perform at Saturday's event - employ guitar, harp, piano, alto flute, percussion, and vocals in a series of beautifully arranged compositions; having heard the CD, I can attest that the results are lovely and thoughtful, and that they back up Terry's press-release claim: "Designed to invite you into a contemplative space, this music can also inspire expressive movement and dance." I'd better make sure, though, that I have somewhere else to be on December 2. The last time I indulged in expressive movement and dance, I had 'cuffs slapped on me. For more information, call the Coffee Artist Café at (309) 743-0088. - Mike Schulz
Local Author Book Signings
Davenport Barnes & Noble
Saturday, December 2, 1-4 p.m.
I'm one of those people who finally gets around to holiday shopping in the last few days before Christmas (with apologies to my family, which is under the impression that I purchase their gifts way before then). But I'm guessing a great many of you have already endured your share of seasonal anxiety. You know what'd relax you? A good book. Or several. On December 2, Davenport's Barnes & Noble will present five area authors signing their works, all of which should provide a soothing respite from the stress of the season. Local heritage is studied and celebrated in Ted McElhiney's historical fiction The River Rising: The Effie Afton Affair, while Sharon Rexroth's rhyming children's book shows readers Iowa from the Sky. Younger bibliophiles should also enjoy Jill Esbaum's popular Stink Soup and Estelle Takes a Bath, and Barbara Kissinger's Christmas Past, which features more than 200 color illustrations from calendars, ads, and greeting cards in Europe and the United States. And completing this quintet is ... um ... horror author M.A. Harkert, who will sign his novel The Chill of Evil, a tale of family secrets, nightmares, and a haunted house. (Thanks a lot, M.A. I'm trying to get people to relax here ... .) For information, call Barnes & Noble at (563) 445-8760. - Mike Schulz
Victorian Christmas Tea
Quad City Botanical Center
Sunday, December 3, 11 a.m. - 4 p.m.
In addition to her 63-year reigns in England and India, Queen Victoria was the first queen of Australia. She became a grandmother at 39 and a great-grandmother at 59. And when she passed away in 1901, her first grandchild, Emperor William II, was beside her. Sorry to give away the plot, but no need to call the Spoiler Police on me - these historical tidbits, and many others, will likely be revealed during December 3's Victorian Christmas Tea presentation at the Quad City Botanical Center. Along with cookies, hot cocoa, coffee, and (of course) tea, Botanical Center guests will be treated to a performance piece by Germaine I. Buchholz, a Frederick Meijer Gardens docent who will share fascinating details about Victoria's life. But in addition to the expected historical information, here's some trivia the Christmas Tea might not let slip: Victoria was the first British monarch to be photographed. One of her favorite books was reportedly The Strange Case of Dr. Jekyll & Mr. Hyde. And she was a vocal fan of the the 19th Century elixir Vin Mariani, the ingredients for which inspired Coca-Cola and included, during Victoria's day, cocaine. Thank you, Wikipedia. (Or: Thank you, hackers who enjoy messing with Wikipedia entries. Whichever.) For further information, visit (http://www.qcgardens.com). - Mike Schulz