Julie Ann Smith
Augustana College
Saturday, November 11, 7 p.m.
My classical-music knowledge is pretty limited, and until I researched Quad City Arts' latest Visiting Artist, Julie Ann Smith, the only professional harpists I was aware of were (1) Harpo Marx and (2) angels. (And I don't think they cash a paycheck.) Who knew that the harp presently boasted a performing superstar? The prodigiously talented Smith, who will present a public recital at Augustana College's Wallenberg Hall on November 11, has spent several years playing among the world's most prestigious ensembles - including the National Symphony and National Repertory Orchestras - and her solo recitals have taken Smith to Italy, Japan, and venues across the country. She has earned accolades from composer Oliver Knussen (who praises her "exceptional musical intelligence and skill"), Cleveland Institute of Music President David Cerone (who says she "exhibits the highest personal and artistic integrity"), and the Washington Post (where a Smith concert was described as "a mind-blowing display of youthful talents.") And not for nothing, but if and when I get to heaven, I pray that the angels greeting me look more like Smith than Harpo. For more information, visit (http://www.quadcityarts.com). - Mike Schulz
White Christmas
Circa '21 Dinner Playhouse
Wednesday, November 8, through Saturday, January 6
I've been to numerous Circa '21 performances this year, and whenever audiences were informed that Irving Berlin's White Christmas would open the theatre's 30th season on November 8, they reacted with an audible excitement bordering on giddiness; on more than one occasion - I kid you not - the crowd applauded the news. Such is the appeal of the beloved Bing Crosby movie, and there's probably no need to recount the plot of (and songs in) the 1954 musical this show is based on; if you don't know White Christmas, you barely deserve Christmas. But what you may not know is that Circa '21's presentation is actually a new stage musical, having premiered in San Francisco in 2004 (this marks its Illinois debut), and the reviews were sensational; the San Francisco Chronicle wrote, "White Christmas couldn't be more welcome," and the San Francisco Examiner called it "as enchanting as a first snow." White Christmas has been so eagerly awaited by so many that - holidays be damned - Mt. Carroll's Timber Lake Playhouse secured its rights for performances next summer. No points for guessing how the Timber Lake crowd reacted when they found out. For tickets, call (309) 786-7733 extension 2. -Mike Schulz
The Great Martini Shake-Off
The Lodge Hotel
Thursday, November 9, 5:30 p.m.
"Jeff!" "Mike." "I have to do a calendar glance on the 'Shaken or Stirred Martini Shake-Off' on November 9." "That's fine, but - ." "No, I'm serious. This thing sounds amazing. It's being sponsored by the Young Professionals Network of the Quad Cities, and it's taking place at the Lodge Hotel in Bettendorf at 5:30 p.m - ." "I said that's fine, but - ." "It's a fundraiser for Variety - The Children's Charity of the Quad Cities ... ." "Mike ... ." "The best bartenders in the area are gonna compete to make the best martinis in the categories of Traditional Vodka, Cordial, Cosmopolitan and even Chocolate ... ." "Uh huh ... ." " ... and a bunch of celebrity judges are gonna be there ... ." "Listen to me, Mike - ." " ... and with your ticket price, you get to try the martinis yourself and vote on who wins!" "Listen - ." "Think of the jokes! 'Aw, the Reader staff does that kind of thing every Tuesday.' Or, 'How sweet that a children's charity will benefit from the consumption of alcohol.' So much material!" "Mike?" "Yeah?" "Are you just wanting to make smarmy gags because no one asked you to be a celebrity judge?" "Of course not, I - ." "Mike?" "Yes. Yes, I am." For information, visit (http://www.ypnqc.org). - Mike Schulz
Lone Star and Laundry & Bourbon
Black Hawk College
Thursday, Nobember 9, through Thursday, November 16
Boy, I sure did relish my college education - learning how to appreciate art, how to organize my time, how to act when I'm drunk ... . Wait. That didn't come off right. I don't mean drunk drunk. I mean pretend drunk. Theatre drunk. I got to play inebriated in several college roles, and learning to act believably blitzed is a legitimate educational experience. Seriously. You don't believe me? The students at Black Hawk College are getting to do it right now. Black Hawk is currently presenting two one-act dramatic comedies by James McLure - Lone Star and Laundry & Bourbon - that concern relationships, responsibility, and a whole lotta booze. In Laundry & Bourbon, three Texas women gossip about (and drink to) their unruly children, wild pasts, and ne'er-do-well husbands; in Lone Star, it's the men's turn to chat and imbibe, as a Vietnam veteran, his brother, and the town outcast face broken dreams and sins of the past. McLure's plays will give Black Hawk's actors the chance to attack comedy, tragedy, and the fine art of acting sloshed. And the coolest thing about this kind of drunk? You can be wasted in front of your parents and they can't get mad! Man, I miss college! For more information, call (309) 796-5419. - Mike Schulz
Michael Winslow
Penguin's Comedy Club
Thursday, November 9, through Saturday, November 11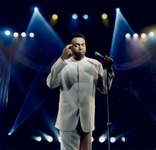 Of all the wonderful joys a human being's mouth can bring to the world, the ability to make funny noises has to be one of the more under-appreciated. But one man has had the courage to carry the flag for goofy, man-made sounds, and the world is a better place for his work. Appearing November 9 through 11 at Penguin's Comedy Club, comedian Michael Winslow (also known as "The Man of 10,000 Sound Effects") will bring the noise like no other. Although many remember him as Sergeant Larvell Jones - the officer whose vocal gifts got Mahoney, Hightower, and the rest of the gang out of loads of trouble - in the Police Academy movies, Winslow's résumé also includes a handful of comedy specials, numerous TV series (such as The Love Boat and The Drew Carey Show), and more than a dozen other movies (including Cheech & Chong's Next Movie and Spaceballs), and he even helped provide the voices of the Mogwai and other creatures in 1984's Gremlins. It's enough to make you ask, "Steve Gutten-who?" For tickets and information, visit (http://www.penguinscomedyclub.com). - Brad Vidmar