The Threepenny Opera
St. Ambrose University
Thursday, October 12, through Sunday, October 15
(Best enjoyed if sung to Bobby Darrin's rendition of "Mack the Knife.") Oh, St. Ambrose, has such guts, dear, and you'll see them ... Thursday night / That Kurt Weill show, with old MacHeath, babe, is premiering ... out of sight! / The Threepenny Opera has such teeth, babe - biting satire, intellect / With a batch of thieves, whores, and killers, and a book by ... book by Bertolt Brecht / And here's the kicker ... uuh, huh ... whoo ... it's not a downer ... uuh, uuh ... 'cause this show is just oozin' life / With rowdy humor, and great music, like that ditty called "Mack the Knife" / But in this version ... huh, huh, huh ... there's been some changes don'tcha know ... what was Europe is now the U. S. of A. / The Great Depression's on, there's no F.D.R., and the country's pissed ... kinda like today / Now d'ja hear 'bout Corrie Johnson? She will direct, babe, and you'll see the gifts of her student cast / They'll play MacHeath and sweet Polly Peachum, and those lowlifes Brecht and Weill amassed / There's Jenny Diver ... ho, ho ... yeah ... Sukey Tawdry... they're all in this wild show of such great renown / Oh, the line forms down at Galvin, now that Mackie's back in town / Look out ... old Mackie is back! For tickets to The Threepenny Opera, call the Galvin Fine Arts Center at (563)  333-6251. - Mike Schulz
Straiht Wikid Crew
Rock Island Brewing Company
Tuesday, October 17, 9 p.m.
This Tuesday, sonic hip-hop rockers Rehab return to the Rock Island Brewing Company, and joining them will be Straiht Wikid Crew's Jason Fladlien, a twentysomething, sexually abstinent, teetotaling, vegetarian Hare Krishna from Muscatine. I'm not kidding. I know I usually open and close these calendar pieces with a joke of some sort, but that's the God's-honest truth. Since the spring release of his debut CD, Kali Yuga Demolition Vol. I - again, not kidding - the burgeoning musician has performed wicked, upbeat hip-hop for a growing group of fans (who often join him on stage and are the "crew" of the band's title), and has snared music critics' devotion as well - the Los Angeles Times' Chris Lee called Fladlien's debut CD "a kind of a Nirvana-themed Straight Outta Compton," and Indie-Music.com's Todd Beemis raved, "As I listened to SWC, I increasingly felt something similar to what people must have sensed when they stumbled into the Paris studio of a then-unknown Picasso." No, really. Beemis compared Fledlien to Picasso. Why doesn't anyone take me seriously in these notices? For more information on this literal one-man-band, visit (http://www.straihtwikidcrew.com). - Mike Schulz
The Secret Machines
Iowa Memorial Union Ballroom
Friday, October 13, 8 p.m.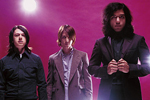 On the Secret Machines' Web site (http://www.thesecretmachines.com), the alternative rockers describe the sensation they hope to evoke with their Ten Silver Drops CD: "Imagine the worst thing you've ever said to a loved one. Now recall the instant you realize you can't take it back. Your stomach drops; your mouth tastes metallic. What is done can't be undone." Great. Thanks for immortalizing that feeling in music, guys. But as attendees of their October 13 concert at the University of Iowa's Iowa Memorial Union Ballroom will discover, the Secret Machines' downbeat material is, in performance, exhilarating. Fusing powerful percussion, psychedelic guitar riffs, and funky keyboard chords, the New York City-based trio thrills audiences and critics - Entertainment Weekly's Clark Collis called Ten Silver Drops "a spiritual sibling to such previously great, emotionally raw ruminations on shattered personal lives as Phil Collins' Face Value and Beck's Sea Change" - and I personally consider them kindred spirits; discussing the Secret Machines' penchant for lengthy, five- to nine-minute songs, the group's Brandon Curtis said, "Some things are worth soaking in. Just because it can't be said fast, doesn't mean it's not valid." Which is exactly what I tell my editor, Jeff, every time I exceed my word counts. For tickets, call (319) 335-3041. - Mike Schulz
Nova Singers' Music, Mirth, & Mischief
First Congregational Church in Moline
Sunday, October 15, 4 p.m.
Music, Mirth, & Mischief - the Nova Singers' season-opening concert - will occur at Moline's First Congregational Church on October 15, and given the talents involved, all three elements should be handily delivered. This professional choral ensemble - founded and directed by Dr. Laura Lane - is composed of 20 gifted performers, at least three of whom will be familiar to patrons of local musicals: Jenny Winn played Belle in the Quad City Music Guild's Beauty & the Beast last August and Sally in March's You're a Good Man, Charlie Brown; J. Adam Lounsberry, who starred as Winn's big, block-headed brother, also portrayed the Tin Man in Music Guild's The Wizard of Oz; and Brian Nelson recently captivated crowds as the Circa '21 Dinner Playhouse's Old Deuteronomy. (Who'd know more about music, mirth, and mischief than the leader of the Cats?) According to Dr. Lane, the first half of Music, Mirth, & Mischief is filled with "stunningly beautiful" music, while the second is "pure fun"; Lane is quoted as saying, "I hope to see many people smiling, if not laughing out loud!" That shouldn't be a problem, especially if she can get Lounsberry to do his "Oil can!" routine again. For tickets, call (309) 341-7038. - Mike Schulz
Mötley Crüe
The Mark of the Quad Cities
Saturday, October 14, 8 p.m.
They say that cockroaches will still roam the earth after Armageddon. I'd bet that the boys in Mötley Crüe will, too. Coming to the Mark of the Quad Cities on Saturday, October 14, the Crüe will be thrashin' and bashin' in support of their most recent live album, Carnival of Sins. Comedian Denis Leary once declared, "A band like Mötley Crüe could walk into an entire room full of crack, smoke the whole thing, and come out still ready to go," and he may be right - the group has survived drug and alcohol abuse, car crashes, lawsuits, STDs, band rivalries, break-ups, stolen (homemade) adult videos, god-awful reality shows, degenerative bone disease, prison, divorces, bad reviews, failed solo projects, and even death - bass player Nikki Sixx was declared legally dead after a heroin overdose in 1987 but, strangely, lived. And they still rock! Having seen the band at the Mark in March of 2005, I can say that we're in for a treat; the last time Mötley Crüe marched into town, they played for nearly two hours, blasted hits past and present, and tore it up with an awesome stage show that included midgets, strippers, and most importantly, kick-ass metal. Tickets to the 8 p.m. show are $47.50 and $67.50, and more information is available through the Mark box office at (309) 764-2054. - Brad Vidmar