Kevin Burt
Mojo's Cafe and Borders Books & Music
Wednesday, October 4, 7 p.m., and Friday, October 6, 7 p.m.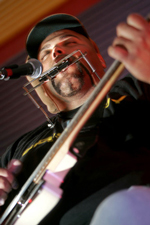 The Mississippi Valley Blues Society (MVBS) has begun its latest season of "Blues in the Schools" performances - in which local and national blues artists present workshops for children and free public concerts for the rest of us - and the first performer on the 2006-7 lineup is Kevin Burt, who, at this year's Mississippi Valley Blues Festival, educated kids in the organization's BlueSKool program. Based on the spelling, I'm thinking the MVBS could use a little education of their own. Kidding. Burt - a powerful, Iowa-based guitarist and vocalist - will perform on October 4 at the River Music Experience's Mojo's Cafe and October 6 at Borders Books & Music, and like fellow Iowa native Ernie Peniston, Burt proves that "Midwestern blues artist" is not a misnomer. Also like Peniston, Burt grew up singing in church choirs, became a familiar presence at local blues jams, and subsequently formed his own group - Kevin Burt & the Instigators. Before leaving the area, Burt will have performed and taught at a dozen area schools, and without the aid of his back-up group ... because as we all know, the last thing kids need are Instigators. For more information on the "Blues in the Schools" program, call the MVBS at (563) 322-5837. - Mike Schulz
Bling! The Jewelry Tour
Figge Art Museum
Thursdays in October, 2 and 7 p.m.
Looking at the accompanying photo of Jan Van Ravesteyn's Portrait of a Woman, a few questions spring to mind: Who was that woman? How was Van Ravesteyn able to successfully suggest emotional state through mere brushstrokes? And, most importantly: Where did girlfriend get that fabulous bling-bling? Amazingly, the answers to all three questions may be gleaned through a new tour running at the Figge through the month of October: "Bling! The Jewelry Tour." Every Thursday, at both 2 and 7 p.m., Figge docents will provide fun facts about the history and significance of jewelry in artwork - with visual representations courtesy of paintings in the museum's collection - and will explain little-known facts about the treasures depicted in the works. It's rumored that the docents themselves will be sporting some bling - including the latest international-jewelry designs from the museum's gift shop - and the tour's ticket price includes a stop at the Figge's Restaurant 225, where you can enjoy coffee and your choice of New York-style cheesecake or a chocolate torte. Screw the bling - if chocolate's involved, I'm there. For more information, visit (http://www.figgeartmuseum.org). - Mike Schulz
Cat on a Hot Tin Roof
Richmond Hill Barn Theatre
Thursday, October 5, through Sunday, October 15
"I'm nervous, Brick." "I know you are, Maggie." "I need to get out." "I know." "I feel all the time like a cat on a hot tin roof! Let's go to the theatre." "Maggie ... ." "The Richmond Hill players have a new show, Brick..." "Maggie, you're spoiling my liquor ... ," "It's by Tennessee Williams, and it won the Pulitzer Prize... ." "Uh huh." "It opens tonight, Brick ... October fifth ... one year from the day when you stopped makin' love to me ... ." "I don't like the theatre, Maggie." "You used to love the theatre, before Skipper ..." "You leave Skipper out of this!" "I won't! I can't! You and Skipper were always at the theatre together!" "I won't have this, Maggie ... ." "You used to adore those tenderly written Southern dramas about mendacity and passion and betrayal ... ." "That kind of talk is disgusting." "And then Skipper died and you never went to the theatre again! Never!" "Why don't you take those no-neck monsters?" "That play's not suitable for Mae's children - I want you! Are you listening to me?" "Maggie..." "Brick!" "Yes. I hear you, Maggie. But how in hell on earth do you imagine you'll attend the theatre with a man that can't stand you?" "That's a problem that I will have to work out." For tickets to the Richmond Hill Barn Theatre's Cat on a Hot Tin Roof, call (309) 944-2244. - Mike Schulz
Seussical
The Englert Theatre
Thursday, October 5, through Sunday, October 15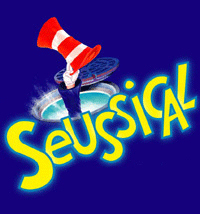 There's a show that is coming to Iowa City. The music is great and the costumes are pretty. The Englert is hosting a special endeavor - the Seussical musical! Aren't they clever? October the fifth through a week from that Sunday, the storybook characters dance - in a fun way - and joke and tell stories to make the kids happy, while songs for the grown-ups (to keep the show snappy) are "Chasing the Wind" and "How Lucky You Are." And there's also an elephant! Just like Babar! His name's Horton - his friends think his Whos are all phony. (The Horton on Broadway was up for a Tony.) The Cat in the Hat and the Grinch are both present. The colorful scenery's quite luminescent. And Rosie O'Donnell was once in the show as a Broadway replacement; if Rosie says go, then why wouldn't you speedily make reservations? The Seussical musical trumps all vacations to Finland and Holland and even Taiwan. (Better cancel those plans or the seats will be gone.) So for tickets to Seussical, just get on-line and the Web site for Englert will set you up fine. But if using the phone is more your cup of tea, just call (319) 688-2653. - Mike Schulz
We're Late & Smell Like Beer
Rock Island Brewing Company
Friday, October 6, 10 p.m.
Who's late and smells like beer? Your uncle who constantly shows up late to family functions? Irresponsible co-workers? FEMA? Close. Louisiana-flavored, zydeco madmen We're Late & Smell Like Beer - veterans of the annual Gumbo Ya Ya festival - will be getting jiggy with it at the Rock Island Brewing Company on Friday, October 6, rocking out their taste of Zydeco Cajun blues. For those of you unfamiliar with the style, zydeco is a form of folk music that originated in southwest Louisiana in the early 1900s and features accordions, washboards, bluesy New Orleans sax and trombone, trumpet, bass, guitar, fiddle, piano, and drums, mixing traditional Cajun music with R&B and blues. The band's performance should be a "Big Easy" departure for club-crazy District patrons, with the Quad-City Times declaring that "a blindfolded Cajun would have sworn he was in the New Orleans French Quarter" when describing a 2001 performance by the band. So don't let the name fool you; chances are the band will be on time and sober enough to rock the block! We're Late & Smell Like Beer will perform from 10 p.m. to 2 a.m.; tardiness is allowed, and responsible drinkers are welcome. For more information, visit (http://www.ribco.com). - Brad Vidmar