IFL World Team Championship
The Mark of the Quad Cities
Saturday, September 23, 8 p.m.
The International Fight League's Web site (http://www.ifl.tv) reveals that Pat Miletich is currently developing several screenplays. I hope one of them is autobiographical - his story would make a hell of a movie. A nephew of 1932 Olympic boxer Johnny "Miller" Miletich, the Davenport native left college after his mother fell ill (Miletich began fighting professionally to help pay medical bills), began Mixed Martial-Arts (MMA) training at age 26, and went on to earn MMA World Champion titles in both lightweight and welterweight divisions. He currently serves as trainer and coach for the Quad City Silverbacks - who, this past June, won the inaugural World Team title - and among the highly anticipated battles at September 23's IFL World Team Championship at the Mark of the Quad Cities, Miletich will fight Brazilian Ju Jitsu master, and fellow coach, Renzo Gracie; it's Miletich's first professional match since 2002. Gracie better look out: The Silverbacks' coach amassed a spectacular 28 wins during his MMA career, besting opponents with such holds as the Keylock, the Armbar, and - on seven occasions - "the Rear Naked Choke." Think this is a great place for a gag? Go ahead - you tell it to Miletich. For tickets to the IFL World Team Championship, visit (http://www.themark.org). - Mike Schulz
Four on the Floor
Augustana College
Saturday, September 23, 7 p.m.
Quad City Arts kicks off its 2006-7 Visiting Artists series with a September 23 concert at Augustana College's Centennial Hall, and after reading the introduction to the Four on the Floor quartet at (http://www.quadcityarts.com), it's easy to feel musically intimidated: "A troupe of young virtuosi - veterans of New York City's Lincoln Center 'Meet the Artist' program - perform, and ultimately transform, an exciting repertoire of classical masters par excellence." Gulp. But don't be put off by the straight-backed chairs and the group's pedigree; this ensemble is more playful, and a lot funkier, than you might think. For one thing, Four on the Floor - composed of violinist Meg Okura, cellist Dave Eggar, percussionist Tom Papadatos, and bass player Marty Osterer - infuses traditional works with elements of jazz, hip-hop, and rock-and-roll. But Okura is also a violinist for Cirque du Soleil's Varekai and a first-call sub for the Big Apple Circus, and her Four on the Floor allies are members of New York City's explosive indie-rock band Edible Red; their Web site (http://www.ediblered.com) quotes a fan as saying that the group's music is "so great I need a joint." Can't imagine why Quad City Arts isn't publicizing that rave. For tickets to Four on the Floor's Centennial Hall concert, call (309) 794-7306. - Mike Schulz
The Damon Fowler Group
Blueport Junction
Thursday, September 21, 8 p.m.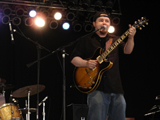 The band's name is the Damon Fowler Group - playing Blueport Junction on September 21 - and the above photo is of Fowler himself. But instead of focusing on his accomplishments, why don't we get to know the group? On the band's Web site (http://www.damonfowler.com), you'll learn a lot about Chuck Riley and Don Stahl, who play bass and percussion, respectively; there's plenty of info on their gear, musical histories, and bands they've played with. But you'll also get a sense of how sincere they are about providing musical support - Riley says, "Having a solid groove and playing with feeling is everything," and Stahl states, "Knowing when to push and pull the band, and knowing when to be reactive as a drummer, is a fine line, and I'm constantly listening to Chuck and Damon to make each song as strong as it can be." Riley and Stahl sound both gifted and humble, and Blueport Junction is lucky to have them. And just in case - with this attention paid to Riley and Stahl - you're now feeling badly for Fowler himself, know that Delbert McClinton was quoted as saying, "This boy's got a great future," and legendary guitarist Rick Derringer called him "the best young blues player I've seen in the past 20 years." So he's fine. For more information, call Blueport Junction at (563) 326-3251. - Mike Schulz
Tim Young
St. Ambrose University
Saturday, September 23, 8 p.m.

Are you a college student who's worried that all you'll take from your educational experience are stories of student loans, three-day-old pizza, and finals that you were criminally unprepared for? Fear not - you can turn these tales of woe into a pretty great career! Just ask comedian Tim Young, who will perform at St. Ambrose University's Rogalski Center on September 23. A featured performer on such series as Last Comic Standing, Tough Crowd with Colin Quinn, and Comedy Central's Premium Blend, Young's stand-up is rife with material sure to be appreciated by the college crowd - his routine covers everything from stealing cafeteria trays to sleeping in lofts to dealing with filthy roommates - and the comic has taken his act to more than 400 colleges and universities over the years. After his St. Ambrose appearance, in fact, Young's enjoyably interactive Web site (http://www.timyounglive.com) reveals that the comedian is booked at a whopping 39 schools through December 13. Man, I had professors who didn't show up that frequently! (A note to Augustana College's student-loan office: Just kidding. My professors were always punctual. Your check is in the mail.) For information on Tim Young's St. Ambrose concert, call (563) 333-6277. - Mike Schulz
Larry Joe Taylor
The Redstone Room
Tuesday, September 26, 9 p.m.
Straight outta Fort Worth, Texas, singer/songwriter Larry Joe Taylor will bring his distinctive brand of "Texas music" to Davenport's Redstone Room on Tuesday, September 26. Although many Quad Citians think of Jessica Simpson, ZZ Top, or cowboy hats and boots when they think of music that comes from Texas, Taylor's upcoming performance should be an eye-opening experience. Since quitting his day job in 1998, Taylor has been writing, recording, and performing his unique blend of country, blues, rock, and even reggae that Taylor has proudly dubbed "Texas music." Drawing his influences from such musical outlaws as Waylon Jennings, Willie Nelson, and booze-and-blender junkie Jimmy Buffett, Taylor's style can best be described by the title of his 1995 release - Coastal & Western. Sure to be a hit among the margarita-and-Corona crowd, Taylor's live performances have been known to deliver the goods with, as the Redstone Room's Web site states, "sing-alongs, limbo contests, and untamed conga lines." So get your parents' embarrassing Hawaiian-vacation shirts ready! Tickets for the 9 p.m. show are $6, and more information is available at (http://www.redstoneroom.com). - Brad Vidmar