Harvest Hop!
The District of Rock Island
Friday, September 29, 5 p.m.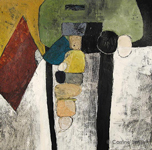 We've recently taken on an editorial intern named Brad, and one of Brad's weekly duties is to compose one of these calendar-section notices. I thought about assigning him this piece on the District of Rock Island's latest Gallery Hop!, taking place from 5 to 9 p.m. on September 29, as I've already written several for previous Hops. But when I heard this one was dubbed Harvest Hop!, I couldn't bear to part with it - so many opportunities for good-natured gags! At this autumnal event, you'll be treated to in-store specials from over 20 participating local business, "harvest-themed food" throughout the District, and works by numerous area artists, including Jay Stratton, Corrine Smith, Lance Baker, Mary Koener-Clausen, and Elizabeth Shriver. There will be laughs courtesy of the improv experts of ComedySportz, performing a two-for-one-admission show. Steve's Old Time Tap features the 97ROCK home-run derby. Trolley rides are available to and from each hot spot. And, finally, several local watering holes will be open, allowing you to end your Harvest Hop adventure by getting plowed! Ha ha ha! Get it? Harvest Hop? Plowed?! Heh heh ... hmm ... maybe I should've let Brad have a crack at this one ... . For more information, visit (http://www.ridistrict.com). - Mike Schulz
Los Hombres Calientes
Hancher Auditorium
Friday, September 29, 7:30 p.m.
In honor of the Reader's 600th issue, we've decided to thank our loyal Quad Cities readers by hosting a huge dance party! Of course, we're holding it in Iowa City ... and we're not so much hosting it as we are merely telling you about it ... and it's not so much our celebration as it is Hancher Auditorium's ... but still! Fun, huh?! On September 29, the University of Iowa venue celebrates the opening of its 2006-7 season with drinks, hors d'oeuvres, and a scorching performance by Los Hombres Calientes; the spicy New Orleans ensemble, led by trumpeter Irvin Mayfield and percussionist Bill Summers, were described by the Chicago Tribune's Howard Reich as "a lively mixture of Latin-jazz rhythm and modern-jazz harmony." And how's this for party spirit - audiences can either watch the show from the auditorium or dance along with the group on stage, and included with your ticket are two food or beverage coupons. Hancher rocks! And if you're wondering why they're acknowledging their special day with a dance party while we're acknowledging ours with a story about a dance party, remember that Hancher is charging admission to their celebration, and you're reading this for free. So we kinda rock, too. For tickets and more information, visit (http://www.hancher.uiowa.edu). - Mike Schulz
Garden Harvest Festival
Quad City Botanical Center
Sunday, October 1, 11 a.m.
This may just be a stereotype, but I'm guessing that some men out there will reflexively say "no" to the idea of attending the Quad City Botanical Center's Garden Harvest Festival. Yet based on the information I have, it sounds like the annual event can truly be enjoyed by everyone, regardless of age or, more specifically, gender. In addition to live music by Just for Fun, Mark Ridolfi, and Rose 'n' Thorns, stories by Native American Kickapoo Rudy Vallejo, and demonstrations by spinners, weavers, and a dulcimer-maker, the Botanical Center's Web site (http://www.qcgardens.com) states that Garden Harvest Festival guests can "enjoy shopping at the Garden & Craft Market" and indulge in "fresh kettle corn" while relaxing "in the beautiful fall gardens," and that kids will have the opportunity to "see baby goats and chicks in the petting zoo." And if any women out there still think they'll have a tough time getting their husband or boyfriend on board, here's a suggestion: Tell him you read in the Reader that the festival will enable him to "enjoy ... the ... fresh ... beautiful ... chicks." Seriously, ellipses are so helpful in journalism. For more information, call the center at (309) 794-0991 extension 22. - Mike Schulz
J. Medicine Hat
Penguin's Comedy Club
Thursday, September 28, through Saturday, September 30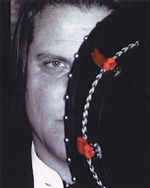 Look at the photo to the right. Look into the gentleman's eye. Look deep into his eye. You are getting sleepy. Very sleepy. You are falling into a trance. You will stay in this trance until the count of three. You will realize that the Penguin's Comedy Club in Bettendorf is presenting three nights with comedian and hypnotist J. Medicine Hat September 28 through 30. You will reserve a ticket for one of those three nights. You will choose either the 7:30 p.m. show or the 9:30 p.m. show, which the Penguin's Web site calls the "Rated XXX" performance. You will roar at this hypno-comic who has appeared on MTV, HBO, and Showtime, and whom Dennis Miller has called "one funny cat." You will cackle as he makes audience volunteers say and do the most embarrassing things for your viewing pleasure. And when the show is over, you will send Mike Schulz a moving thank-you note for the information, along with a Best Buy gift certificate or a lovely, hand-knit scarf. One, two, three. Hey, there! Doing anything fun this weekend? For more information on J. Medicine Hat's Penguin's appearance, visit (http://www.penguinscomedyclub.com). - Mike Schulz
Step Afrika
Augustana College
Saturday, September 30, 8 p.m.
The step-dance group Step Afrika will perform on Saturday, September 30, at Augustana College's Centennial Hall. Founded in 1994, Step Afrika is the first professional company dedicated to this unique dance style. Originating from song-and-dance rituals performed in the early 1900s, "stepping" is an African-influenced style that uses the human body as an instrument, creating rhythm and sounds via stomps, kicks, clapping, and the spoken word. What results is a high-energy wall of sound; the group was described by Washington, D.C.'s The Review as "enormously powerful," featuring "energy, physical strength, and coordination." The members of this D.C.-based group have been featured on CNN, PBS, and BET, have performed across the globe - including at the annual International Cultural Festival in Johannesburg, South Africa - and have served as "cultural ambassadors" for dance at the request of American embassies worldwide. Step Afrika's Augustana show starts at 8 p.m., and tickets are $8 for adults and $6 for children under 12. To order, call the Augustana ticket office at (309) 794-7306. - Brad Vidmar