The Temptations
The Adler Theatre
Thursday, December 7, 7:30 p.m.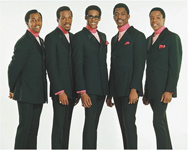 There was a time when the word "soul" was not followed by "patrol." Last season's American Idol winner, Taylor Hicks, convinced the country that he embodied soul music, but I'm as convinced that he was conceived when Jay Leno and George Clooney spit into the same petri dish; how much soul can he really possess? The Quad Cities is about to get a dose of real soul music with the arrival of Motown legends The Temptations, coming to Davenport's Adler Theatre on Thursday, December 7. While the group has gone through numerous lineups, Otis Williams - the only original Temptation still living - will lead the reassembled act for a special, Motown-style holiday performance. Since forming in Detroit in the early '60s, The Temptations have sold more than 22 million albums worldwide. The five-piece ensemble is believed to be as influential to soul as the Beatles were to rock, and their music has covered a wide range of styles, from doo-wop, R&B, and soul to funk, disco, and psychedelia. And with hits that include "My Girl," "Ball of Confusion," and "Papa Was a Rollin' Stone," the group has been covered by everyone from Bette Midler and the Rolling Stones to Duran Duran and Anthrax. For more information, visit (http://www.adlertheatre.com). - Brad Vidmar
Musicals
November through February
Winter's the perfect season for a little escape, but if you can't find time for a vacation, an area musical is bound to feature a destination spot to your liking. Looking for someplace magical? The Circa '21 Dinner Playhouse takes your family to the North Pole in The Elves & the Shoemaker (opening November 22); St. Ambrose University brings audiences to the fantastical world of Narnia (December 2 and 3); and on January 4, Davenport's Adler Theatre turns into an outsize junkyard for Cats. (And right after the theatre's renovation, too.) Seeking a more recognizable locale? The Adler also gives audiences a tour of the south - or, at the very least, southern California - in the Ray Charles musical I Can't Stop Loving You (December 13); Quad City Music Guild makes Bedford Falls come alive in It's a Wonderful Life: The Musical (opening November 30); and Circa '21 drops you in the mean streets of New York City (in all their song-and-dance splendor!) in West Side Story (January 17). And in Iowa City, you can enjoy the Riverside Theatre's Guys on Ice: An Ice-Fishing Musical Comedy (January 26). Granted, a frozen lake may not be as glamorous as those other locales, but I wanna see Sondheim and Webber come up with a title that funny. - Mike Schulz
Comedies and Dramas
December through February
On the surface, the area's winter plays might appear grim, but in truth, they'll probably be loads of fun. Next month, the New Ground Theatre premieres Jacob Marley's Christmas Carol (opening December 7), and while Marley does end up, y'know, dead, the Chicago Tribute calls the show "an audience-pleaser filled with laughs." The Playcrafters Barn Theatre presents the thriller Strangers on a Train (January 12), but as Hitchcock's movie proved, it's a really enjoyable thriller; and despite its murderous plotline, the Richmond Hill Barn Theatre's Arsenic & Old Lace (February 15) should also amuse, as it's a pair of sweet, elderly ladies doing the murdering. St. Ambrose University's Fortinbras (February 16) is about Hamlet, which isn't funny, but is also a Hamlet satire, which is. Speaking of Shakespeare, the Prenzie Players continue their Henriad trilogy with King Henry the Fourth on February 23; anyone not expecting grand entertainment obviously didn't see Prenzie's King Richard the Second. And finally there's Augustana College's capital-punishment drama Dead Man Walking (February 2), which may seem like a downer, but which actually ... uh ... hmm ... . Damn it, Augie! Can't you help me out here? I gave you all that tuition money! - Mike Schulz
Quad City Arts Visiting Artists
December through February
The upcoming performers in the Quad City Arts Visiting Artist series are a pretty diverse lot. Chicago's First Folio Shakespeare Company performs at the Galvin Fine Arts Center on December 8; the troupe, known for unique takes on the Bard, will present The 50-Minute Romeo & Juliet with The 50-Minute Midsummer Night's Dream. Actor Tom Dugan brings his one-man show to Davenport's Capitol Theatre on January 27; Dugan portrays Robert E. Lee in the days before his historic meeting with General Grant. And on February 17, native Bulgarian Bella Hristova will demonstrate her expert violin skills at Rock Island's Redeemer Lutheran Church. These artists may appear to have nothing in common, but in actuality, they're rather easily connected. Hristova once performed on the Prairie Home Companion radio show with Garrison Keillor, who appeared in the Companion movie with Kevin Kline, who starred in 1999's A Midsummer Night's Dream with Calista Flockhart, who once guested on TV's The Practice ... as did Tom Dugan. A mere four degrees of separation. (And for the record, Dugan was in The Puppet Masters with Donald Sutherland, who was in JFK with Kevin Bacon.) For more information, visit (http://www.quadcityarts.com). - Mike Schulz
The Nutcracker
The Adler Theatre
Saturday, November 25, and Sunday, November 26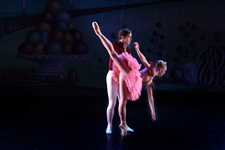 If you read my movie columns on a regular basis, you may notice that there's no review of the new James Bond film, Casino Royale, in this week's issue. You may also have noticed that a number of recent releases - Happy Feet, The Return, Let's Go to Prison, Harsh Times - haven't been reviewed yet. I apologize; I've been pretty busy recently. In other news, it's time again for Ballet Quad Cities' annual production of The Nutcracker, being performed at Davenport's Adler Theatre November 25 and 26. Boasting that unforgettable Tchaikovsky score and the spectacular talents of the only professional ballet company between Omaha, Nebraska, and Chicago, this classic tale has, for families everywhere, become a holiday tradition. But expect a few different elements this time around. This year's Nutcracker features new choreography by Ballet Quad Cities' interim artistic director Matthew Keefe, and word has it the organization had such trouble finding a Drosselmeyer that they hired some freakin' journalist for the part - although, apparently, this "actor" has been working so hard on the role that he hasn't had much time to go to the movies. For tickets, call (563) 326-1111 or visit (http://www.balletquadcities.com). - Mike Schulz
Hancher Auditorium Performances
December through February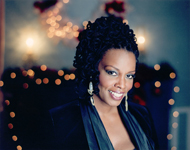 Are the dropping temperatures and gray weather getting you down? Take a trip to the University of Iowa's Hancher Auditorium, where springtime is right around the corner! Of course, it's springtime for Hitler, so that's not exactly the greatest thing ... . In any event, the Iowa City venue's winter schedule includes the touring production of Mel Brooks' The Producers (February 6 through 8), the most-awarded musical in the history of the Tonys (and one of the funniest, to boot). Also on Hancher's lineup for December through February: jazz man extraordinaire Paquito D'Rivera (December 1); Grammy-winning singer Dianne Reeves in her "Christmas Time Is Here" tour (December 8); "Fiesta Navidad" with Mexican ensemble Mariachi Los Camperos de Nati Cano (December 10); the splendid sounds of the Hamburg Symphony (January 21); clarinetist Richard Stoltzman's "Salute to Benny Goodman" (February 24); and modern-dance sensations Momix with their Lunar Sea (February 27). Plus, Hancher presents the Aquila Theatre Company's production of Romeo & Juliet. On Valentine's Day. Uh ... they know how that play ends, right ... ? For more information on Hancher's 2006-7 season, visit (http://www.hancher.uiowa.edu). - Mike Schulz
Mike Epps
Penguin's Comedy Club
Friday, November 24, through Sunday, November 26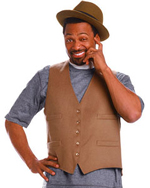 In two of comedian Mike Epps' movies - 2000's Next Friday and 2002's All About the Benjamins - he's played characters who win the lottery. Just how much good fortune does one man need? Thankfully, luck is a lot less annoying when it's accompanied by talent, and Epps' résumé indicates that luck doesn't have much to do with his success. The new host of HBO's Def Comedy Jam - performing at Bettendorf's Penguin's Comedy Club November 24 through 26 - is currently bringing Mike Epps' On the Edge Tour to sold-out venues across the country, but considering Epps' credits since his 1999 appearance on The Sopranos, I'm amazed he's found time to tour. In addition to filming an HBO pilot based on his own, pre-show-biz experiences - entitled The Unsuccessful Thug - Epps has been featured in such recent releases as Guess Who, The Honeymooners, and Roll Bounce, and is set to co-star in 2007's new Resident Evil sequel, reprising his role from 2004's Resident Evil: Apocalypse. Oh, and Epps just scored what may be the gig of a lifetime - playing Richard Pryor in an upcoming bio-pic. Now he's just shoving his good fortune in our faces. For tickets, visit (http://www.penguinscomedyclub.com). - Mike Schulz
The Mark of the Quad Cities Events
December through January
With 13 Quad City Mallards games scheduled for December and January, and Disney on Ice: Mickey & Minnie's Magical Journey set for December 6 through 10, why doesn't the Mark of the Quad Cities just go ahead and present all of its winter events on ice? Think about how this could add to the experiences! Mannheim Steamroller performs on December 1, and the annual Creative Christmas concert occurs December 15 and 16, and with the spectacular holiday music being performed in both events, a little ice beneath the musicians' feet would be the perfect touch. The Harlem Globetrotters arrive for what's sure to be an entertaining New Year's Day game, and don't you agree that they'd be twice as entertaining if dribbling while sliding? The "Dancing with the Stars" Tour lands at the Mark on January 13 - I think we'd all be on-board with Joey McIntyre, Kym Johnson, Harry, Hamlin and company in "Ice-Dancing with the Stars." (Joey Lawrence on skates! Whoa!) As for the Trans-Siberian Orchestra, performing on December 29, who wouldn't want to witness a string section flying into the crowd? Way bigger than a hockey puck, baby! For more information, visit (http://www.themark.org). - Mike Schulz
Buffalo Killers
RIBCO
Thursday, November 30, 10 p.m.
The first praise you'll find on the Buffalo Killer's Web site says the Cincinnati power trio sounds like "the Beatles meeting Neil Young for a very productive recording session." Other critics have cited similarities to David Bowie, Pete Townshend, the Black Crowes, the Rolling Stones ... . The list is long and distinguished, but Angela Gandini of (http://www.everythingrock.com) provides an apt summary: "More and more influences begin to appear, and it becomes striking that a band that seems, on the surface, to be playing simple blues/rock has somehow found a way to inject an extraordinary variety into their work that makes it stand out as something more than just plain old rock and roll." Check out "Heavens You Are" on the band's Web site (http://www.buffalokillers.com), let the wailing space-rock lament wash over you, and see how many bands or songs it brings to mind. And then note the Buffalo Killers' magic trick: They don't sound the least bit derivative. It's a transcendent, carefully calibrated slab of rock music, and hopefully a sign of what the band will bring to its November 30 RIBCO show. - Jeff Ignatius
Anthony Gomes
The Redstone Room
Wednesday, November 22, 8 p.m.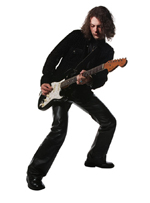 Anthony Gomes is a guitar-shredder, and if that turns you off, consider that his Web site's bio begins with an epigraph by Shakespeare: "This above all, to thine own self be true." And that he compares his own quest to fuse the traditional blues with contemporary styles to "studying philosophy and going from Descartes back to the start with Aristotle." And that the native Canadian explains his southward journey this way: "I moved to Chicago to become a better musician and moved to Nashville to learn more about songwriting." Humility and intelligence aren't necessarily qualities we expect alongside fretboard fireworks, but Gomes has proved himself to be a studious ambassador for the blues. His latest record, Music Is the Medicine, finds him incorporating soul, R&B, funk, and gospel motifs into his high-energy blues rock. Gomes' artless singing can't yet compare to his amazing guitar proficiency, but it lends his music a welcome roughness. Gomes and his band will perform at the Redstone Room on Wednesday, November 22, with the first of two sets starting at 8 p.m. Admission is $12, or $10 for members of the Mississippi Valley Blues Society. - Jeff Ignatius