Phillip Walker
Creekside Bar & Grill
Wednesday, August 1, 8:30 p.m.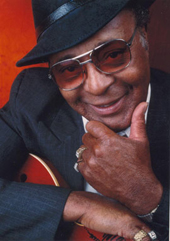 Phillip Walker has played with such legends as Fats Domino and Etta James, and replaced Jimi Hendrix as the lead guitarist for the Little Richard Band.
He's received two Grammy nominations and has recorded 15 albums, and Walker's 2007 release Going Back Home has been the most widely played CD on U.S., Canadian, and European blues stations for the past three months.
Yet amazingly, Walker is still flying under the national radar, and here's the kicker: When I attempted to Google more information about the musician, the search engine's immediate response was: "Did you mean: Philip Walker?" With one "l."
No respect even from Google. No wonder the man's singin' the blues.
Yet the Creekside Bar & Grill is hoping to increase his local recognition, at least, with Walker's August 1 performance at the Davenport venue, giving area blues fans the chance to discover why Guitar Player Magazine has described the artist as "gut-wrenching perfection," and why the West Coast Blues Review calls him "the true king of the blues for the last 20 years."
For more information on Phillip - that's with two "l"s - Walker, visit (http://www.phillipwalker.com).
- Mike Schulz
Hardacre Film Festival
Hardacre Theater
Friday, August 3, and Saturday, August 4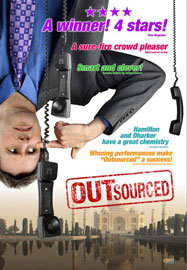 The Hardacre Film Festival in Tipton, Iowa, returns on August 3 and 4, with the city's Hardacre Theater hosting an impressive line-up of independent works: four narrative features, three feature-length documentaries, and a whopping 23 shorts.
Here are one-third of this year's titles. Try matching them with the first sentence of their descriptions on the fest's Web site:
1) Absolute Zero
2) Blood Soaked Sky
3) Considering Democracy
4) Everything will be OK
5) The Exception
6) A Global Price
7) Last Stop for Paul
8) Mannyapolis
9) Outsourced
10) Where you are is not where you are going
a) A monster wreaks havoc in modern society.
b) A series of dark and troubling events forces Bill to reckon with the meaning of life - or lack thereof.
c) A steam locomotive pulls a ramshackle string of carriages through the blazing heat of the Australian desert.
d) A woman seeks to end her pregnancy, but the law prohibits it.
e) In two-and-a-half minutes, the animator explores the life-long conflict of: "Should I stay or should I go?"
f) Manny Cognati is clever, talented, inventive, inquisitive ... and a mannequin.
g) The greatest travel adventure movie of all time! Seriously!
h) Thirty-two-year-old Todd Anderson manages a customer-call center in Seattle until he gets the bad news from his boss ... .
i) What is the cost of our increasingly interconnected world?
j) While the U.S. is the most flaunted democracy in the world, what does the rest of the world currently think of U.S. domestic and foreign policy?
Answers are listed within the pages of this week's Reader, but it might be simpler to find them for yourselves by visiting (http://www.tiptoniowa.us/hardacre).
- Mike Schulz
Anything Goes
Prospect Park Auditorium
Friday, August 3, through Sunday, August 12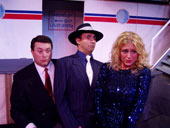 Anything goes at the Prospect Park Auditorium.
Whoops.
What I meant to write was: "Anything Goes is at the Prospect Park Auditorium," as Quad City Music Guild presents the Cole Porter classic August 3 through 12.
But now that I'm looking over the list of inventive talents involved in the show, I'm wondering if that sentence wasn't correct the first time around.
Anything Goes features some of Porter's most recognizable compositions ("You're the Top," "Friendship,"), and some of the 20th Century's most romantic tunes ("All Through the Night," "Easy to Love"). Yet its story is pure madcap farce, and for this presentation, Music Guild has, fittingly, enlisted some of the area's madcappiest talents.
Among the cast are J. Adam Lounsberry, Jason Platt, and Jim Driscoll, and here's why you're advised to expect the unexpected with Anything Goes: Lounsberry has, for Music Guild, played both a man made of tin and an eight-year-old boy. For New Ground Theatre, Platt played both an octogenarian husband and a thirtysomething cop ... in the span of 10 minutes. For the Richmond Hill Barn Theatre, Driscoll managed to make the Grim Reaper both charming and, incredibly, hilarious.
And let's not forget about Anything Goes director Wayne Hess, who, in his most recent Prospect Park performance, spent half the show wearing a dress.
For this production, I'm thinking anything goes indeed.
Tickets are available by calling (309) 762-6610.
- Mike Schulz
ArtStroll
Downtown Davenport
Saturday, August 4, 5 - 9 p.m.
"Shawn!"
"What's up, Mike?"
"I'm writing a piece on August 4's arts festival in downtown Davenport, and I wondered if you and your graphic-design interns could come up with an accompanying image - some sort of mascot for the event."
"No problem. What should he look like?"
"Well, since the event features a string trio, Celtic music, and performances by the Ellis Kell Band and Opera Quad Cities, among others, he should probably be singing or playing an instrument ... ."
"Something musical. All right ... ."
"There'll also be more than 65 visual artists selling their works that evening, so he needs to look artistic, too."
"Gotcha."
"And could you have him juggling? There'll be jugglers there."
"Oka-a-ay ... ."
"Plus, the Prenzie Players will be demonstrating stage-combat techniques, so if you could put a sword in his hand ... ."
"Um ... ."
"Oh yeah, and there's a ballet performance that night, so a tutu wouldn't be out of line."
"A tutu ... ?"
"And if he could be short with big pointy ears, that'd be great."
"What kind of ... ? Oh, now I get it! August 4 is the annual ArtStroll, so you want us to design the Arts Troll! That's funny!"
"Wait a minute ... the event isn't called 'Arts Troll'? Aw, man, no wonder Jeff was laughing at me!"
ArtStroll takes place on Second Street from 5 to 9 p.m., and more information is available at (http://www.downtowndavenport.com/events/ArtStroll.htm).
- Mike Schulz
Killer Bear
Lazer Warehouse
Monday, August 6, 6 p.m.
Lock up your picnic baskets! Going out in a blaze of glory, local metal/hardcore/punk group Killer Bear plays what it promises will be its "Last Show Ever!!" at Moline's Lazer Warehouse on August 6.
Billed as a slumber party of sorts, Killer Bear's final performance also features local bands Lazer Mountain and Avidius, as well as California's Graf Orlock and Comadre, and attendees will receive a discount at the door if they show up wearing pajamas and carrying a pillow.
Perhaps the fastest and most aggressive-sounding band to feature three guys named Steve, Killer Bear ends its two-year reign of fury with what could be the pajama party of 2007, and the other bands taking part in this "Pillow Fight Club" should be just as exciting.
Lazer Mountain's spazzy-psychedelic music sounds like decoded video-game blips trying to deliver subliminal messages, while Avidius - featuring former members of Torch the Morgue, the Intervention, Leg Up, Cut Up, and O Captain! My Captain! - is probably the most epic-sounding, Quad Cities-based "metal" band I've ever heard. Comadre scream ... a lot. And with plenty of over-the-top grind riffs complementing their action-movie samples, Graf Orlock would be the perfect grindcore band to score a Michael Bay film.
The show starts at 6 p.m. with a $6 cover charge ($5 with pillow and jammies), and more information is available at (http://www.myspace.com/killrbear).
- Brad Vidmar