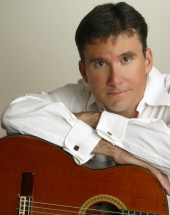 Music
Peter Fletcher
Rock Island Public Library - Main Branch
Tuesday, August 11, 6 p.m.
Ever wondered what would happen if you blended a guitar, music by J.S. Bach, and the occasional tuxedo? You can find out on August 11, when classical guitarist Peter Fletcher will be performing at the Rock Island Public Library, kicking off the library's new live-music series. The free concert will feature works by Bach, Satie, Grieg, Koshkin, and Weiss, among others.
Fletcher began playing classical guitar at age seven but didn't make his formal debut until he was 15, performing under the auspices of the Brasstown Concert Association in North Carolina. After graduating with a master's degree from the Eastman School of Music, Fletcher began his travels across the country, earning critical acclaim and giving performances at cultural venues including Carnegie Hall. According to Steven Rings of the American Record Guide, "He has a strong technique, a consistent tone, and a strong interpretive imagination."
Fletcher has released six recordings, the most recent being Peter Fletcher Plays Baroque Music for Guitar - it's no secret as to what's on that CD. For his next album, Fletcher is planning the release of an all-Grieg album (for which he is writing the guitar transcriptions himself) to be released in December 2010.
During his Rock Island performance, you can expect a relaxing evening of smooth, classical guitar that will undoubtedly include music by Bach - but I cannot guarantee that Fletcher will be wearing a tuxedo.
For more information about Peter Fletcher, visit PeterFletcher.com, and for more on his library concert, call (309)732-7323 or visit RIPL.lib.il.us. - Emily Heninger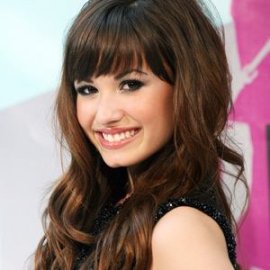 Music
Demi Lovato
i wireless Center
Friday, August 14, 7 p.m.
Described by the New York Times as the "the heiress apparent to the tween-pop crown," Demi Lovato brings her brand of teen-friendly pop to the i wireless Center on August 14. Here are the top five reasons you might be attending Lovato's first tour as a headliner.
1) You bought a copy of Don't Forget, Lovato's debt album, the week it came out. The album was released in September 2008, sold 89,000 copies in its first week, and peaked at number two on the Billboard 200. And you were first in line on July 21, when her follow-up, Here We Go Again, was released.
2) The special guest is David Archuleta, and like millions of American Idol fans, you just cannot get enough of this baby-faced tenor. You may even have a "Crush" on him, or maybe you are just "crazy or falling in love."
3) You are a fan of everything Disney Channel, and are hoping that Lovato might perform songs from Camp Rock. Also, you know that Lovato's opener, Jordan Pruitt, recorded "Outside Looking In," which was featured in Read It & Weep.
4) The range of music that Lovato covers includes Sister Sledge's "We Are Family" and works by Aretha Franklin. Lovota is also a fan of heavy metal, and admits to leaning more towards rock than pop.
5) You are the parent of someone born between 1998 and 2006. Lovato is likely near the top your child's listening list, and you really should become more familiar with her music.
Tickets range from $39.50 to $49.50 and for more on Lovato and her up coming performance, visit, iwirelessCenter.com or DemiLovato.com. - Tushar Rae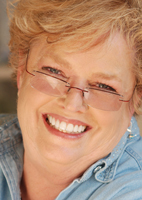 Comedy
Mrs. Hughes
Circa '21 Dinner Playhouse
Thursday, August 6 and Friday, August 7
Mrs. Hughes may be the last person you would expect to see delivering stand-up comedy in nightclubs. But this middle-aged, pleasantly plump grandmother has attracted audiences across the country with her quirky, no-nonsense style of comedy. On August 6 and 7, you can see her perform at Circa '21 Dinner Playhouse in Rock Island.
Mrs. (Carol) Hughes, or "America's Funniest Grandma," began her career as a stand-up comedian at age 40 - not exactly the typical age to begin such a profession. Hughes had been thinking about trying stand-up for some time when she met a comedian at her Weight Watchers meeting. "She said, 'Write five funny minutes and go to the Improv,'" recalls Hughes in her Web-site biography. "I already had five funny minutes, so I went. It was terrific! ... I got a huge ovation and I was hooked."
Now, 26 years later, she's still going strong, with a history of performances in cities including Atlantic City and Las Vegas. (Appearing in revues hosted by Merv Griffin, the celebrity said of Hughes, "She's my new favorite funny star!") With her observations about marriage, motherhood, and menopause, Hughes takes real life and makes it comical. About husbands, Hughes has said, "They're like brassieres. Sometimes you just want to be rid of them and go free. But you can't, 'cause you need the support."
Tickets are $37.50 for Friday's matinée show and $39.50 for Thursday's dinner performance. For tickets and information, call (309)786-7733 or visit Circa21.com, and for more information on Mrs. Hughes herself, visit MrsHughes.com. - Emily Heninger
Theatre
Rabbit Hole
Richmond Hill Barn Theatre
Thursday, August 13 through Sunday, August 23
So, have I told you about the time I started crying in the middle of Borders?
It was a Friday afternoon, and I had some time to kill in between appointments (by which I mean movies). So I popped into the Davenport bookstore, sought out a comfy chair, and sat down with David Lindsay-Abaire's Rabbit Hole - the 2005 play that's being staged by the Richmond Hill Barn Theatre August 13 through 23. I'd neither seen nor read this Pulitzer Prize- and Tony-winning drama before, but everyone I knew who had had raved about it, so I figured I'd see what the big deal was.
I understood an hour later, while wiping away tears. (Much to the fascination of the kid sitting across from me. Damn it.)
But don't let my embarrassing display mislead you. Although Rabbit Hole's plot concerns a married couple coping with the accidental death of their child, this work is so exceptionally well-written - and oftentimes so unexpectedly funny - that it's less depressing than downright exhilarating. The New York Times' Ben Brantley wrote that "the dialogue is blessed with Mr. Lindsay-Abaire's customary grace and wit," while Variety described it as an "intensely emotional examination of grief, laced with wit, insightfulness, compassion, and searing honesty."
Directed by frequent area performer Bryan Tank, and featuring familiar local talents Jessica Nicol, Denise Yoder, Susan Perrin-Sallak, and Kevin Maynard, Richmond Hill's latest should make for both memorable entertainment and memorable conversation on the drive home, so bring a friend. And, you know ... Kleenex.
For additional information and tickets to Rabbit Hole, call (309)944-2244 or visit RHPlayers.com. - Mike Schulz
Event
Quad Cities Polo Club Charity Event
Boeh Family Farm
Saturday, August 8
On August 8, the Quad Cities Polo Club is hosting its annual charity event to raise money for the Children's Therapy Center of the Quad-Cities. The event will take place at the Boeh Family Farm at 4150 Forest Grove Road in Bettendorf, and here are 10 reasons you should attend:
10) You associate polo only with the shirt, not the sport.
9) Tickets prices are $5 for general admission. That is cheaper than a ticket to the latest movie about secret-agent guinea pigs. (If you are in the mood for something fancier, though, check out the VIP tent, where tickets are available for $50 per person, and $400 for a table of 10.)
8) You have children, and want them to enjoy the family area featuring inflatable jumps and other children's activities. (And you secretly enjoy a bouncy house as much as anyone else.)
7) You enjoy competition - riders from the Quad Cities Polo Club will be joined by clubs from Madison, St. Louis, and Milwaukee.
6) You have seen the movie Pretty Woman and want to re-create the stomping-of-the-divots scene. (But remember: "Avoid the steaming divot.")
5) You know polo jargon and want a chance to practice. This is your opportunity to watch players bump and hook each other with their mallets, as they attempt a ride-off in order to score that much-coveted tailshot during one of the six chukkers that make up a regulation polo match.
4) Players are only allowed to play right-handed (or, on their "off-side"). If you are a right-handed person like me, you enjoy a bit of smug superiority about this fact, and believe this is how things are meant to be.
3) You like ponies and want to see more of them. The polo match is one of your best chances to catch equus caballus in the Quad Cities.
2) The Reader is one of the event's sponsors, and you know you want to run into the fine staff that runs this publication.
1) Again, it benefits the Children's Therapy Center of the Quad Cities. Need I say more?
For more information on the event, visit QCPolo.com, and to learn more about the Therapy Center, visit CTCQC.org. - Tushar Rae
What Else Is Happenin'... ?

MUSIC
Friday, August 7 - Mudvayne and Black Label Society. Hard rockers in concert, with opening acts Static X, Bury Your Dead, Suicide Silence, and Hellzapopping. i wireless Center (1201 River Drive, Moline). 6 p.m. $35. For tickets, call (800)745-3000 or visit iwirelessCenter.com.
Saturday, August 8 - Rock the River. Touring, nonsecular music festival featuring performances by Flyleaf, GRITS, The Afters, and Fireflight, plus a presentation by the Reverend Franklin Graham. LeClaire Park (Davenport). 3:30-9:30 p.m. $10. For information, call (563)359-1012 or visit RockTheRiverTour.com.
Sunday, August 9 - Israeli Scouts: Tzofim Friendship Caravan. Touring Boy and Girl Scouts from Israel, performing Hebrew and English songs and dances. Tri-City Jewish Center (2715 30th Street, Rock Island). 3 p.m. Free admission. For information, call (309)793-1300 or visit JFQC.org.
Friday, August 14, and Saturday, August 15 - Ya Maka My Weekend. Annual festival celebrating reggae and Carribean culture, featuring food, vendors, children's activities, arts and crafts, and performances by Taj Weekes & Adowa, Indika, Dub Dis, Zion Lion, Johnny Russler & the Beach Bum Band, Gizzae, Ifficial, Roots Rock Society, Dred I Dread, Nite Flight, and Jumbies. The District of Rock Island. Friday 5 p.m.-12:30 a.m., Saturday noon-12:30 a.m. $8/day. For information, call (309)788-6311 or visit YaMakaMyWeekend.com.
THEATRE
Thursday, August, 6 through Sunday, August 16 - Joseph & the Amazing Technicolor Dreamcoat. Beloved pop musical by Andrew Lloyd Webber & Tim Rice. Clinton Area Showboat Theatre (311 Riverview Drive, Clinton). Thursday-Saturday 7:30 p.m., Wednesday and Sunday 3 p.m. $18. For tickets and information, call (563)242-6760 or visit ClintonShowboat.org.
Friday, August 7, through Sunday, August 16 - Seussical. Musical-comedy adaptation of classic Dr. Seuss stories, presented by Quad City Music Guild. Prospect Park Auditorium (1584 34th Avenue, Moline). Thursday-Saturday 7:30 p.m., Sunday 2 p.m. $9-$15. For tickets and information, call (309)762-6610 or visit QCMusicGuild.com.
Thursday, August 13, through Sunday, August 23 - Buddy: The Buddy Holly Story. Musical biography of the rock-and-roll legend. Timber Lake Playhouse (8215 Black Oak Road, Mt. Carroll). Friday and Saturday 8 p.m., Tuesday-Thursday 7:30 p.m., Sunday 6:30 p.m. $11-$20. For tickets and information, call (815)244-2035 or visit TimberLakePlayhouse.org.
Tuesday, August 18, and Wednesday, August 19 - Sesame Street Live: Elmo's Green Thumb. A brand-new stage adventure featuring all of your favorite Sesame Street characters. Adler Theatre (136 East Third Street, Davenport). Tuesday 7 p.m., Wednesday 10:30 a.m. and 7 p.m. $16-$32. For tickets, call (800)745-3000 or visit AdlerTheatre.com.
EVENT
Thursday, August 13 through Saturday, August 15 - 23rd Annual Tug Fest. Yearly "grudge match" festival between LeClaire, Iowa, and Port Byron, Illinois, featuring live music, a parade, a 5K run/walk, food, vendors, children's games and activities, a fireworks display, Saturday's 1 p.m. tug-of-war over the Mississippi River, and more. Held at the LeClaire and Port Byron levees. Iowa gate admission $3/day; Illinois gate admission $2/day. For a schedule of Iowa and Illinois events and more information, call (563)289-3946 or visit TugFest.com.