Landlocked: The Iowa City International Film Festival
Downtown Iowa City
Thursday, August 9 through Saturday, August 11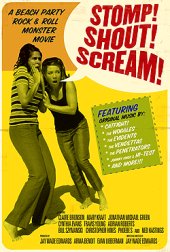 I pride myself on staying relatively caught up at the cineplex, yet there's nothing like a film festival to make me feel like the biggest movie-going slacker on Earth.
From August 9 through 11, three Iowa City venues (the Englert Theatre, the Sheraton, and the Iowa City Public Library) co-host Landlocked: The Iowa City International Film Festival, and in addition to a half-dozen workshops that cover such areas as writing, cinematography, and fundraising, 67 films - ranging from three minutes to two hours in length - will be shown, none of which you'll find on the screen next to The Simpsons Movie.
Among the intriguing features I'm behind the curve on: Indelible, which concerns a prisoner hoping to reconnect with his 12-year-old daughter; Stomp! Shout! Scream!, described as a "beach-party rock-and-roll monster movie"; Rommel & the Plot to Kill Hitler, a documentary about ... well, that one's pretty self-explanatory ... .
Plus, works by area filmmakers that include Bluebox Limited's The Bride Wore Blood, Max Allan Collins' Eliot Ness: An Untouchable Life, Kelly Rundle's Villisca: Living with a Mystery, and ... .
Hey, wait a second ... I've actually seen those three! Look who's feeling better about himself!
For reviews of The Bride Wore Blood, Eliot Ness, and Villisca, kindly click on the titles. For more information on the Landlocked Film Festival itself, visit (http://www.llff.org).
- Mike Schulz
Guys & Dolls
Clinton Area Showboat Theatre
Thursday, August 9 through Sunday, August 19
The Clinton Area Showboat Theatre presents the musical Guys & Dolls August 9 through 19, and I'm torn between giving you a clear-headed, thoughtful description of the show and its legacy, and merely typing up variants of "Yes!!! Guys & freaking Dolls, baby!!!"
Before a recent Showboat performance, the venue's artistic director, Craig A. Miller, told the crowd that many consider Guys & Dolls "the most perfect American musical ever written," and I'm inclined to agree: This multiple Tony Award winner boasts a hilarious assemblage of gamblers and crooks, and perhaps the best musical-comedy score of the 20th Century - the song list includes "Luck Be a Lady," "Marry the Man Today," "Sit Down, You're Rockin' the Boat," "Fugue for Tinhorns," and on and on and on.
Yet I'm especially psyched for Guys & Dolls because the Showboat ensemble has been been on fire recently, and this production should play to the company's comic strengths beautifully.
And also because, as season-closers go, the Showboat couldn't be ending their summer with a more promising title.
And because, while I've seen the movie a couple of times and have the score pretty much memorized, I've never actually seen Guys & Dolls on-stage before.
Oh, what the hell ... .
Yes!!! Guys & freaking Dolls, baby!!!
For tickets, call (563) 242-6760.
- Mike Schulz
Papa Grows Funk
Rock Island Brewing Company
Friday, August 10, 10 p.m.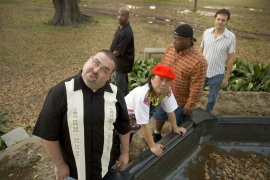 New Orleans jammers Papa Grows Funk will be performing at RIBCO on Friday, August 10.
Formed in 2000 after a series of jam sessions, the band - which consists of guitarist June Yamagishi, sax player Jason Mingledorff, bassist Marc Pero, drummer Jeffrey Alexander, and vocalist/organist "Papa" John Gros - has been getting down with a sweet blend of Cajun-flavored, improvisational jazz and syncopated funk grooves, with elements of rock and blues that the band's Web site describes as "booty-shakin', sweat-drenchin', New Orleans funk music."
Following the release of their critically acclaimed debut Doin' It (with songs that JamBase.com said "will stay in your head long after the disc ends") and their 2003 follow-up Shakin' (described by OffBeat magazine as "the kind of album that codifies a band's place in history"), the band went on to play hundreds of shows across the country, as well as in Europe and Japan.
In 2006, Papa Grows Funk released a live album - Live at the Leaf - that featured cuts from three performances recorded in 2005 before Hurricane Katrina devastated the Gulf Coast. Yet despite the destruction Katrina brought to their hometown, the band has vowed to rebuild New Orleans "one groove at a time," and recently released their latest album, Mr. Patterson's Hat, which features loads of wailing sax, sizzling guitar licks, and a rhythm section "heavy enough to keep you anchored to the dance floor."
For more information, visit (http://www.myspace.com/papagrowsfunk).
- Brad Vidmar
Dave Paris
River Music Experience and LP Studios
Saturday, August 11
On August 11, Cedar Rapids guitarist Dave Paris appears at the River Music Experience, playing for the Integrity Arts & Culture Association's Juried Artist Showcase, and later that night, he and his band perform at Davenport's LP Studios - a bit of a hop, but Paris appears to be nothing if not flexible.
According to his Web site, he has performed electric and acoustic guitar for "clubs and coffeehouses, festivals and videos, churches and youth camps, radio singles and commercials." He has fronted the Christian hard-rock bands Holy Countdown and Dark Spectacle, and his own rock/blues outfit, the Dave Paris Group. He's also a noted educator, leading guitar clinics for students of all ages and abilities.
Yet, on a personal level, Paris also seems like an incredibly decent guy. Discussing his weekend return in a recent press release, the musician stated, "The Quad Cities is such a musical area; there are so many talented musicians and artists. When I come here I feel like I'm raising the bar of my own abilities, and it's an honor to be part of this musical community."
Awww ... .
So here's the inevitable good-natured joke to close this piece: Isn't is funny how ...
... how ...
... aw, Dave, you're killin' me! I can't crack wise now!
Paris performs at the RME at 1:15 p.m. and LP Studios at 7 p.m., and more information is available at (http://www.daveparis.com).
- Mike Schulz
Blue Collar Band CD Release Party
Saturday, August 11
Martini's on the Rock, 8 p.m.
All right now. Say you've still got the blues, as only the lonely do. You're fallin' apart at the seams. If love was a train, your lover left the station without you. Staring at a photo of happier times, you think, "This picture in my wallet used to colour my world, and now I'm the only one. I'm missing a piece of my heart." You yearn to walk away, climb that stairway to heaven, and - knock on wood - get ready to even it up with the almighty. Today.
You know what would cheer you up? Let's Get This Party Started, the new CD from area favorites the Blue Collar Band.
Featuring live and studio recordings by vocalist Carol Anne Chouteau, drummer Jim Van Acker, bass player Bob Maddelein, and guitarist Rick Maddelein, the group's recording is being celebrated in an August 11 CD-release party at Martini's on the Rock, and is composed of 16 classic-rock tracks: the title tune, and the 15 others listed in the opening paragraph of this piece.
For more information on the Blue Collar Band, visit (http://bluecollarband.com).
- Mike Schulz