Downtown Rocks
Bass Street Landing

Saturday, July 21, 7 p.m.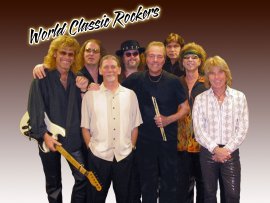 Geez, Moline Centre Partners. Show off a little, why don'tcha? For its July 21 Downtown Rocks concert at the Bass Street Landing Plaza - the first large-scale musical event the site has ever hosted - the not-for-profit group could easily have drawn a crowd by choosing the lead vocalist from Santana - Alex Ligertwood - as a headliner. Or Toto's lead singer - Fergie Frederiksen. Or Lynyrd Skynyrd guitarist Randall Hall, Journey drummer Aynsley Dunbar, or former Steppenwolf members Nick St. Nicholas and Michael Monarch. So what'd the Moline Centre Partners go and do? They went and booked all of 'em. Along with musicians Steve Stewart and David Coyle, this sextet of legendary performers has joined forces as the World Classic Rockers, and will rock the Bass Street crowd with a playlist that includes "Free Bird," "Born to Be Wild," "Rosanna," and other classics. Ticket prices are $20 at the gate and $15 in advance, and the event's press release states that the price was purposefully kept low to reflect what you would have given "to see the bands themselves back in the 1970s and 1980s." Apparently, "my left arm" wasn't an option. Wicked Liz & the Bellyswirls open the Downtown Rocks concert at 7 p.m., and more information is available at (http://www.molinecentre.org). - Mike Schulz
The Winter's Tale
Lincoln Park
Saturday, July 21, through Sunday, July 29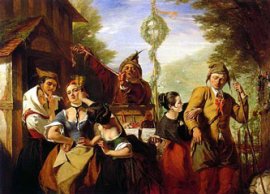 Ah, those Sneaky Petes as Genesius Guild. Months before we began enduring this mid-July mugginess, the organization knew exactly what we'd be in the mood for during a summer heat wave: The Winter's Tale, running July 21 through 29. Don't you feel cooler already? But the group also knew that we'd likely be tired of the happily mindless fare at the cineplex, so they're giving us theatre-in-the-park (Lincoln Park, to be exact) with a little meat to it - one of William Shakespeare's most challenging, and most widely debated, works. With its mixture of psychological drama, witty comedy, tortured romance, and magic - unless, in the Elizabethan period, statues tended to be more animated than they are nowadays - the play has always defied easy description. But its fame in the Shakespeare canon is unquestioned: The Winter's Tale is notable for the 16-year gap that separates Acts III and IV, and also features what is commonly considered the Bard's most amusing stage direction, when the Act III demise of Antigonus is anticipated with "Exit, pursued by a bear." So in addition to theatre, Genesius Guild is also providing a de facto trip to the zoo! Fun! (Though try telling that to Antigonus.) For more information, visit (http://www.genesius.org). - Mike Schulz
Don Caballero
The Picador
Monday, July 23, 9 p.m.
Instrumental math rockers Don Caballero will play the Picador in Iowa City on Monday, July 23. Formed in 1991, the band originally intended to hire a vocalist, but after early rehearsal sessions landed the band paying gigs, the group opted to stay instrumental. Credited by many as the band that defined the "math rock" sound, Don Caballero's music combined complex (and sometimes psychedelic) multi-sectioned pieces - loosely tied by unorthodox time-signatures - with energetic, unconventional drumming, crunchy guitar riffs, and frantic, rhythmic tapping (a guitar technique normally featured in guitar solos). After nine albums and a number of successful U.S. and European tours, the band broke up in 1999, and while they never achieved mainstream success, the group's epic space-rock jams became a cult favorite among fans of underground music. The band returned in 2003 after original drummer Damon Che re-formed Don Caballero with members of Pittsburgh's Creta Bourzia; they signed with renowned metal/hardcore label Relapse Records and released World Class Listening Problem in early 2006, proclaimed by a CDNow.com reviewer as "great instrumental rock, and worthy of your money!" Doors for the show open at 9 p.m., and more information is available at (http://www.thepicador.com). - Brad Vidmar
The Lee Boys
The Redstone Room
Thursday, July 19, 8 p.m.
When you learn that the sacred-steel ensemble the Lee Boys is composed of three brothers and their three nephews, that they grew up in the church of the brothers' reverend grandfather, and that their repertoire includes the nonsecular standards "Amazing Grace" and "If You're Happy & You Know It," you may ask yourself, "So what are they doing at the Redstone Room?" An indication might come from the Chicago Sun-Times review that stated that the Lee Boys' high-energy spirituals found them "whipping the crowd into a frenzy with hypnotic grooves, innovative pedal-steel/lead-guitar interplay, and funky rhythms," resulting in "what Hendrix had in mind with his grand plan for 'electric-sky church music.'" Or this rave in Good Times magazine, which states, "The Lee Boys fuse contemporary R&B, hip-hop, and funk to generate a unique gospel sound." Suddenly, the group's July 19 gig at the Redstone Room seems like a perfect fit between artist and venue, though I am a little puzzled: The Lee Boys tour alongside family members all year long and still have the strength to sing "If You're Happy and You Know It"? Wow. God must be with them. (And having read that, my family has officially severed all ties.) For more information, visit (http://www.redstoneroom.com). - Mike Schulz
Rock Island County Fair
Rock Island County Fairgrounds
Through Saturday, July 21
"Oh, thanks a lot, Mike," I can hear you saying. "Tell us about the Rock Island County Fair the day after the Clint Bowyer race!" Okay, yeah, I kinda dropped the ball on that one. But if I'd told you about the NASCAR champ's July 17 appearance in last week's issue, you wouldn't have learned about the fair's slate of happenings July 18 through 21 in this week's issue! (See how cleverly I weaseled my way out of guilt there?) Clint may be back on the road, but those of you heading to the Rock Island County Fairgrounds in East Moline can still enjoy automotive fun with the Hot Rod Truck & Tractor Pull and "Demo Derby" events, and if you're seeking more unpredictable (and slightly pissed-off) modes of transport, there's always Thursday's Championship Bull Riding competition. In addition to the daily carnival attractions, demonstrations, exhibitions, and talent shows, local rockers Mr. Tripod, Hap Hazard, Smooth Groove, The Siyg, and Corporate Rock will perform, and there's plenty for kids to enjoy in the fairgrounds' 4-H Building: art projects, karaoke, and "The Weird & Wonderful World of Science," which allows your young uns to "make snow in July." Perfect! When they're done, send 'em over to Lincoln Park! For a full schedule of county fair events, visit (http://www.rockislandcountyfair.com). - Mike Schulz