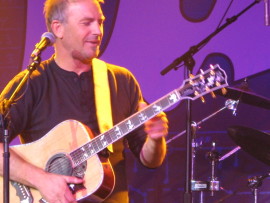 Music
Kevin Costner & Modern West
The Col Ballroom
Tuesday, July 28, 7 p.m.
No, he won't be stealing from the rich and giving to the poor, nor will he be playing baseball with the likes of "Shoeless" Joe Jackson. But on July 28 at Davenport's Col Ballroom, Kevin Costner will be playing with his band, Kevin Costner & Modern West.
Costner, who's enjoyed an illustrious career as an actor and Academy Award-winning filmmaker, decided to form Modern West with encouragement from his wife. The band started touring in October of 2007, playing mostly original music in a rock/country/Americana style.
"I always thought that music could build a stronger, more personal moment for me," says Costner on the band's Web site (KevinCostnerModernWest.com). "It would create the opportunity for a genuine exchange much greater than the movie, TV interview, or magazine. It would be real, full of mistakes, and without apology. But most of all, there would be the chance to have some fun."
So far, the band has released one album, Untold Truths (2008). Music Row, a Nashville-based industry publication, wrote that Costner's vocals "have an appealing, hushed, slightly raspy quality that is immensely evocative" and that "the band has a cool, western vibe with a chiming guitar, and a rhythm pattern to drive ya wild."
The show at the Col Ballroom will be a good chance to see a real-live movie star in a new light. But the venue cannot be held accountable for any phantom whisperings during the show.
If you build it, he will come ... .
Huh? What ... ?
Never mind.
Tickets are $30 in advance and $32.50 on the day of the show. They are available at the Col Ballroom and at all TicketMaster outlets, including online at TicketMaster.com, or by phone at (563)326-1111. - Emily Heninger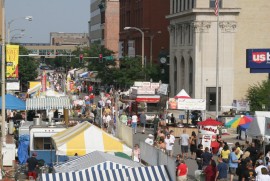 Events
DavenportOne Street Fest and Quad-City Times Bix 7 Road Race
Downtown Davenport
Friday, July 24 and Saturday, July 25
Like fireworks over the Mississippi or traffic jams on the I-74 bridge, the DavenportOne Street Fest and the Quad-City Times Bix 7 Road Race are annual summer traditions.
This year, the Bix 7 has the honor of hosting the 2009 American National 7 Mile Championships for USA Track & Field (the governing body for Olympic track-and-field events in the United States). And the DavenportOne Street Fest enters its 38th year with two days of live music and family fun, with local bands including Jim the Mule, Superfly Samurai, and the Ellis Kell Band, and the Imani Dancers, QC Cloggers, and the Midstate Sidesteppers, among others, performing on the Family Stage.
Take this short quiz to get ready for the Bix 7 and DavenportOne Street Fest. (Note: This quiz will not actually prepare you to run the Bix 7. To prepare, we suggest you run ... a lot.)
1) Only runners from this country can win money in this year's race
2) Number of years people have been running the Bix 7 (and "enjoying" the climb up Brady Street)
3) Runners from this country won both the men's and women's race last year
4) Fastest time in last year's Bix 7
5) 7 miles = _ kilometers.
6) Number of years Kenyans have won both the men's and women's race
7) Admission for the Street Fest is _ dollars.
8) This local band (and Augie favorite) has a saxophone, but no guitar
9) This 13-piece rock band may be confused about themselves
10) Likely average Bix 7 time for the Reader's editorial staff
11) Jeff Ignatius's favorite street-fest food
12) Mike Schulz's favorite street-fest food
a) zero
b) Kenya
c) funnel cakes
d) 5:32:30:00
e) Identity Crisis
f) Minus Six
g) eight
h) America
i) 32:16:00
j) 11.265408
k) corn dogs
l) 35
The Bix 7 and QuickBix starts at 8 am on July 25. For more on the route and other information, visit Bix7.com. The Davenport Street Fest runs from 10 a.m. to midnight on July 24, and 9 a.m. to midnight on July 25. For a schedule of events, visit DowntownDavenport.com. - Tushar Rae
Answers: 1) h, 2) l, 3) b, 4) i, 5) j, 6) g, 7) a, 8) f, 9) e, 10) d, 11) k, 12) c.
Theatre
Bash
Village Theatre
Friday, July 31 through Saturday, August 8
For the Phoenix Theatre Company's debut presentation, Artistic Director Tyson Danner is opening with a bash - specifically, Bash, a melding of two monologues and one performance duet by recent Tony Award nominee Neil LaBute. But don't let the play's festive-sounding title fool you. This isn't "bash" as in, "Please do me the honor of attending my bash on Saturday." It's more like "bash" as in, "I'm gonna bash your freakin' skull in."
Running July 30 through August 8, LaBute's haunting, disturbing, oftentimes darkly funny pieces open on moods of reassuring calm. In "Iphigenia in Orem," a businessman enjoys a night of pleasant chat with a new acquaintance. In "Medea Redux," a mother recounts a reunion with a former middle-school teacher. In "A Gaggle of Saints," two young lovers detail the events leading to their union. And in each segment, LaBute's seemingly straight arrows grow into figures of full-out horror; as stated, admiringly, in the New York Times, "It's as though characters from Ozzie & Harriet had suddenly pulled a shiv on you."
Directed by Danner, "Iphigenia in Orem" is being performed by frequent area actor Chris White, while Danner's "A Gaggle of Saints" features Ben Simkins and Abby Van Gerpen; "Medea Redux," directed by recent St. Ambrose University graduate Rachel Mayer, finds SAU alumna Jessica Sheridan as its lead. And while LaBute's collective offerings are bleak, Bash seems a perfectly apt title for the Phoenix's first stage outing, given that the company takes its name from a mythical bird that rose from the ashes - what could be more fitting than a work this incendiary?
Bash will be performed at the Village of East Davenport's Village Theatre, and tickets and information are available by calling (563)650-2396 or visiting ThePhoenixTheatreCompany.com. - Mike Schulz
ACTING SMART
Helpful Tips on Appearing More Intelligent Than You Actually Are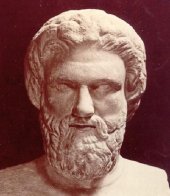 Marking the end of its summer season, Genesius Guild will wrap up 2009's schedule of Lincoln Park performances with Thesmophoriazusae, the Aristophanes comedy running Saturdays and Sundays from August 1 through 8. It's sure to make for a night of endearing slapstick silliness - if the show doesn't end with a gleeful Mack Sennett chase, I'll gladly refund your ticket price - and if you want to discuss the forthcoming show with friends, here are five ways to do so without appearing hopelessly out of the loop:
1) Know what Thesmophoriazusae is about. First produced in 411 B.C., it's sort of the classical-Greek precursor to Some Like It Hot, in which a man disguises himself as a woman to gain access to a strictly female outfit, leading to all manner of mistaken identities and comedic horseplay.
2) Know how Thesmophoriazusae is being tinkered with. As with previous productions of The Clouds, The Frogs, and The Birds, the play is Genesius Guild's annual, season-ending burlesque adapted by Guild founder Don Wooten, and sure to feature a goodly amount of happy clowning, pop-culture references, and area-culture references.
3) Know what "Thesmophoriazusae" means. Wikipedia defines it as "women celebrating the festival of the Thesmophoria," which About.com defines as "a festival that used to be held in about 50 cities or villages of ancient Greece, in honor of the goddess who taught mankind to tend the soil."
4) Know how to pronounce "Thesmophoriazusae." It's thez-muh-for-ee-uh-ZOO-say.
5) Know how to use it in a sentence. Say, "My wife would've cooked me dinner tonight, but she's off acting like one of the Thesmophoriazusae at some poetry reading or something." Only say it, though, if you're a married man. And an uncultured, misogynistic ass.
For more information on Genesius Guild's Thesmophoriazusae, visit Genesius.org. - Mike Schulz
What Else Is Happenin'... ?
MUSIC
Thursday, July 23, through Sunday, July 26 - Bix Beiderbecke Memorial Jazz Festival. Annual festival featuring jazz lectures, workshops, and concerts with more than a dozen bands, among them the Josh Duffee Orchestra, the St. Louis Stompers, the Mighty Aphrodite Jazz Band, and Scott Black's Jazz Band. Concerts take place at numerous Davenport venues, including LeClaire Park, the Col Ballroom, the Clarion Hotel, and Danceland. Times and prices vary. For information and a schedule, call (563)324-7170 or visit BixSociety.org.
Saturday, July 25 - Bjorn Again. Internationally-touring ABBA tribute band. Jumer's Casino & Hotel Event Center (777 Jumer Drive, Rock Island). 8 p.m. $20-$25. For tickets and information, call (309)756-4600 or visit JumersCRI.com.
Saturday, July 25, through Wednesday, July 29 - Daytrotter Barnstorming Tour. Indie-rock performances in barns and outdoor sites in Davenport, Maquoketa, Green Island, West Liberty, and Coon Rapids, Iowa, featuring Daytrotter "alumni" Local Natives, Catfish Haven, Caleb Engstrom, Snowblink, Paleo, Stranger Waves, Mac Lethal, and Someone Still Loves You, Boris Yeltsin. Free; donations accepted. For information and a schedule, visit Daytrotter.com.
Friday, July 31, and Saturday, August 1 - RIBCO's 30th Anniversary Bash. Featuring Friday-night performances by Einstein's Sister, Keep Off the Grass, and the Afterdarks, and Saturday-night performances by Tripmaster Monkey, Driver of the Year, Bumper Crop, and Cheese Pizza. Rock Island Brewing Company (1815 Second Avenue, Rock Island). Friday 8 p.m.; Saturday 7 p.m. $5. For information, call (309)793-1999 or visit RIBCO.com.
Saturday, August 1 - Rock Camp USA Concert. Concert showcasing the third-session students from the River Music Experience's annual music-performance "summer camp." The Redstone Room (129 Main Street, Davenport). Noon-4 p.m. Free. For information, call (563)326-1333 or visit RiverMusicExperience.org.
THEATRE
Thursday, July 23, through Sunday, August 2 - Biloxi Blues. Neil Simon's Tony Award-winning military comedy, and the follow-up to the playwright's Brighton Beach Memoirs. Clinton Area Showboat Theatre (311 Riverview Drive, Clinton). Thursday-Satuday 7:30 p.m., Wednesday and Sunday 3 p.m. $18. For tickets and information, call (563)242-6760 or visit ClintonShowboat.org.
Thursday, July 30, through Sunday, August 9 - Dirty Rotten Scoundrels. Tony-winning musical farce by the composer of The Full Monty, based on the 1988 Steve Martin comedy. Timber Lake Playhouse. (8215 Black Oak Road, Mt. Carroll). Friday and Saturday 8 p.m., Tuesday-Thursday 7:30 p.m., Sunday 6:30 p.m. $11-$20. For tickets and information, call (815)244-2035 or visit TimberLakePlayhouse.org.
VISUAL ARTS
Friday, July 31 - Bucktown's Birthday Bash. Celebration of Bucktown Center for the Arts' fourth anniversary, with artist demonstrations, hors d'oeuvres, live music by Cedar Rapids' Mark Brown, and exhibits featuring the works of Terry Rathje, Steve Banks, Bill Campbell, Elizabeth Sallak, Jack Wilhoit, Judy O. Gray, and Susan Drennan. Bucktown Center for the Arts (225 East Second Street, Davenport). 6-9 p.m. Free. For information, call (309)737-2066 or visit BucktownArts.com.
Saturday, August 1 - Art on the Lawn. The Left Bank Art League's art show and fundraiser in support of Gilda's Club, with food, tours, vendor booths, and artworks on display and for purchase. Gilda's Club of the Quad Cities (1234 East River Drive, Davenport). 10 a.m.- 4 p.m. Rain date August 2. Free. For information, visit LeftBankFineArtFair.com.
EVENTS
Saturday, August 1, and Sunday, August 2 - Midwest Folk Festival. Ninth-annual celebration of regional artists, featuring demonstrations, children's activities, a Saturday-night barn dance, performances by music and dance troupes including Quad Cities Ballet Folklórico, and more. Bishop Hill, Illinois. Saturday 11 a.m.-7 p.m.; Sunday 11 a.m.-4 p.m. Free. For information, call (309)927-3345 or visit BishopHill.com.
Sunday, August 4 - Home-Grown Iron Chef Final Showdown. The four Mystery Basket Grill Master Competition winners prepare a dish to be judged by visiting chef Paul Virant and two local judges; also featuring food samples, a cooking demonstration, and a performance by the improv comics of ComedySportz. Isle of Capri Casino & Hotel (1777 Isle Parkway, Bettendorf). 1-5 p.m. $40. For information and tickets, call (563)441-4063 or visit EICC.edu/ironchef.
Tuesday, August 4, through Sunday, August 9 - Great Mississippi Valley Fair. Annual festival featuring rides, activities, and food and merchandise vendors, with concerts performed by Trace Adkins, Gary Allan, Kenny Loggins, Big & Rich, Alice Cooper, Tracy Lawrence, and other musicians. Mississippi Valley Fairgrounds (2815 West Locust Street, Davenport). $3-$10 gate admission; $40/six-day Fun Card. For information, tickets, and daily schedules, call (563)326-5338 or visit MVFair.com.