Don't Dress for Dinner @ Circa '21 Dinner Playhouse
Wednesday, July 25, thru Saturday, September 15
May the Farce be with me!
Yes, folks, less than two weeks after my farcical two-fer at the Playcrafters Barn Theatre and Timber Lake Playhouse, I'm off to another madcap comedy: Don't Dress for Dinner, which the Circa '21 Dinner Playhouse is producing July 25 through September 15. You might imagine I'd be suffering from mistaken-identity overload, but there are plenty of reasons to be cheery about this offering even before the set's doors are inevitably slammed.
For one thing, the play - which concerns a philandering husband whose romantic-weekend plans go embarrassingly awry - was a smash hit in Paris (where it ran for two years) and London (where it ran for six). Whose taste in sexual roundelays do you trust more than the Europeans'?
For another, it's being directed by St. Ambrose University's Corinne Johnson, whose impressive recent credits include The Threepenny Opera, Much Ado About Nothing, and New Ground Theatre's String Fever.
For a third, among the show's cast members are Tom Walljasper, Adam Lewis, and Kimberly Furness, who, collectively, have been funny in about a kajillion Circa '21 productions over the past 15 years.
Finally ... check out that racy image on the logo!
No word on who's playing the shirtless (and, apparently, panty-less) server, but while I'm a fan and all, I'm praying it isn't Lewis.
Don't Dress for Dinner tickets are available by calling (309) 786-7733 extension 2.
- Mike Schulz
The Marc Ford Band @ The Redstone Room
Friday, July 27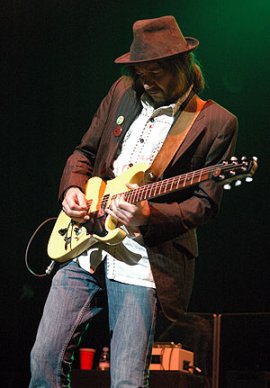 Any band with the courage to feature pubic hair on an album cover, and the ingenuity to make it look classy and patriotic - as the Black Crowes did on Amorica - will always have my respect. That's part of the reason I'm looking forward to the Marc Ford concert at the Redstone Room on July 24.
After leaving blues-rock trio Burning Trees to join the Black Crowes in 1991, Ford played lead guitar on some of the band's best works - including The Southern Harmony & Musical Companion and the aforementioned Amorica - and went on to tour the globe and sell millions of albums until he left the group in 1997. After forming a couple of solo bands and, later, jamming and recording with Gov't Mule and Ben Harper, Ford re-joined the Black Crowes for their reunion tour in 2005.
Yet last September - just days before the start of the fall leg of that tour - Ford left the band again (just missing the group's performance at the 2006 River Roots Live festival in Davenport), and has since formed a new band under his own name. In March, Ford released Weary & Wired, which a reviewer at (http://www.cdnow.com) wrote "literally sounds like a classic."
Doors for the 9 p.m. show - which also features special guests the Winter Blanket - open at 8 p.m., and more information is available at (http://www.redstoneroom.com).
- Brad Vidmar
The Wreckers @ i wireless Center
Friday, July 27
When I first heard that the Wreckers' debut CD was titled Stand Still, Look Pretty, I felt an immediate kinship with the country performers, as that was exactly how my employers initially described my duties for the Reader.
Yet I'm guessing that lots of people feel connected to Grammy-winning performer Michelle Branch and her friend and collaborator Jessica Harp, whose duo the Wreckers plays the i wireless Center on July 27.
Although their professional partnership is only three years old, 2006's Stand Still, Look Pretty made it to the top 20 on the Billboard 200 chart, and its debut single "Leaving the Pieces" hit number one on Billboard's "Hot Country Songs" chart. Branch and Harp - Grammy nominated themselves for "Leaving the Pieces" - fuse country, pop, and classical sensibilities to create a blend praised by the Washington Post for its "warm twang and rich harmonies," and their first album was described by the All Music Guide as "tuneful, tastefully rootsy, and quite engaging." (Which, by the way, is exactly how I initially described myself to my employers.)
Following the Wreckers' performance, there will be a set by a gentleman named Keith Urban - who I understand is some sort of country singer himself - and more information on the evening is available at (http://www.iwirelesscenter.com).
- Mike Schulz
Mississippi Valley Fair
Tuesday, July 31, through Sunday, August 5
"Mike?"
"Hey, Todd!"
"I see that you're asking for a few days off for a medical procedure. July 31 through August 5."
"Yeah, man, I've got this thing I need to get taken care of ... ."
"Did you know that the Great Mississippi Valley Fair is scheduled for those exact same days?"
"Really? Wow, that is a coincidence ... !"
"So you're not making up a phony medical excuse so you can go to the fair."
"Of course not!"
"You're not just hoping to catch musicians Lonestar, Josh Turner, Gretchen Wilson, the Drifters, Chris Cagle, Big & Rich, Cowboy Troy, and Poison."
"No ... ."
"You're not planning to check out the BMX Bike Show, or the Great Lakes Timber Show, or the professional Diving Show, or the Frisco Brothers' Exotic Animal Show."
"Uh ... no ... ."
"And you're absolutely not expecting to be there for stilt-walker Todd Lagessie, chainsaw artist Pat Doyle, the world-renowned Mapapa African Acrobats, or the annual frog-jumping championships."
"Oh, come on Todd! I love frog-jumping ... !"
"I'm not okaying this, Mike. Get back to work."
"Wow. You're even meaner than Jeff."
For more information on the 88th-annual fair at the Mississippi Valley Fairgrounds, visit (http://www.mvfair.com).
- Mike Schulz
Wells Fargo Street Festival
Friday, July 27, and Saturday, July 28
(Best enjoyed if sung to "Wells Fargo Wagon" from The Music Man.)
O-ho the Wells Fargo Street Fest is a-comin' down the street! It's gonna be great - you'll see!
O-ho the Wells Fargo Street Fest is a-comin' down the street! Just listen who'll be there mu-si-cal-ly!
You'll hear Wicked Liz and all those Swirling Bellies,
Funktastic Five, The Roadless, Jim the Mule,
Fresh Jive Revival, I-den-ti-ty Crisis,
Plus plenty others I can't scan here that sound real-ly cool!
O-ho the Wells Fargo Street Fest is a-comin' now, and there'll be food, crafts, and works of artistry!
Could get a painting, or jewelry, or just a big sno-cone,
Or you could get
(Yes, you could get, yes, you know you surely could get)
Somethin' special
(Somethin' very, very special now)
Just for me!
Davenport's 36th-annual West Fargo Street Festival runs July 27 and 28 on Second Street, between Brady and Ripley streets, and information is available by visiting (http://www.downtowndavenport.com/events/streetfest.htm).
- Mike Schulz