Devon Allman's Honeytribe
The Redstone Room
Friday, July 11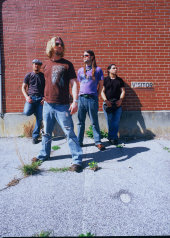 On the group's MySpace page, Devon Allman's Honeytribe lists Duane Allman of the Allman Brothers as one of its influences. Well, no wonder, considering that Devon is Duane Allman's nephew.
Although the Honeytribe's lead singer grew up listening to his uncle's music, that hasn't stopped him from developing his own sound. In an interview with Blogcritics Magazine, Devon Allman said, "I have embraced my heritage along the way, but I don't feel that there is any cerebral connection to it. I just do what I do now, with no thought process."
Devon Allman's Honeytribe, which is playing July 11 at the Redstone Room, is a mixture of a rock, blues, and jam band, and in a review of a recent concert in Baton Rouge, Louisiana, music critic Aaron Lafont wrote that the group's "energy, talent, and zeal combine to form an original blues-rock experience that's bound to turn heads wherever they show up." Honeytribe, which is a five-man band from St. Louis, plays roughly 300 shows a year, and have shared the stage with everyone from Cheap Trick to the Disco Biscuits. (At the Redstone Room, they'll share the stage with Ernie Hendrickson, who just released his solo-debut album Down the Road.)
Tickets can be purchased for $10 through the Redstone Room's Web site at (http://www.redstoneroom.com), and more information on Devon Allman's Honeytribe can be found at (http://www.myspace.com/honeytribe). - Marguerite Day
Sean Morey
Penguin's Comedy Club
Thursday, July 10, through Saturday, July 12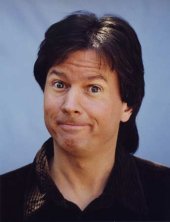 Sean Morey performs at Penguin's Comedy Club July 10 through 12, and he's amassed a healthy list of professional credits, among them three appearances on Johnny Carson's Tonight Show, and three appearances on Jay Leno's Tonight Show.
But Morey has also put together quite the helpful Web site. Under the section conveniently labeled "Jokes," he's included some of his favorites, so instead of giving you an idea of the man's sense of humor, I thought I'd let him do the talking:
"Where do sheep get a haircut? The baa-baa shop."
"Where do otters come from? Otter Space."
"Why did the chicken cross the playground? To get to the other slide."
Ha ha ha ha ha ... !
Wait.
Oh, I'm sorry. Those were from Morey's section labeled "Jokes for Kids."
Here's what I was looking for - the adult jokes. Let me check these out ... .
Wow, that one's way too dirty for publication.
Nope, can't print that, either.
Or that.
Hee hee hee ... . Or that.
A-ha! Finally! See what you think of this one!
Question: How many New Yorkers does it take to change a light bulb?
Answer:*
For more on Morey's Penguin's gig, visit (http://www.penguinscomedyclub.com). - Mike Schulz
*Editor's note: Mike was wrong. That one was too dirty for publication, too. Check out Sean Morey's gags for yourselves at (http://www.seanmorey.com).
Camp Euforia '08
Lone Tree, Iowa
Friday, July 11, and Saturday, July 12.
If you haven't attended a summer-music festival this year, you've either got a terrible work schedule, or you're like Mike Schulz, and haven't listened to music since 1991.
But even if you have attended the Mississippi Valley Blues Festival or the Iowa City Jazz Festival, there's still one to catch: the two-day Camp Euforia concert event, an eclectic mix of world-beat, reggae, folk, and blues music in Lone Tree, Iowa (just outside of Iowa City).
Among the bands set to play are world-beat headliners Euforquestra, Iowa City reggae band Public Property, the progressive-bluegrass outfit Cornmeal, and a group called Giant Panda Guerilla Dub Squad (pictured), who - as the Camp Euforia Web site explains - perform a blend of "roots reggae and experimental dub." A word of advice: Do not feed the Giant Pandas.
Eric Quiner - whose band, Euforquestra, was musically educated in Cuba, and who helped originate the Lone Tree festival in 2004 - says that the goal of the event is to "showcase the local music scene, as well as to bring different acts from around the country." Tickets are $40 through (http://www.iowatix.com), $45 at the gate, and for more information - including directions to the festival - head over to (http://www.campeuforia.com). - Ben Clague
Any Famous Last Words?, Crimes of the Heart, Little Women
Richmond Hill Barn Theatre, Playcrafters Barn Theatre, Prospect Park Auditorium
Did someone declare this Women in Theatre Weekend and forget to tell me about it?
It's unusual when three of our area's community venues - the Richmond Hill Barn Theatre, the Playcrafters Barn Theatre, and Quad City Music Guild's Prospect Park Auditorium - all happen to premiere new shows in the same weekend. But this weekend, all of the productions happen to focus on (and subsequently star) women, and as any female actor will tell you, that's even more unusual.
July 10 through 20, Richmond Hill presents the comedy Any Famous Last Words?, in which Jackie Skiles, Cara DeMarlie, Sandy Stoltenberg, and others enact Nancy Pahl Gilsenan's tale of a playwright whose hospital anesthetic creates visions of the friends whose lives she's occasionally "borrowed from."
July 11 through 20, Playcrafters presents the comedy Crimes of the Heart, in which Karrie McLaughlin, Jessica Nicol, Ashley Hoskins, and others enact Beth Henley's Pulitzer Prize-winning tale of three eccentric sisters dealing with life and love in rural Hazlehurst, Mississippi.
And also July 11 through 20, Music Guild presents the every-once-in-a-while-a-comedy Little Women, in which Erin O'Shea, Sarah Walker, Dolores Sierra, and others enact Louisa May Alcott's tale of the unforgettable March sisters (in Broadway's recent, Tony-nominated musical version of the story).
Quite a coup for local female talents. But if any male devotee of community theatre is now thinking it's all a bit girly for him, remember that, instead, you could always hit a weekend performance by Genesius Guild, which is staging ... Electra.
For more on Any Famous Last Words?, go to (http://www.rhplayers.com); for information on Crimes of the Heart, visit (http://www.playcrafters.com); for tickets to Little Women, hit (http://www.qcmusicguild.com). - Mike Schulz