Spin: The Science of Rotation
Family Museum
Saturday, June 14, through Sunday, September 28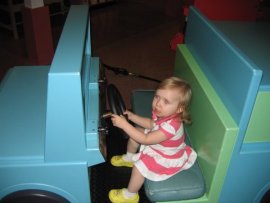 The newest traveling exhibit at the Family Museum is Spin: The Science of Rotation - a hands-on exploration of the "how"s and "why"s behind centrifugal force - and a press release tells us that in the exhibit area The Human Centrifuge, "heads will spin as up to four guests sit in this innovative tub and push against a fixed wheel to explore how inertia works." You could learn the same thing just by hanging out with me and Jeff in our Reader office, but spending the day at the museum, I promise you, would be a lot more fun.
Covering 1,500 square feet in the Bettendorf venue, the exhibit allows kids (and those of us with the car keys) to discover the science behind toys, sports, modes of transport, space travel, and even the universe itself; among the interactive enjoyments of Spin's 15 exhibit areas, guests have the chance to engage in friendly competition through the races of Let It Ride, and the opportunity to create a miniature rock concert with the exhibit's Laser Show.
It sounds like a blast, and while you're there, don't forget to check out the rest of the museum's youth-friendly activity areas; my niece was recently in town, and I can tell you that she had a great time driving a tractor, operating a cash register, and gathering eggs.
Well, look at that! Photographic proof! If you print out a copy of this page, you can keep pictures of Gwen in your wallet, too!
Spin: The Science of Rotation runs from June 14 through September 28, and more information is available by visiting (http://www.familymuseum.org). - Mike Schulz
Kanye West
i wireless Center
Thursday, June 12, 7 p.m.
Kanye West's "Glow in the Dark" Tour, also featuring Rihanna, N.E.R.D., and Lupe Fiasco, hits the i wireless Center in Moline on Thursday, June 12. In this penultimate stop on the tour, West (pictured) headlines this collaboration between artists with distinct sounds.
West is known for his catchy hooks and addictive beats - you'll find yourself still humming "Stronger" (from his latest album, Graduation) a week after you've heard it. The winner of the Grammys' Best Rap Album award (although West's style might more accurately be defined as a combination of funky beats, socially conscious lyrics, and a cheeky sense of vibrant glamor), West puts on a show the Los Angeles Times dubbed an "apocalyptic space opera." No word on a cameo from Captain Kirk.
The tour's opening acts begin with Lupe Fiasco, a rising Chicago artist whose relaxed bass lines carried him to a Grammy and praise from hip-hop legend Jay-Z, who referred to his lightly street-wise music as a "breath of fresh air." The Grammy-winning R&B singer Rihanna and the alternative hip-hop/rock band N.E.R.D. (with its energized guitar riffs, driving drums, and a flow that transcends any single track) round out the tour's unique cast.
Tickets range from $42.50 to $82.50, and for more information, check out (http://www.iwirelesscenter.com). Don't forget your neon clothing! - Ben Clague
Terrapin Flyer with Tom Constanten
Rock Island Brewing Company
Saturday, June 14, 10 p.m.
Since their debut on Halloween night in 1999, the members of Terrapin Flyer - who play the Rock Island Brewing Company on June 14 - have been performing the music of the Grateful Dead in their home stomping grounds of Chicago, and on tours nationwide. But something tells me that the Terrapin Flyer sound got a whole lot Dead-er two years ago, when Garcia and company's former keyboardist, Tom Constanten (pictured), started tagging along.
A member of the Grateful Dead from 1968 to 1970, Constanten performed with the group at Woodstock, and his work is featured on some of the band's most experimental albums, including Live Dead, Anthem of the Sun, and Aoxomoxoa. Since 2006, though, he's frequently performed alongside the Windy City musicians he helped inspire, so if you catch Terrapin Flyer at RIBCO, notice the keyboardist, and think, "Hey ... I know that guy ... !", you probably do.
But how well do you know him? Which of the following statements about Tom Constanten isn't true?
1) Studied music at the University of California
2) Studied piano with the world-renowned Mario Feninger
3) Studied composition with the world-renowned Luciano Berio, Pierre Boulez, and Karlheinz Stockhausen.
4) Taught as professor of music at New York State University
5) Taught as professor of music at the San Francisco Art Institute
6) Lectured as a visiting artist at Harvard University
7) Was named "Maestro of the Year" by the California Arts Council in 1983
8) Was inducted into the Rock & Roll Hall of Fame in 1995
9) Released an album of classical sonatas by composers including Bach, Haydn, and Brahms
10) Was invited to participate in the Smithsonian Institute's 300th Anniversary of the Piano celebration
For more on Constanten, visit (http://www.tomconstanten.com), and for more on Terrapin Flyer, visit (http://www.terrapinflyer.net). - Mike Schulz
Answer: 8. Constanten was actually inducted in 1994. So he's actually a whole year cooler than you thought he was.
The Rubberbandance Group
Hancher Auditorium
Saturday, June 14, 2 p.m.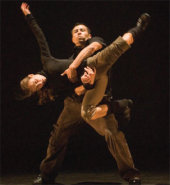 On June 14, the Rubberbandance Group will perform at the University of Iowa's Hancher Auditorium. This "elastic" ensemble, which hits the stage at 2 p.m., stretches the boundaries of dance by combining different movement and theatre styles to examine human relationships. The performers mix the elegance of ballet with the energy of hip-hop and the skill of breakdance, especially in their best-known work, Elastic Perspective, a collection of performances from their shows in Canada, Europe, and the U.S. that snaps the standards of hip-hop and creates a hybrid between break- and contemporary dance.
The six-member group is made up of world-class performers from various dance backgrounds, and has performed at dance festivals throughout North America and Europe since being founded by Victor Quijada in 2002. While growing up in Los Angeles, Quijada performed an urban-dance style that earned him the nickname "Rubberband," and during high school, he learned ballet, modern dance, and eventually furthered his career with Twyla Tharp's company and Les Grands Ballets Canadiens Montreal. These experiences consequently led to the formation of Rubberdance and its unique style.
To find out more information on Victor Quijada and the Rubberbandance Group, visit (http://www.rubberbandancegroup.com). - Marguerite Day
My Fair Lady
Prospect Park Auditorium
Friday, June 13, through Sunday, June 22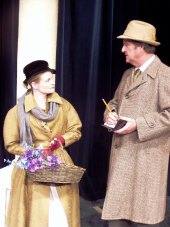 "Eliza?"
"What is it, 'Enry?"
"I keep telling you, my dear. It's Henry. With an 'H.'"
"Well, what is it, then?"
"I'd very much like for you to accompany me to the theatre."
"The theatre? Whatever for?"
"For about two-and-a-half hours."
"No, ya silly git, I meant ... ."
"I know, my dear. For a new production by the Quad City Music Guild."
"Yeah? What's it called, then?"
"My Fair Lady."
"Sounds snooty, 'Enry"
"With an 'H,' Eliza. You'll get much further with the Lord if you learn not to offend His ears."
"I don't like th' sound o' this ... ."
"Ah, but you will. There'll be marvelous singers and a full orchestra and such memorable tunes as 'I Could Have Danced All Night' and 'On the Street Where You Live' and 'Wouldn't It Be Loverly' and 'The Rain in Spain' ... ."
"The rine in spine?"
"Er ... yes."
"So what's this musicale about, then?"
"This deliciously low, horribly dirty woman who learns to behave like a proper English lady."
"And you'd like me to join you ... Henry?"
"By George, you've got it!"
"All right, guv, I'll give it a go. But why're ya askin' me?"
"I don't know, my dear. I suppose I've grown accustomed to your face."
My Fair Lady runs June 13 through 22 at Moline's Prospect Park Auditorium, and more information is available by visiting (http://www.qcmusicguild.com). - Mike Schulz