Enchanted Gardens
Quad City Botanical Center
Saturday, June 21, through Friday, August 1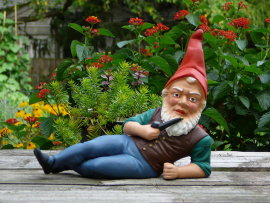 "Hello, readers! My name is Ethan. I'm the garden gnome you see in the accompanying photo, and the editors of this fine newspaper have asked me to tell you about Enchanted Gardens, the new Quad City Botanical Center exhibit running June 21 through August 1. In past years, this time slot was reserved for the Flamingo Follies exhibit, but with an opening day scheduled for the Summer Solstice - which folklore tells us is the best day for the spotting of woodland sprites - it's time for a magical array of fairies, trolls, and gnomes to shine!
"In fact, the Enchanted Gardens exhibit itself will be shining, as the center's lush, tropical gardens are being transformed into a charmed habitat for mystical creatures, with twinkly fairy lights illuminating the bewitching creations by leading area artists, and environs dripping with beautiful flora and low-hanging Spanish moss. The exhibit will also be previewed in a special children's tea party this Saturday at 2 p.m., with a variety of arts and crafts offerings, and snacks including fairy-sized sandwiches, cakes, and lavender punch. I hope to see you there, but we're stealthy creatures, we gnomes are, so good luck seeing me!
"And what it's like being a garden gnome, you might ask? Not bad. But I do sometimes long for the smell of pipe tobacco. You wouldn't happen to have a match, would you?
"Never mind. More information on Enchanted Gardens and its related events can be found at (http://www.qcgardens.com), and I thank you for your attention." - Mike Schulz
Pomegranates
Huckleberry's
Saturday, June 21, 7 p.m.
Pomegranates, an indie-rock quartet from Ohio, will play at Huckleberry's in Rock Island on June 21. The show will be filled with the sounds of what Amplifier Magazine compared to "Transatlanticism-era Death Cab for Cutie," which sounds delicious; the band's first full-length release, Everything Is Alive, has been called "infectious indie pop" by Analogscene.com, and "a less spastic, but no less dynamic, Modest Mouse" by Ohio City Beat. Pomegranates creates melodies with synthesizer, clean guitar riffs, and complementing beats, but musical beauty is not just skin-deep for the band; at the core of Pomegranates' music is the soothing, androgynous voice of Joey Cook, whose vocal range carries the album through its lighter tones and darker moods.
Everything Is Alive is smooth enough to bottle and drink, which is surprising for an album that was recorded - and mixed - in six days; all of the tracks were recorded live, which means, at Huckleberry's, you won't run into the problem of a band that sounds exquisite on CD and atrocious in concert. (And for fans of track and field, Javelins are opening the show - hopefully, they'll be playing instruments and not throwing them.) Admission to this Daytrotter concert is $5, which is less than the cost of a couple pomegranates, and for more information on this sweet band, visit (http://www.myspace.com/pomegranatesart). - Ben Clague
Quad City Air Show
Davenport Municipal Airport
Saturday, June 21, and Sunday, June 22
Gary Allan had to have been talking about the Quad City Air Show when he sang the song "Watching Airplanes," right? After all, the lyrics do say, "I'm just sitting out here watching airplanes take off and fly ... ." Well, maybe Allan wasn't talking about our air show, but that is exactly what will be happening June 21 and 22 at Davenport's Municipal Airport.
The air show, which begins at 11:30 a.m. and continues until the last plane lands in the late afternoon, features returning performers and flyovers such as the U.S. Navy Blue Angels, but it has added some new ones for its 21st year. The show has three P-51 Mustangs coming in for the first time in 15 years, a Viper West F-16 demo, and, on Saturday only, a B-2 flyby (pictured).
With more than 150 ground exhibits, the air show has entertainment for the whole family, including a Coca-Cola Kidspace, which offers free games and rides for kids. The show also provides the chance to see current military airplanes in addition to the World War II and general-aviation aircrafts. The Army Golden Knights' parachute team will be performing; you'll also see the Shockwave jet-engine truck and Dave Dacy's and Tony Kazian's wing-walking demonstration. And as the audience begins "to feel the need for speed," the event offers information on the new sports-pilot license, which is easier to earn and doesn't require an FAA flight physical.
Tickets for the Quad City Air Show are $20 for adults and $5 for children at the gate; $15 one-day passes or $25 two-day passes can be purchased in advance at (http://www.quadcityairshow.com) or at any local Hy-Vee or Fareway food store. - Marguerite Day
The Sound of Music
North Scott High School
Friday, June 20, through Saturday, June 28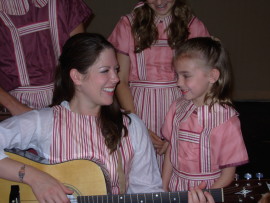 [SCENE: A convent in Salzburg. Mother Abbess is conversing with Sisters Margaretta and Berthe. The young novice Maria rushes in.]
Maria: Mother Abbess! Mother Abbess!
Mother Abbess: Good heavens! What is it, Maria?
Maria: I'm afraid I have to leave the convent.
Mother Abbess: Whatever for, my child?
Maria: I've just seen the most wonderful musical!
Mother Abbess: A musical?
Maria: Yes! A delightful, funny, romantic, heartwarming, glorious musical by Rodgers and Hammerstein!
Mother Abbess: By Rodgers and ... ?
Maria: It's divine, Mother Abbess! Such entertaining characters, and such a touching story ... !
Mother Abbess: But I don't understand ... .
Maria: And songs like you've never heard! "Climb Every Mountain" and "Edelweiss" and "My Favorite Things" and "Sixteen Going on Seventeen" and "So Long, Farewell" ... !
Mother Abbess: My goodness ... .
Maria: I've discovered my true calling, Mother Abbess! I want to perform on the stage!
Mother Abbess: Then go with my blessings, child. But however did you find yourself at a musical? Didn't I send you on an errand? To that parish beyond the hills?
Maria: There was no parish beyond the hills, Mother Abbess - it was actually a theatre! What a most fortunate accident!
Mother: Indeed!
Maria: I have to pack!
[Maria rushes off. Mother Abbess turns to Margaretta and Berthe and smiles.]
Mother Abbess: And that, my sisters, is how you solve a problem like Maria.
Countryside Community Theatre will produce The Sound of Music at Eldridge's North Scott High School June 20 through 28, and tickets are available by calling (563) 285-6228. - Mike Schulz
Blossoms at Butterworth
Butterworth Center and Deere-Wiman House
Sunday, June 22, noon-5 p.m.
On June 22, Moline's Butterworth Center and the Deere-Wiman House will host the annual Blossoms at Butterworth event, an afternoon of delightful historical festivities for the entire family. With staff and volunteers attired in early 20th Century garb, the experience is sure to take your mind off any 21st Century woes, with perks including old-fashioned music, an antique auto show, jugglers, children's crafts, games of the period, trolley rides, refreshments, visits to the grounds' majestic homes, and the family-themed Time-Travel Tour.
To get you in the proper spirit, let's take one ourselves! What were the prices for the following items in Morris County, New Jersey, way back in 1908?
1) A canvas hammock A) 1 cent
2) A bicycle B) 12 cents
3) A reversible, 6' X 9' Smyrna rug C) 14 cents
4) A pair of women's patent-leather shoes D) 19 cents
5) A men's straw hat E) $1.06
6) A daily newspaper F) $1.98
7) A pound of prime rib G) $2.98
8) A pound of Choice coffee H) $3.50
9) A dozen eggs I) $4.06
10) A gallon of gasoline J) $16.50
For more on the annual Blossoms at Butterworth, visit (http://www.butterworthcenter.com). - Mike Schulz
Answers: 1 - E, 2 - J, 3 - G, 4 - F, 5 - H, 6 - A, 7 - C, 8 - B, 9 - D, 10 - I. This last one isn't true, but I thought $4.06 would depress you less than the actual price would've.