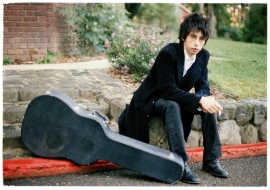 Music
Jackie Greene
The Redstone Room
Tuesday, June 30, 9 p.m.
Jackie Greene does it all; a vocalist, songwriter, guitarist, and keyboardist, he can rock the stage solo or with a full band. He's toured with big names such as Buddy Guy, B.B. King, Elvis Costello, and Willie Nelson, and has headlined in his own right. All that, and he's not even 30 years old.
This up-and-coming musician will be appearing June 30 at the Redstone Room in Davenport. His acoustic, Americana style might remind you of another sunglasses-wearing, harmonica-playing guitarist - but don't tell that to Greene. "I'm just sorta sick of being the kid with the harmonica rack," he said in an interview with JamBase.com. "I don't want to be Bob Dylan."
Greene's most recent record, Giving Up the Ghost, is an exploration of some deeper issues. The album opens with the single "Shaken," a smooth, melodic introduction to Greene's folk-rock style. "It's mainly about a dude who's performed a lot, but is still very nervous about doing it," he said. "He's not very comforted by a lot of things."
Despite the darker tone of this album, Greene cautions listeners against reading too much into his personal life. "A lot of it is not me," he said in an interview with Performing Songwriter. "Or it is me, but when I was writing I decided that I would sort of embody different spirits and try and tell ghost stories. It's me acting as a character."
Tickets to Jackie Greene's performance are $15 and are available at Ticketmaster.com or at the River Music Experience. For more information, visit RedstoneRoom.com. - Emily Heninger
Music
Iowa City Jazz Festival
Downtown Iowa City
Friday, July 3, through Sunday, July 5
Recently listed by Downbeat magazine as one of the "Top 10 Festivals in the Nation," the Toyota-Scion of Iowa City Jazz Festival has grown from attracting between 4,000 and 5,000 people to an average annual attendance of 50,000 (and generating about $7 million in revenue for the surrounding community since its inception). The event has also grown from showcasing six groups its first year (1991) to 26 groups this year.
However, some of the original "intimacy" is still maintained through the division of the festival into four stages, with the downtown stages each featuring different kinds of performers: the Main Stage for headlining acts such as Trombone Shorty & Ocean Avenue (playing July 4 at 6 p.m.); the West Music Youth Stage for younger performers, including the Northwest Junior High Jazz Band (July 4, 1:30 p.m.); the College Stage for area acts such as Coralville's Local Clamor (July 4, 5:30 and 7:30 p.m.), and the Local Stage for regional talent, including the 3x5 (July 5, 5:30 and 7:30 p.m.) out of Ames, Iowa.
The festival will also showcase a wide range of jazz styles - everything from the West African rhythms of Lionel Loueke to the funk-infused jazz rhythms of the Uniphonics - for possible radio broadcast, as various performances from past festivals have been recorded by National Public Radio for its show JazzSet.
To help foster an appreciation for jazz (and, more than likely, to increase its fan base for coming years), the festival also includes several opportunities for young musicians to learn from educators such as T.S. Monk, Dick Oatts, Curtis Fuller, and Ron Carter.
The festival runs from July 3 to 5, and admission is free. For more information, visit SummerOfTheArts.org. - Tushar Rae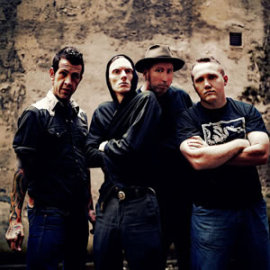 Music
Th' Legendary Shack Shakers
Rock Island Brewing Company
Saturday, July 4, 8 p.m.
On Saturday, July 4, RIBCO attempts its own take on the traditional Fourth of July concert with the "Indie" Pendence Day Concert featuring Th' Legendary Shack Shakers. Based in Nashville, the Shack Shakers describe their music as a cross between Southern-gothic and punk blues, and the group does sound like a blend of Elvis, Johnny Cash, and a hardcore metal/punk band, combined with a healthy dose of folk and country.
For the Shack Shakers, the RIBCO show marks the end of a tour schedule that started in the spring, as they plan to enjoy a bit of the summer with a brief break before releasing a new CD and embarking on their accompanying promotional tour.
Recently, the band has garnered attention for their "CB Song," which was featured in the "Sunglasses" commercial for the insurance company Geico. The commercial shows the Geico gecko traveling through a tunnel with a friend, while the song's lyrics ("I got my rabbit ears on and I wanna get chummy, chummy ... .") can be heard in the background. "CB Song" also made it onto writer Stephen King's "My Real Top 20 Songs" in Entertainment Weekly, a list composed of the songs he plays while he works. King writes that the song might be about "a long-haul trucker looking for love," but for him, it is "a great soundtrack for doing it." Of course, the exact definition of what "it" is to King is up for debate.
Th' Shack Shakers will be joined at RIBCO by Meth & Goats, Mondo Drag, and the One Night Standards, and the all-ages, outdoor show begins at 8 p.m. followed by an after-party featuring the Afterdarks. For tickets ($10) or more information on the RIBCO concert, visit RIBCO.com, and for more information about Th' Legendary Shack Shakers visit Myspace.com/legendaryshackshakers. - Tushar Rae
Event
2009 District Dodgeball Showdown & Block Party
The Daiquiri Factory
Friday, June 26 and Saturday, June 27
Ah, the memories I have of high-school dodgeball. The athleticism. The sportsmanship. The thrill of ganging up on a hapless freshman and whipping balls at him 'til he cries ... .
Oh, wait. I was that hapless freshman.
Still, even if you, too, harbor painful memories of gym classes past, there will no doubt be plenty to enjoy during the Daiquiri Factory's fifth-annual Dodgeball Showdown & Block Party weekend - not least of which will be the schadenfreude-rific pleasure in watching others re-live painful memories of gym classes past.
Beginning at noon on Saturday, June 28, the District of Rock Island venue will host a day's worth of exciting, fast-paced dodgeball matches, with the victors of the double-elimination tournament winning $1,000, and the runners-up receiving $250. The evenings before and after the event, meanwhile, will also offer plenty of excitement, albeit of a musical nature; Saturday night finds the District grooving to the rock of Rude Punch and FNR, while June 26's pre-dodgeball party features performances by Three Years Hollow, Small Town Sleeper, and Billboard sensations Puddle of Mudd.
Hailing from Kansas City, Missouri, these alternative rockers made a splash on American and U.K. charts with their 2001 CD Come Clean - the group's major-label debut, which went on to sell 5 million copies - and their list of hit songs over the past eight years includes "Drift & Die," "Heel Over Head," "Spin You Around," "Psycho," "Livin' on Borrowed Time," "Bleed," and their most successful single to date, "Blurry."
And memories of high-school dodgeball are swimming back all over again.
For more information on the Daiquiri Factory's Dodgeball Showdown & Block Party, call (309)283-1809 or visit DaiquiriFactory.com. - Mike Schulz
Event
2009 QC Pridefest: Winds of Change
LeClaire Park
Saturday, June 27
"Mike?"
"Hey, Jeff!"
"I see that you gave a writing assignment to our summer interns."
"I did indeed! I thought Emily and Tushar could practice their skills by each composing a What's Happenin' piece on the events surrounding this year's Greater Quad Cities Area Pride Fest, the second-annual celebration of lesbian, gay, bisexual, and transgender pride taking place at LeClaire Park on June 27."
"Yes, I see that."
"I figured it would be a great topic for them to cover, because there's just so much going on! I mean, Saturday's festival - themed 'Winds of Change' - features more than four dozen food and arts vendors, information booths, children's activities, and live music by Daphne Willis & Co., Bumper Crop, the Ronnie Nyles Duo, and the Funktastic Five ... ."
"Right."
"Plus, there are plenty of other area events happening in tandem with this year's festival. Gay comedian Brian Bradley will be performing at Penguin's Comedy Club June 25 through 27, the Davenport venue Mary's on 2nd will host an 'Over the Rainbow' Pride Party after Saturday's LeClaire Park party, the lesbian rockers of Halcyon will close the weekend with a Redstone Room concert on Sunday, June 28 ... ."
"Uh huh."
"Plus, there's a Pride Patio Party at Davenport's Freight House on June 24, a Wednesday-night dance event at Club Fusion, LGBT displays and exhibits at the local public libraries ... and information on the entire weekend is available by calling Quad Citians Affirming Diversity at (309)786-2580 or visiting QCPride.org. It seemed like the perfect What's Happenin' assignment for Emily and Tushar!"
"Mmm-hmm."
"So why are you making that face?"
"Because both of their articles took the form of those irritating dialogues you write with me as a character in them."
"I am so proud of those guys." - Mike Schulz
What Else Is Happenin'... ?
MUSIC
Sunday, June 28 - Keith Urban. Platinum-selling country-music performer, appearing with the 2008 American Music Awards' Favorite Female Country Artist, Taylor Swift. i wireless Center (1201 River Drive, Moline). 7:30 p.m. $20-$75. For information and tickets, call (309)764-2000 or visit iwirelessCenter.com.
Friday, July 3, and Saturday, July 4 - 80/35 Music Festival. Iowa's largest annual independent music festival, with more than 40 national, regional, and local acts performing on three stages. Featuring a craft fair, a wine-tasting event, children's activities, street performances, demonstrations, a fireworks display, and more. Western Gateway Park (15th and Locust Streets, downtown Des Moines). Friday 3 p.m. gates; Saturday 11 a.m. gates. Friday $35-$40; Saturday $45-$50; two-day passes $70 if purchased in advance. For information and tickets, call (515)277-3727 or visit 80-35.com.
THEATRE
Tuesday, June 30, through Saturday, July 25 - Pinkalicious. Musical-comedy adaptation of Victoria Kann's beloved children's book. Circa '21 Dinner Playhouse (1828 Third Avenue, Rock Island). Scheduled performances Thursday-Tuesday, 10 a.m. and/or 1 p.m. $8. For information and tickets, call (309)786-7733 extension 2, or visit Circa21.com.
Thursday, July 2, through Sunday, July 12 - The Wedding Singer. Tony Award-nominated musical adaptation of Adam Sandler's comedy hit, set in the 1980s. Timber Lake Playhouse (8215 Black Oak Road, Mt. Carroll). Friday-Saturday 8 p.m., Tuesday-Thursday 7:30 p.m., Sunday 6:30 p.m. $11-$20. For tickets and information, call (815)244-2035 or visit TimberLakePlayhouse.org.
LITERATURE
Wednesday, June 24, through Friday, June 26 - David R. Collins Writers' Conference. Annual series of writers' workshops, presentations, and events, hosted by the Midwest Writing Center, with presenters including Robert Brown, Sherene Martin-Brown, Sarah Gardner, Sean Leary, Barbara Lounsberry, and Jon Ripslinger. St. Ambrose University (518 West Locust Street, Davenport). $65-$75/workshop; discounts for workshop packages. For a schedule of events and more information, call (563)324-1410 or visit MidwestWritingCenter.org.
SPORTS
Monday, July 6, through Sunday, July 12 - John Deere Classic. Annual professional golf tournament, with youth and adult golf clinics, nightly entertainment, and more. TPC at Deere Run (3100 Heather Knoll, Silvis). $24-$34. For a schedule of events and more information, call (309)762-4653 or visit JohnDeereClassic.com.
EVENTS
Thursday, June 25, through Sunday, June 28 - International Woodcarvers Congress. Featuring more than 400 carvings and sculptures from regional, national, and international artists, vendors, demonstrations, a live auction, and more. Quad-Cities Waterfront Convention Center (2021 State Street, Bettendorf). Thursday- Saturday 10 a.m.-5 p.m.; Sunday 10 a.m.-4 p.m. $4, children under 12 free when accompanied by an adult. For information, call (800)843-4753 or visit AWCLtd.com.
Saturday, June 27 - Polynesian Festival & Luau. Traditional Polynesian food, Polynesian and Hawaiian dance demonstrations, a Hawaiian buffet, live music, and more. Cabana's (2120 Fourth Avenue, Rock Island). 6 p.m. $20. For information, call (309)786-1450 or visit CabanasRockIsland.com.
Sunday, June 28 - Blossoms at Butterworth. Annual summer event in a garden setting, with old-fashioned lawn games, a Victorian tea party, an antique car display, children's activities, exhibits, performances by the Bix Beiderbecke Memorial Youth Band and organist Steve Steeley, a demonstration by the Quad City Jugglers, self-guided tours, and more. Butterworth Center and Deere-Wiman House (1005 Eighth Street, Moline). Noon-5 p.m. Free admission. For information, call (309)765-7970 or visit ButterworthCenter.com.
Thursday, July 2, through Sunday, July 5 - Clinton Riverboat Days. Annual outdoor festival featuring rides, games, vendors, contests, a car show, and more, with musical headliners Jimi Jamison, Loverboy, Aaron Tippin, Caddle, and Lynn Allen. Riverview Park (100 Riverview Drive, Clinton). Thursday-Friday 10 a.m. gates; Saturday-Sunday 8 a.m. gates. $25-$30 Fun Cards good for grounds events, concerts, and attractions. Preferred seating for concerts an additional $5. For information, call (563)242-7052 or visit RiverboatDays.org.
Friday, July 3 - Red, White, & Boom! Annual fireworks display over the Mississippi River, preceded by live music, children's activities, vendors, and more. Downtown Davenport and the District of Rock Island. 6 p.m. start; 9:30 p.m. fireworks. Free admission. For information, visit RedWhiteBoom.org.