The 77's
Comedy Sportz
Wednesday, June 25, 7:30 p.m.
"Hey, Mike, you're old now, right?"
"Well, I'm not a 19-year-old intern who's only been here since May, if that's what you're wondering."
"Oh. I was only asking because The 77's are playing at Comedy Sportz in Rock Island on June 25. Tickets are $18 if you buy 'em before the show, or $20 at the door, but with your senior citizen's discount, that would probably be ... ."
"I'm only 40, you know."
"Right. Well, don't you dig folk rock? These dudes have some catchy songs on their newest album, Holy Ghost Building. In fact, Alternative Records' Randy Layton described the Christian-rock trio as 'one of America's criminally best-kept secrets.'"
"Wow! Maybe I will check that out."
"So anyway, now that you're 40, do your bones ache?"
"You know, the only way I could loathe you more is if you were writing a What's Happenin' piece centered around yourself."
"Yeah ... ."
"Wait a minute - you are! And now I'm a fictional character who's acknowledging a text that he's in! How postmodern are you?"
"Very. Anyway, what do you say we go check out that show? I'm always down for some good rock and roll."
"Is there any way I can find out more about these guys before I decide?"
"Sure, wimp. Head to (http://www.77s.com) and give it a look."
"How do I type on a computer again? I forget ... ." - Ben Clague
Rocket
Stickman's
Monday, June 30
Although the all-girl band Rocket hasn't put someone on the moon, they will place themselves on the Stickman's stage on June 30. This California-based group, which plays at 8 p.m., mixes the innocence of the '60s with the boldness of the '80s, and according to its Web site, considers itself a "five-piece rock 'n' roll circus" with a sound that "is a concoction of fun, smiles, candy, bubblegum, and broken hearts"; the online music site BMO's World, meanwhile, says they are "an absolute must-see for anyone who likes their music sweeter than their soda pop."
Rocket began as a three-person band, each of whose members was named Lauren, and launched its first album, Too Hot to Be Bothered, in 2005. But soon after its release, one of the Laurens dropped out, at which point a Kelly, a Kristin, and a Roxie joined. The band then blasted off with a sold-out headlining concert at the Viper Room in Hollywood, followed by tours with Suicide Girls, Horropops, and the Pink Spiders, and a spot on the Vans Warped Tour. Their success continued in 2007 when they were chosen as a top-10 finalist in the Fox series The Next Great American Band - with Rocket being the only one of 7,000 groups to boast a female vocalist.
To find out more about the band, visit (http://www.rocketrocks.com) or (http://www.myspace.com/rocket). - Marguerite Day
Lifehouse
The Capitol Theatre
Tuesday, July 1, 8:30 p.m.
In 2001, the pop-rock outfit Lifehouse released "Hanging by a Moment," which became one of only three songs to receive the Billboard Music Award for Single of the Year without reaching number one on Billboard's weekly Hot 100 survey. (It made it to number two, though.)
In 2007, Lifehouse wrote "From Where You Are" for Allstate, which became the first song written specifically for a commercial to hit the Billboard charts since the Coca-Cola anthem "I'd Like to Teach the World to Sing" in 1972.
These young musicians, I'm tellin' ya. No respect for old-time records.
Band members Jason Wade, Rick Woolstenhulme Jr., and Bryce Soderberg may only be in their mid-20s, but Lifehouse - playing the Capitol Theatre on July 1 - has already scored more than a few coups this decade: a double-platinum hit with its No Name Face debut; a successful summer tour alongside the Goo Goo Dolls; and de facto co-starring status on TV's Smallville, as no less than seven of Lifehouse's songs have been heard on the show during its run.
Yet this series is by no means the only one that's borrowed a tune from the band. Of the following shows, which one has not yet featured a song from the musicians of Lifehouse?
1) Boston Legal
2) Criminal Minds
3) Everwood
4) Gavin & Stacey
5) Grey's Anatomy
6) This Hills
7) Medium
8) One Tree Hill
9) The Simpsons
10) So You Think You Can Dance
For more information on the band's Davenport concert, visit (http://www.thecapdavenport.com). - Mike Schulz
Answer: 9. So the Lifehouse guys rock. They're just not gods yet.
Greater Quad Cities Area Pride Fest
Mississippi Valley Fairgrounds
Saturday, June 28, 11 a.m. - 6 p.m.
The story of Noah's Ark tells us that after 40 days and 40 nights of incessant flooding, a rainbow appeared. With that in mind, it would be hard to imagine a more appropriate time for the Greater Quad Cities Area Pride Fest, the community-wide, outdoor celebration of lesbian, gay, bisexual, and transgender pride set to take place at the Mississippi Valley Fairgrounds on June 28.
Fifty-two rainbow-colored pride flags will decorate the grounds' perimeters, as the festival - themed "Out for Good!" - features vendor booths selling food, beverages, and arts and crafts, children's activities and prizes, and what could easily be an entire weekend's worth of entertainment over the span of seven hours, with a lineup that includes performances by the Dani Lynn Howe Band, Closer Than Now, Tronicity, Reel Foot Rift, the Octopus Band, the Quad Cities Pride Chorus, the female talents of Hersong, and Miss Gay Quad Cities, "Lady Naima."
The event promises to be a fun-filled day of identity, discovery, and support, and festival organizers assure us that, rain or shine, the fest will go on; after all, to borrow a famous quote, "If you want the rainbow, you gotta put up with the rain." (Bless that Dolly Parton. She's got one for every occasion.)
Tickets are $6 at the gate, and more information on this year's Pride Fest is available by visiting (http://www.downtowndavenport.com). - Mike Schulz
A Year with Frog & Toad
The Green Room
Friday, June 27, through Sunday, June 29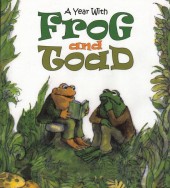 "Jeff! I am outraged!"
"What is it now, Mike?"
"I was all set to write my What's Happenin' piece on the Green Room's new production of A Year with Frog & Toad, right? I was going to describe how it was a stage adaptation of those wonderful Arnold Lobel stories about the friendship between a perky frog and a frumpy toad, and how the 2003 Broadway production received Tony nominations for Best Musical, Book, and Score, and how the New York Times called the show 'a pure-hearted children's musical' with 'eminently hummable' songs ... ."
"Okay ... ."
"And I was going to talk about how Frog & Toad features such familiar area performers as Chris Walljasper, Melissa Anderson Clark, and Lauren Van Speybroeck, and how all the proceeds from the production will be benefiting the Children's Therapy Center of the Quad Cities, and how the family-friendly showtimes are 6:30 p.m. on Friday and Saturday, and 2:30 p.m. on Saturday and Sunday ... ."
"Right ... ."
"And since it's been a while, I was going to design the piece as a Jeff-and-Mike dialogue ... ."
"Oh, God ... ."
"And then what does that smart-aleck intern Ben go and do? He writes a Ben-and-Mike dialogue for his What's Happenin' piece!"
"So?"
"'So'?!? So that was my thing! And now it's ruined! I don't think I can write another Jeff-and-Mike piece ever again!"
"Then I couldn't be happier about giving him the suggestion."
For more information on A Year with Frog & Toad's June 27 - 29 performances, visit (http://www.thegreenroomtheatre.com). - Mike Schulz