Adler Theatre
September through November
This fall, the Adler Theatre will present performances by several rich boys, but only one who's really allowed to capitalize his title.
Among the high-powered acts coming to the Davenport venue are Dove and Grammy Award winning Christian singer Michael W. Smith (September 21), another Grammy winner - albeit one competing in completely different categories - in pop-culture parodist Weird Al Yankovic (September 30), and Comedy Central's Mind-ful comedian Carlos Mencia (November 10).
Yet preceding their visits will be an honest-to-God Rich Boy (pictured) - the rap and R&B artist formerly known as Maurice Richards - who lands in downtown Davenport on September 1. Appearing in concert alongside the L.A.-based hip-hop trio Candy Hill, Mr. Boy released his self-titled debut album in early 2007, and achieved fast stardom with the single "Throw Some D's," which hit the top 10 of the United States' Hot 100, R&B, and rap charts.
In an interview with HipHopGame's Brian Kayser, though, the young artist - who turns 24 the day after his Davenport gig - revealed that he hasn't yet begun to concern himself with the dollars and cents of the business. "It's about giving the music to the people," he said. "I have to let the people know who I am before I can really worry about album sales."
Glad I could help. Any chance I'll be able to snag a commission on subsequent sales? Some of us would love to be Rich Boys, too.
Other fall events at the Adler include gospel artists Ernie Haase & Signature Sound (October 27) and the stage version of a children's audio series - the Kidz Bop World Tour (October 12 and 13). More information on the venue's lineup can be found at (http://www.adlertheatre.com).
- Mike Schulz
Hancher Auditorium
September through November
Author and Daily Show pundit Lewis Black is quoted as saying (or more likely shouting), "In my lifetime, we've gone from Eisenhower to George W. Bush. We've gone from John F. Kennedy to Al Gore. If this is evolution, I believe that in 12 years, we'll be voting for plants."
If that sort of political gag upsets you, you're advised to steer clear of the Hancher Auditorium on September 22, when the Grammy-winning comedian (pictured) brings his scabrous wit to the Iowa City venue just in time for caucus season. Trust me; it's bound to only get worse.
The rest of Hancher's fall docket looks considerably less divisive. There will be musical performances by Grammy winner (and Oscar and Emmy nominee) Queen Latifah (October 1), the Orion String Quartet with clarinetist David Krakauer (October 9), jazz artists the Paul Metheny Trio (October 10), the Russian Patriarchate Choir (November 1), the St. Petersburg Philharmonic Orchestra (November 8), and hip-hop performers DBR & the Mission (November 9).
And fans of dance and performance art can enjoy Tango Buenos Aires' The Four Seasons (September 20), University of Iowa alumnus Rinde Eckert's Horizon (October 4), an evening with Hubbard Street Dance Chicago (October 12), the acrobatics of Cirque Works' Birdhouse Factory (October 19 and 20), and the Bill T. Jones/Arnie Zane Dance Company's Blind Date (November 6).
Not a bad lineup for the Iowa City theatre, which brings to mind another Lewis Black quote: "America is the land where people are free to dream whatever they want, so long as that dream doesn't make Midwesterners feel icky."
Hey, I said it'd only get worse!
For more information on Hancher's 2007-8 season, visit (http://www.hancher.uiowa.edu).
- Mike Schulz
Englert Theatre
September and October
Iowa City's Englert Theatre will play host to a series of impressive performers over the next two months, including the West African roots-reggae group Sierra Leone's Refugee All Stars (September 4), multi-instrumentalist Andrew Bird (September 22), Christian indie rocker Todd Agnew (October 11), alt-country musicians Drive-By Truckers (October 18), and noted author and humorist Sarah Vowell (October 25). Hell, even the children's entertainment during the Englert's fall season - Ralph's World (October 6), featuring Grammy nominee Ralph Covert, described as "a pinch of Paul McCartney" and "a dash of Buddy Holly" - sounds awfully hip.
But for sheer coolness, I'm thinking that no Englert event will top the October 5 performance by legendary folk artist Suzanne Vega (pictured).
Consider: In a deleted scene on the Pulp Fiction DVD, John Travolta's Vincent Vega jokes that Suzanne is actually his cousin, and Quentin Tarantino - who once cited 1985's Suzanne Vega CD as one of his 10 favorite albums - is quoted as saying, "If you want to learn about how a woman feels, you might want to listen to someone like Suzanne Vega."
And consider this: At one point in the Simpsons episode "Realty Bites," Homer is seen in his car, happily singing along to the chorus of "Luka."
Thumb's up from both Quentin and Homer? I officially nominate Suzanne Vega as the coolest person on earth.
For more information on upcoming Englert events, visit (http://www.englert.org).
- Mike Schulz
Quad City Symphony Orchestra
September through December
Autumn is always an exciting season for fans of the Quad City Symphony Orchestra, as it brings with it the organization's annual Riverfront Pops concert; this year's LeClaire Park event - September 8's "Motown on the Mississippi" - will deliver a dance-themed first half and musical legends The Contours (pictured) in the second, performing such hits as the group's chart-topper (and unofficial Dirty Dancing anthem) "Do You Love Me?"
There's also the annual Holiday Pops concert to look forward to; occurring at the i wireless Center, the November 17 offering will feature the sanctuary choir of Davenport's First Presbyterian Church, skaters from the Figure Skating Club of the Quad Cities, and songs by Minnesota's a capella group InPulse.
Yet this year, nothing might prove more exciting than the orchestra's 93rd season itself. In the wake of conductor Donald Schleicher's retirement last spring, it was decided that a different conductor would be brought in for each of the orchestra's six Masterworks 2007-8 performances, and in the spring, one of them will be chosen to helm the orchestra full-time. In other words, the orchestra's season is going to be like a nine-month-long, really classy version of American Idol!
Your candidates this fall are: Michael Butterman, who helms the October 6-7 "Setting Sail!" productions; Andrew Constantine, conducting November 3-4's "A New World" performances; and Christopher Zimmerman, leading the orchestra through the December 1-2 "Past & Present" pieces.
Information on the candidates and their respective concerts is available at the Quad City Symphony Orchestra Web site, and that's great, but you know the only way you'll be able to determine if the right person gets the conductor's job, right? That's right - by ordering season tickets.
Very sneaky of the organization. I like it.
More information - and season tickets - are available at (http://www.qcsymphony.com).
- Mike Schulz
Hack-E-Fest
Croatian Crest Club
Saturday, September 1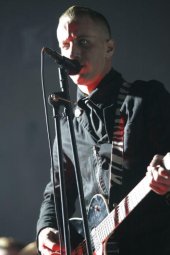 Local music fans curious what the Quad Cities' underground music scene has to offer should definitely mark their calendars for the Hack-E-Fest being held at Moline's Croatian Crest Club on September 1. Featuring 12 of the area's hottest metal/hardcore bands, performers scheduled to appear include : straight-edge punks N.M.E.; chunk metal-riff peddlers Resetting the Switch; jam-punk bass-and-drum duo the Post Mortems; grunge-garage rockers Fludder; thrashy punks O Dear Sarcasm; grindcore heathens Memory Obscura; anarcho-punks The Agrestix; the industrial-metal flavored Plagued by Saints; one-man electro-goth slinger William Martin; kings of QC noise rock Meth & Goats; epic, black-thrash-metal vikings Through Terror; and psycho-billy horror punks the Afterdarks. The all-ages festival starts at
11 a.m. and will finish around midnight, beer will be served to those 21 and older, and attendees will be able to participate in the outdoor footbag competition. Talk about a kick in the balls. For more information, visit (http://www.myspace.com/hackefest).
- Brad Vidmar
Festival of Praise
LeClaire Park
Thursday, August 30, and Friday, August 31
For the first night of 2007's Festival of Praise - an event that sees some 10,000 to 15,000 attendees annually, and takes place in LeClaire Park August 30 and 31 - Davenport's New Anthem Ministries has secured two of the Christian-music scene's most lauded performers: Chris Tomlin (pictured, and twice named male vocalist of the year at the Gospel Music Awards) and John Waller (whose song "The Blessing" is a number-one radio hit currently airing on nonsecular stations nationwide). But for the second night, the Festival of Praise offers what is called the Seek & Soak, a citywide worship service led by Scott Schaefer. Although event co-organizer Timm Dalman (a friend from way back) admits that he doesn't know where its unusual moniker comes from, he does remember one particular Festival of Praise night that found some 4,000 attendees happily standing in a mighty rain during the event, and assures me that it's actually nothing like the Slip & Slide. So I feel kinda embarrassed for asking. For more information on the event, call (563) 359-7617 or visit (http://www.newanthem.com).
- Mike Schulz
Brew Ha Ha
LeClaire Park
Saturday, September 15
As Oscar Wilde once wrote, "Work is the curse of the drinking class." The fellow cursed are welcome to enjoy the day's festivities at WQPT's Eighth Annual Brew Ha Ha, taking place in Davenport's LeClaire Park from 1 to 6 p.m. on September 15. As always, there will be a pretty intimidating selection of ales, lagers, porters, and pilsners - from dozens of local and national brewers - plus an assortment of nonalcoholic options and cheeses. Live music will be provided by the Dorothy Heralds and the Eugene Smiles Project, and there'll be a performance by the improv masters at ComedySportz. And remember that while drunken hecklers are never amusing, the ComedySportz players don't mind if you have an ale or two during the show, as drinks oftentimes make everything just a little bit funnier. Except the drive home. So play it safe. More information on this year's Brew Ha Ha can be found at (http://www.wqpt.org/brew).
- Mike Schulz
Rock Island Grand Prix
The District of Rock Island
Saturday, September 1, and Sunday, September 2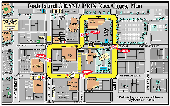 The annual Rock Island Grand Prix, taking place in the District of Rock Island on September 1 and 2, is a pretty impressive event. In fact, as it finds more than 400 racers from the United States and Canada participating, it's the largest karting street race of its kind in the world. Including a special SuperKart competition, at least 15 races are run every Labor Day weekend, and competitors have come from as far as Argentina, Colombia, France, and Italy. Yet when I was working at the Circa '21 Dinner Playhouse, my cohorts and I, in all honesty, were always a little bit annoyed by the Grand Prix, as the "race track" includes the streets circling the building, and it would often take a long time to be allowed to cross the street to get to work. Of course, the Grand Prix also allowed us to indulge in two days' worth of Polish sausage and iced lemonades, so we didn't bitch that much ... . This year's event also features the return of the Venetian Night Lighted Boat Parade (AWOL since 2003) at dusk on Saturday, and more information on the weekend - including a full schedule of events - is available at (http://www.rockislandgrandprix.com).
- Mike Schulz
Iowa Women's Music Festival
Upper City Park
Saturday, September 15
You've probably seen several fall music festivals listed within these pages - and perhaps caught a few this past summer - and may have noticed a common theme: not a lot of female headliners. Laurie Haag, one of the founding organizers of Iowa City's annual Iowa Women's Festival, certainly has. Discussing September 15's free concert in Upper City Park, which annually showcases the finest of the state's female singers and songwriters, Haag says, "Sometimes people think that this sort of thing isn't needed anymore, that women have all the opportunities that they need. [But] many venues are still not friendly to women. Maybe something like Bonaroo will have one or two headliners out of a couple dozen, maybe not." The 14th Annual Iowa Women's Festival is doing its part to help change that, and this year offers a septet of female-driven sets: Emily Louise, Sharon Bousquet, The Awful Purdies, Janelle Lauer, Wishing Chair, Susan Werner, and evening headliner Ruthie Foster (pictured). Information on these artists - and, considering the raves they've amassed and the awards they've won, we're talking a lot of information - is available at (http://www.prairievoices.net).
- Mike Schulz
Smooth Jazz Fall Festival
The Redstone Room and the Capitol Theatre
Friday, October 26, and Saturday, October 27
I'm writing this piece on what is (thus far) the most sweltering, muggy day of the summer, and just typing the words Smooth Jazz Fall Festival is making me feel a little bit cooler. Presented by the Smooth Jazz Concert Series, an area not-for-profit group dedicated to bringing high-caliber artists to the region, the annual event hits Davenport on October 26 and 27. Friday night's performance at the Redstone Room features Will Donato, an emerging jazz star who recently released the CD Will Call, and Nick Colionne (pictured), winner of the Canadian Smooth Jazz Awards' International Instrumental Artist of the Year award. And Saturday's Capitol Theatre set boasts saxophone sensation Tom Braxton and Oasis Award-winning smooth jazz group of the year the Rippingtons. Just think how great it'll be to listen to that cool music and then step out into that cool October night. Because, by then, the temperatures will have fallen a bit, right? Please? For more information on the weekend, visit (http://smoothjazzseries.com/fallfestival/html).
- Mike Schulz
Hannah Montana & Miley Cyrus
i wireless Center
Saturday, October 20
If your children are screaming for tickets to the Hannah Montana & Miley Cyrus "Best of Both Worlds" tour at Moline's i wireless Center (October 20) and you have no earthly idea why, you're not spending enough time with your kids... plopped in front of the television while the Disney Channel series Hannah Montana was on. All you need to know about the concert, really, is that Hannah Montana/Miley Cyrus is a lot like a singing Superman/Clark Kent - or, I guess I should say, a singing Supergirl/Linda Lee. And although you'll probably have to pay exorbitant ticket-broker prices to get into the sold-out show, your kids will be very happy; she's kind of a big deal. Additional fall events at the i wireless Center include the return of the Ringling Bros. and Barnum & Bailey Circus (August 30 - September 3) and the Blue Man Group (October 19), Dove Award-winning gospel rockers Switchfoot and Reliant K (November 11), and a whole bunch of Quad City Flames games, and schedule and ticket information is available at (http://www.iwirelesscenter.com).
-- Mike Schulz