CINDERELLA
Given its sumptuous production design and its array of multi-hued gowns so breathtaking that costumer Sandy Powell should just be sent her inevitable Oscar via express mail, Disney's new, live-action Cinderella has to be the most opulent deeply unnecessary movie ever made. Somewhat unexpectedly, it's also one of the more satisfying deeply unnecessary movies ever made. Director Kenneth Branagh's fairytale adaptation, with its script by Chris Weitz, may have no reason to exist beyond the obvious mercenary one, but it's strong and heartfelt and quite beautifully acted - proof that even in the revisionist age of Maleficent, it's not always necessary to re-invent the wheel.
Personally, I could've done with a bit more polish on the wheel, considering that several of the most potentially magical moments here are actually among the clunkiest. Although Branagh's and Weitz's re-telling is awfully faithful to its source material - meaning Disney's 1950 cartoon, not necessarily the brothers-Grimm version - we're now given an early sequence in which Cinderella (Lily James) accidentally meets her eventual prince (a suitably charming Richard Madden) in the woods days before the palace ball. It's an endearing, promising conceit, but Branagh, obnoxiously, chooses to stage this flirtatious meet-cute with the pair on horses that never stop circling one another, while his camera does its own pirouettes; our leads may be dizzy in love, but we're left merely dizzy. And the scenes involving Cinderella's solicitous mice are saddled with varying degrees of CGI-blockbuster blandness, with the "dazzling" prepping-for-the-ball transformation - which should be the film's visual-enchantment pièce de résistance - particularly underwhelming. Despite Helena Bonham-Carter's typically welcome eccentricity as the Fairy Godmother, this comically brash, effects-heavy passage brought back unpleasant memories of Jack the Giant Slayer ... not that there are many pleasant ones to be had.
Yet this Cinderella gets so many things right that it's easy to forgive what it gets wrong. Nearly top to bottom, the film is stunningly well-cast, and while I'll forever relish Cate Blanchett's haughty, hateful perfection as Cinderella's wicked stepmother, I'm not sure anyone is better cast than Lily James. In a role that would seem almost genetically engineered for saccharine insufferability, the naturally luminous Downton Abbey co-star is genuine, direct, and emotionally accessible; this may be the most fully fleshed-out storybook-princess performance that movies have yet delivered. (With her ability to make you well up at Cinderella plot points we've all been hip to since childhood, James proves significantly more magical than the movie's effects.) But Branagh's strengths as an actor's director are evident throughout his production, from the brief, lovely turns by Hayley Atwell (as Cinderella's birth mother) and Derek Jacobi (as the prince's dying father) to the riotous Sophie McShera and Holliday Grainger as Cinderella's sneering step-sisters. (Weitz's surprisingly sharp screenplay is never funnier than in Blanchett's scenes with her comically loathsome screen daughters, and I roared at the exchange that found McShea berating James with "I've got a half-wit for a sister" and Grainger replying, "I've got two.")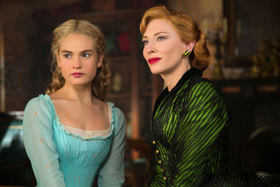 What truly makes the movie soar, however, is Branagh's largely successful determination to find, and express, the wonder in this story. He may not have been able to do much with the noisy, bibbidy-bobbidy-boo slapstick and the frenzied beat-the-midnight-clock chase (I guess you gotta give something to those restless boys in the audience), but he does let several iconic moments run on far longer than necessary, and for good reason: They absolutely deserve the breathing room. Cinderella's arrival at the castle, for instance, is lingered on so that we can fully take in both the grandeur (my God there are a lot of stairs!) and the girl's awestruck nervousness and joy. And when the prince and Cinderella enjoy their first dance together - she outfitted in a shimmering, jaw-droppingly gorgeous blue gown that's going to be the Halloween outfit for every little girl in America this year - Branagh allows their pas de deux to last more than a full minute. In our current movie culture that generally equates "family entertainment" with "hyperactive mania," that's an eternity. Here, though, you're so wrapped up in Cinderella's and the prince's swooning happiness, and the wave-like movements of that astonishing Sandy Powell creation, that the minute-plus is actually way too short, and it made perfect sense when patrons at my screening - kids and adults - applauded the dance's climax.
For understandable reason, they applauded the end of the movie, too. And come to think of it, they even applauded before the movie began, because it was preceded by the debuting short Frozen Fever, a ceaselessly delightful seven minutes that found the Frozen gang preparing for Anna's birthday party, Elsa suffering from a cold (and creating tiny, ambulatory snowmen every time she sneezed), Robert Lopez and Kristen Anderson-Lopez contributing another clever and peppy ditty, and Olaf again stealing the show. After it ended, there was the very real possibility that Frozen Fever would perform similar larceny on the Cinderella experience. Instead, while it was hugely welcome, there turned out to be no need for the Frozen-short training wheels. Some of us may still be puzzling over why the Shakespearean great, as a director, has recently turned to the likes of Thor and Jack Ryan: Shadow Recruit. But if he can keep churning out wonderfully winning Hollywood product such as this, Branagh just might deserve his Happily (and Financially Cushy) Ever After.
RUN ALL NIGHT
If any of you were bemoaning the absence of Taken 3 in the week since it left area cineplexes: Rejoice! A brand-new Liam Neeson-with-a-gun spectacle opened this weekend - and just in time for St. Patrick's Day! In Run All Night, a generically lousy title I couldn't remember five minutes after the movie started, everyone's favorite late-middle-aged avenging angel plays Jimmy Conlon, a former mafia enforcer who shoots the son of lifelong best friend Shawn Maguire (Ed Harris) and then - wait for it ... - runs all night while Shawn plans "eye for an eye" retribution on Jimmy's own son. All told, the movie is, as Liz Lemon would say, a fat load of Irish nonsense, filled with interminable chase scenes, lazy underworld stereotypes, and plotting so haphazard that the film's entire narrative rests on a cell-phone video that was shot, conveniently and ludicrously, by a teenager in the back of a limo. But heaven knows the movie is better than Taken 3, if not quite up to the so-terrible-it's-kind-of-awesome standards of Taken 2.
Jaume Collet-Serra, who also directed Neeson in the slightly worse Unknown and the far better Non-Stop, delivers some Fincher-esque diversion as his camera scoots above and around NYC boroughs, and does mostly fine work with his cast - principally Vincent D'Onofrio as a relentless detective, and Joel Kinnaman and Boyd Holbrook as the sons-in-peril. (Holbrook, you may recall, played a desperate drug addict in A Walk Among the Tombstones, which was this past September's Liam Neeson-with-a-gun outing.) Yet unless you're a die-hard supporter of Neeson's monthly excuses to rake in millions while not being obligated to smile, the only real reason to see the movie, and the movie's only legitimate surprise, is the sleek, exciting performance by Common. He shows up quite late and his nearly mute role doesn't make much sense, but the newly Oscar-lauded songwriter/actor lends the film so much intensity and finesse that it's practically unimaginable without him; Common's is the only Run All Night character you could conceivably want to spend more than three minutes with. "He's a professional killer," says Neeson of this suavely bespectacled figure, "and he won't stop until we're all dead." Ah, if only that were true.