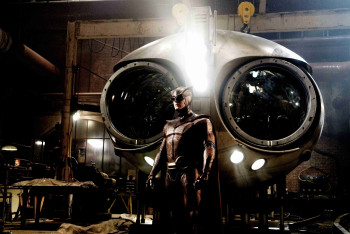 How do we evaluate Watchmen's box-office performance, given that most of the assessments so far are based on unrealistic expectations that it would do Batman or Spider-Man business?
Fear not: I am watching those watching the Watchmen. Even though I haven't watched Watchmen.
Zack Snyder's adaptation of the legendary comic won the Box Office Power Rankings in its first two weekends, but it's widely considered a commercial disappointment. As Box Office Mojo put it:
"Watchmen disintegrated 68 percent to $17.8 million for $85.8 million in 10 days, trailing all previous superhero movies that debuted in the $50-million range through the same point. ... [A]mong major comic-book movies, only Hellboy II: The Golden Army and Hulk had steeper drop-offs."
That sounds damning, but notice the caveats: "superhero movies that debuted in the $50-million range," "major comic-book movies." Notice the quick-read contradiction of "trailing all previous superhero movies" with other superhero movies then performing worse.
Box Office Mojo concluded that its box-office performance "further cemented Watchmen's status as a movie with much more limited appeal than other superhero pictures, rooted in its non-mainstream source material and its diffuse storyline and marketing."
But isn't all that self-evident, and hasn't it always been? Anybody who expected Watchmen to be a mainstream hit probably also envisioned big things for Speed Racer.
Watchmen will cross the $100-million mark domestically in the next few days, and no movie that makes that much money in three weeks is a flop.
Yes, its second-weekend performance was weak, compared to other comic-book movies not attached to a holiday weekend in their first two weeks: Iron Man, down 48 percent; The Dark Knight, 53 percent; The Incredible Hulk, 60 percent; Spider-Man 3, 62 percent.
So Watchmen dropped 68 percent. Given the vaunted status of the graphic novel and its devoted audience, should anybody be surprised that those who wanted to see it had to see it on its opening weekend? Given the ambivalence about Snyder's meticulous re-creation, and given the challenges of translation from page to screen, should anybody be surprised that it generated more curiosity than excitement?
About Box Office Power Rankings
Box Office Power Rankings balance box office and critical reception to create a better measure of a movie's overall performance against its peers than gross receipts alone.
The weekly rankings cover the 10 top-grossing movies in the United States for the previous weekend. I assign equal weight to box office and critical opinion, with each having two components. The measures are: box-office gross, per-theatre average, Rotten Tomatoes (RottenTomatoes.com) score, and Metacritic (Metacritic.com) score.
Why those four? Box-office gross basically measures the number of people who saw a movie in a given weekend. Per-theatre average corrects for blockbuster-wannabes that flood the market with prints, and gives limited-release movies a fighting chance. Rotten Tomatoes measures critical opinion in a binary way. And Metacritic gives a better sense of critics' enthusiasm (or bile) for a movie.
For each of the four measures, the movies are ranked and assigned points (10 for the best performer, one for the worst). Finally, those points are added up, with a maximum score of 40 and a minimum score of four.
For more Box Office Power Rankings, visit CultureSnob.net/bopr. Culture Snob is the Web site of Reader Managing Editor Jeff Ignatius.
Box Office Power Rankings: March 6-8, 2009Box Office RanksCritics' RanksRankMovieLast WeekGrossPer TheaterRotten TomatoesMetacriticTotal1Watchmen
-10 ($55.2M)10 ($15.3K)8 (64)8 (56)
362Slumdog Millionaire
17 ($6.8M)7 ($2.4K)10 (94)10 (86)
343Taken
48 ($7.3M)8 ($2.4K)7 (56)7 (50)
304Coraline
54 ($3.3M)5 ($1.7K)9 (89)9 (79)
274Tyler Perry's Madea Goes to Jail
29 ($8.5M)9 ($4.0K)2 (26)7 (50)
276He's Just Not That Into You
65 ($4.0M)4 ($1.6K)6 (42)5 (47)
207Jonas Brothers: The 3D Concert Experience
22 ($2.8M)6 ($2.2K)5 (33)4 (45)
178Paul Blart: Mall Cop
76 ($4.1M)3 ($1.6K)4 (30)3 (39)
169Confessions of a Shopaholic
103 ($3.1M)1 ($1.4K)1 (23)2 (38)
79Fired Up!
91 ($2.5M)2 ($1.4K)3 (28)1 (31)
7
Box Office Power Rankings: March 13-15, 2009Box Office RanksCritics' RanksRankMovieLast WeekGrossPer TheaterRotten TomatoesMetacriticTotal1Watchmen
19 ($17.8M)8 ($4.9K)8 (64)8 (56)
332Race to Witch Mountain
-10 ($24.4M)10 ($7.7K)4 (39)7 (52)
313Slumdog Millionaire
25 ($5.0M)5 ($1.9K)10 (94)10 (86)
304Taken
37 ($6.6M)6 ($2.3K)7 (56)6 (50)
264The Last House on the Left
-8 ($14.1M)9 ($5.9K)6 (43)3 (42)
266Coraline
42 ($2.7M)3 ($1.5K)9 (89)9 (79)
237Tyler Perry's Madea Goes to Jail
46 ($5.1M)7 ($2.3K)2 (26)6 (50)
218He's Just Not That Into You
63 ($2.9M)4 ($1.6K)5 (42)4 (47)
169Paul Blart: Mall Cop
84 ($3.1M)1 ($1.4K)3 (30)2 (39)
1010Miss March
-1 ($2.4M)2 ($1.4K)1 (4)1 (7)
5